Because the last one got such a response, here's another Caplan blog post.
As a matter of sincere discourse, I found the most stimulating, interesting, probably-most-true-as-I-see-it critiques are to tenets 1, 2, 5, and 8. The hyperlinks are all dead, but point to corresponding sections of the syllabus for his labor economics class.
Tenet #1: The main reason today's workers have a decent standard of living is that government passed a bunch of laws protecting them.

Critique: High worker productivity plus competition between employers is the real reason today's workers have a decent standard of living. In fact, "pro-worker" laws have dire negative side effects for workers, especially unemployment.

Tenet #2: Strict regulation of immigration, especially low-skilled immigration, prevents poverty and inequality.

Critique: Immigration restrictions massively increase the poverty and inequality of the world – and make the average American poorer in the process. Specialization and trade are fountains of wealth, and immigration is just specialization and trade in labor.

[. . .]

Tenet #5: Increasing education levels is good for society.

Critique: Education is mostly signaling; increasing education is a recipe for credential inflation, not prosperity.

[. . .]

Tenet #8: Overpopulation is a terrible social problem.

Critique: The positive externalities of population – especially idea externalities – far outweigh the negative. Reducing population to help the environment is using a sword to kill a mosquito.
Okay, I'm going to sit and try to unpack this for a second. At first, reading Caplan's points made me think he was just oversimplifying. But dude, the things he says are downright offensive. I'm not sure if he's just being lazy or if he's genuinely such an amoralist that he can't anticipate what tf these things are going to sound like on the other end.
Tenet #1: The main reason today's workers have a decent standard of living is that government passed a bunch of laws protecting them.
Let's not forget about minimum wage laws here. Not to mention publicly-financed tuition at colleges in countries other than 'murica. And wages aside, labour laws exist to protect people from having to work 80+ hours a week, or do dangerous and illegal things. Pure compensation isn't the only factor here. Naturally, the standard of living in terms of pure $ doesn't come from government regulation but it's not the only factor at play here. Not dying in a workplace accident is pretty high on my list of priorities.
Tenet #2: Strict regulation of immigration, especially low-skilled immigration, prevents poverty and inequality.
I haven't seen many people other than the GOP seriously argue this. Most lefty-liberal types are pro-immigration. "They're taking urr jobs" has been beated to death and shown to be wrong a million different ways.
Tenet #3: In the modern economy, nothing is more important than education.
Assuming education is nothing but social signalling, it still confers value to its holder. The problem is education will always be social signalling unless you have a specific trade program teaching students individual tasks a), b), and c) required by your job. Which doesn't exist for most jobs because there are a million things required to do in the economy and not enough resources to design individual programs tailored to each. The signalling functions as both a sign of conformity and having enough intelligence to plow through a bachelor's degree. Learning terms of art is easier after that, because companies are lazy and would rather outsource competency. That being said, I don't necessarily disagree about credential inflation. But so many things we do are irrational.
Critique: The welfare state primarily helps the old, not the poor – and 19th-century open immigration did far more for the absolutely poor than the welfare state ever has.
Okay, but raising the wages of the absolute poor isn't the issue here. The issue is i'm unemployed and might starve to death because I have no money. That's why unemployment insurance exists. And of course social security.
Critique: Unless government requires discrimination, market forces make it a marginal issue at most. Large group differences persist because groups differ largely in productivity.
Okay, but the question is why do those differences in productivity exist. Because black people are lazy? Frankly this statement borders on offensive because the wage gap is only one facet of "racial and gender discrimination". Are we forgetting that 60 years ago there was no right to vote?
Political, social, discrimination don't exist. This is why Caplan has his head in his arse. He thinks by distilling everything down to a number he's solved every problem inherent in social organization.
Critique: While women in the pre-modern era lived hard lives, so did men. The mating market led to poor outcomes for women because men had very little to offer. Economic growth plus competition in labor and mating markets, not feminism, is the main reason women's lives improved.
Sooo... women's lives got better because their husbands started going straight to the bank. Again, the issue here is not absolute wages. This is what happens when you're so bone-headed you think the only metric that matters is income. Excuse me, the right to vote, second wave feminism (read The Feminine Mystique), not having your ass grabbed by your boss? Like maybe the violation of our most basic human rights might be important here? This is worse than Rev. Peterson.
Critique: The positive externalities of population – especially idea externalities – far outweigh the negative. Reducing population to help the environment is using a sword to kill a mosquito.
Again, Economic growth > depleting all the Earth's available resources in Caplan's eyes, and assigning value to these things is not "rational".
My 13-year-old homeschooled sons just finished my labor economics class. I hope they take many more economics classes, but I'll be perfectly satisfied with their grasp of economics as long as they internalize what they learned this semester.
Hopefully when those kids successfully solve the extensive-form continuous game with imperfect information for their $9.95 they can go to a concert or something. In labour economics vs. the world, I'm putting my money on the world.
–
My goal in sharing this is not to wholy convince anyone of Caplan's views. I'm not persuaded by all of them myself. But moreover, I understand how difficult it is to change minds on something so resistant to experimentation and clearly persuasive data. We're mainly left with theorizing. Caplan's list, to me, is a list of underrated explanations for things we observe.
For instance, workers' standards of living. The conventional wisdom, that but for government regulation workers would still be dying in mines or there would be child labor, is one theory. And it's true to some (immeasurable) extent. But that would mean we could wipe out poverty by installing American workplace regulations the world over. That doesn't seem like it would solve the problem. Most labor economists would say that government regulation lags the real cause of rising workplace and living standards: "economic growth, which in turn is driven by technological progress, a market system, and a culture of entrepreneurship. As the economy grows, the demand for labor grows, and workers achieve better wages and working conditions." Greg Mankiw goes on:
Economic studies of unions, for example, find that unionized workers earn about 10 to 20 percent more by virtue of collective bargaining. By contrast, real wages and income per person over the past century have increased several hundred percent, thanks to advances in productivity.
In response to Caplan's assertion that "large group differences persist because groups differ largely in productivity" you charge Caplan as ignorant of history and probably racist. I don't think he's either, but I'd ask you: Why do large group differences exist? That's a sincere, genuine ask. I think the conventional story--institutional and individual sexism and racism--is a theory that explains the state of things to some (immeasurable) extent. But Caplan alludes to another theory: groups have different preferences, affinities, and abilities, largely the result of cosmic forces no one is responsible for. Some of them are uncontroversial, like that women, not men, give birth to children because they have the reproductive organs. Or that men are more often in prison, or on death row, because they are more aggressive and prone to violence than women. More controversial: NYC Mayor Bill de Blasio recently announced plans to eliminate the test that apportions seats to the NYC elite high schools and replace with a system that would offer spots to the top students at every middle school in the city. The reason being that the composition of the elite schools does not mirror or even approximate the racial proportions of New York City's population. For instance, the city's public school are 70% African-American, while the most recent admitted class at Stuyvesant, the flagship of the elite high schools, admitted something like only 10 African-American students. That's a racial injustice, which ought to be remedied. However, Asian-Americans, who comprise 16% of students enrolled in city schools, are 62% of the students enrolled at the elite high schools.
The composition of New York City's public schools and its elite high schools would seem to foreclose the argument that institutional racism is responsible, since Asian-Americans, the object of animus and racism for much of American history, are so "overrepresented." If invidious discrimination does not explain every disparity, what does? An underrated source of explanation are that there are differences in preferences or inclinations between groups. I'm hesitant to say exactly what they are because I would only be speculating, and it's controversial enough a point already. However, because something is controversial--radioactive, even--therefore it is untrue in principle? I doubt it.
I don't follow Caplan's point on mating markets to speak knowledgeably about it. But, again, if the state of the world is not monocausal, then a full accounting would entail lots of theories and explanations, no matter the derision they're met with because of social taboos or political correctness.
–
The danger of assholes like Caplan is he can bloviate a bilious bag of bullshit and what you say is "the conventional wisdom" is "one theory." This is the principle problem with economics: any given asshole, with the proper backing, can come up with the idea that "monopolies are good" and a whole bunch of chin-stroking American Enterprise Institute troglodytes will throw eighty eight gajillion dollars at propagating the idea that we haven't beaten this shit into the ground and before too long, here's fucking Ben Shapiro, knowing beyond a reasonable doubt that monopolies are good before he knows beyond a reasonable doubt that soiling his diaper is bad.
I mean, fuckin' hell, dude.
Tenet #1: The main reason today's workers have a decent standard of living is that government passed a bunch of laws protecting them.
Google image search: standard of living vs productivity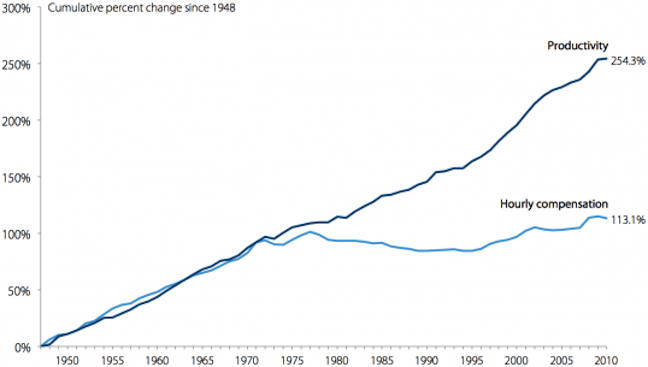 HOLY FUCKING SHIT IT'S AS IF THERE WAS A MASSIVE DECORRELATION THAT PERFECTLY MATCHES CONSERVATIVE ECONOMIC THEORY
and you can do this with every single point he makes. Every. Single. Thing. he has to say can be completely discounted and discredited with the barest minimum of effort. It's a fucking house of cards and the really pernicious thing about this shit? You're smart enough to know that. You're smart enough to google this shit yourself. But you don't because there's some smarmy authority figure puckishly arguing that Upton Sinclair was overreacting.
Why do large group differences exist?
Because "work" is a cultural construct and cultures differ. We're just now getting around to the idea that housework is work, despite the fact that we used to sell amphetamines so that women could get through their fucking day. See, this is my problem: this shit is easy but because it's postured as if it's hard you're left agog wondering who said the sky was blue in the first place.
–
All I'm hearing from you is that I'm forbidden from thinking these things. And with an urgency that totally confuses me. That workers have become more productive, causing employers to compete for them along axes like higher wages and providing more hospitable working conditions, not only has no explanatory power to you but apparently paints me a mental invalid or worse for thinking, and stupid for falling for.
Does that mean people who consider these things are stupid? Even if it somehow did, why would your sanctimony push edge cases like me to your side? You know how hard it is to persuade anti-vaxxers to change their minds with condescension and outrage, and that sort of position actually has clearly persuasive data refuting it. Here we're talking about the economy, something at the edge of our epistemic limits, and I'm getting told I'm stupid for considering critiques 1, 2, 5, and 8 are onto something and worth discussing.
I understand that you think Caplan is an invidious, pernicious shit, but surely there are lots of really interesting theories as to why wages and productivity decoupled. And now I don't want to even bring them up because hubski is off limits for this stuff for fear of looking stupid to you.
>Why do large group differences exist?
Because "work" is a cultural construct and cultures differ.
Isn't that precisely Caplan's point? There are group productivity differences not because there's something wrong with black people--a statement nil imputes to Caplan--but because humans are wildly diverse in their preferences, preferences that are psychologically wired to be influenced by our cultural heritages and upbringing, and not because there is a compartmentalized racist shutting seven doors to African-Americans at Stuyvesant but opening four to Asian-Americans.
–
The anti-vax analogy is apt. There's an existing body of science that is entirely settled by everyone with any knowledge of the matter, yet a rogue opportunist runs a dishonest study with an n of 6 and all of a sudden we're spending billions re-proving what we already know so that things we beat back through great force of effort decades ago are suddenly infecting young idealists and their children.
You are in no way "forbidden from thinking these things." You are, however, entirely deserving of scorn for discarding all intellectual rigor, for accepting it all at face value, for failing to see the rhetorical sleight of hand that produces the framework they hang their ideology on. I haven't taken economics since 1994 and that was like a 200-level class. I've only taken one quarter of statistics. But I can see it's a bunch of assertions and cherry-picked data points simply because I've seen the preponderance of evidence which says the exact opposite of what they say and can find that evidence easily.
The difference is I'm looking. you're not.
Caplan does not withstand any sort of skeptical scrutiny whatsoever. He's the guy saying anthropocentric global warming is a myth because it snowed last winter. But so many people want to believe that they don't have to feel bad about Walmart workers making nothing that Bjorn Lomborg has a think tank.
Thing about the anti-vaxers? They have to Patreon this shit. AEI, just to use one easy example, has 250 people on staff and a budget of $55m. Think all you want but fucking think:
Tenet #1: The main reason today's workers have a decent standard of living is that government passed a bunch of laws protecting them.

Critique: High worker productivity plus competition between employers is the real reason today's workers have a decent standard of living. In fact, "pro-worker" laws have dire negative side effects for workers, especially unemployment.
Caplan's got two links in there but they're not links. They're just his syllabus, which contains no information that he didn't create. Meanwhile, he's arguing that "productivity" and "standard of living" are positively correlated. That's great. That's easy. I can do a google image search on that and find graphs that people who use actual numbers and actual data have assembled to examine this correlation and check it out:
The web is full of that graph, or that graph's friends, or that graph's cousins, and I can look at them all and see vetted, scientifically-collected, peer-reviewed data. Then I can go google "worker protections over time" and not do great, but I can know, because I'm a thinking human being, that what Caplan and his ilk mean when they say "worker protections" is "unions" and I can look up "union jobs over time" and I can see this graph and all its friends and all its cousins:
So where are we? I'm sure we'll argue whether "per capita income" isn't a direct correlation to "standard of living" and whether Caplan really meant "union participation" when he said "worker protections" because that's the mealy-mouthed shit think tanks like to do - "C02 concentration is not a perfect analog for global temperature increase" and the fact is, a bald-faced lie has just become a disputed fact because they asserted a bunch of horse shit and now we're dickering over what 'union participation' means. Meanwhile, before this bald-faced lie, you were sitting stuck like a patsy thinking that unions are good for workers like your father did and your father's father before him.
'member "truthiness"? The parody there is that sentiment is becoming "fact" because facts are inconvenient and unfashionable. Caplan and crew are what truthiness is all about - here you are, upset that we don't want you believing a bunch of groundless, harmful bullshit just because it happens to be demonstrably untrue.
Are you stupid for considering it? No. You're stupid for thinking you're "considering" it when you aren't. You're accepting it.
The anti-vax movement is an undiluted evil that has accomplished nothing but division and the outbreak of preventable diseases. It's also a social signifier that broadcasts allegiance to a certain set of values. I'll make you a deal - I'll read your Caplan book as soon as you read The Curse of Bigness and gimme a book report. 'cuz I saw that, too - you take an anti-vax parent and you let them see what being anti-vax means on a practical level and before too long, they're scheduling an MMR. Been there, done that, charged $40 a head.
I'n'I be studying the Belle Epoque. In particular, the jewelry of the era and the people it was made for. And you know what? If you were shopping at Cartier in 1910, Upton Sinclair was a rabble-rousing peasant, your world was one of diamonds and platinum. And if you looked at the world in a truthy way, it always would be...
...and may well be again.
Others have talked about specific issues with his points, but my main issue is a broader one: he talks about this stuff like it's not itself a religion. The idea that economics as a whole is scientifically rigorous is a very shaky one to me. It's become far too wrapped up in politics, and is about justifying what we already think rather than finding anything new.
I don't have a problem making moral arguments about how things should go. I have a problem with people pretending that isn't what they're doing, and instead trying to hide those moral arguments behind a mask of objectivity.
hubski: "go elsewhere if you want to talk about ideas"
You are wise to consider Caplan merely a source of additional explanations that might contribute to our understanding of these complex systems, and not an infallible speaker of truth.
He's only human, despite his reputation as a superforecaster. Yes, it's true that he wins all his bets (updated scorecard shows 17 W 0 L), but many of them were strategically made with ideologically-driven attention seekers who reflexively (often aggressively) reject any ideas that challenge their preconceived notions.
I do respect someone willing to make predictions. Making a clear prediction entails the risk of being wrong. If we can never be sure when you are wrong, how can we know if you are ever right? It seems to me that people avoid making clear, measurable predictions.
Making a wager is an even stronger claim. Not only does it answer the "talk is cheap" objection, it provides a way of keeping score.
Even four tenets are a lot to cover. Let's look at #1. First of all, is it true that today's workers have a decent standard of living? That's a relative judgment, and the economist is apt to ask, "Compared to what?"
Taking the wide view, we can look over the long stretch of history and see great improvements in living standards, especially in industrial societies.
Life in a Medieval City was featured in Bookperk yesterday as a $2 e-book. It was a source for the Game of Thrones author and has been great. The authors describe regular life in Troyes, France circa 1250. A well-off burgher (bourgeoisie) family lives in a three-level wooden house. At dinner time, almost all light comes from the fireplace, as candles are too expensive and the windows are covered with oiled parchment (glass was so precious, even great nobles took their glazed casements with them as they moved among their estates). Everyone shares a cup with their neighbor, so it is good manners to wipe your mouth (on the tablecloth) before taking a sip. Pepper is "just costly enough to be a rich man's table seasoning" and ginger, nutmeg, cinnamon and other expensive imports are secured in a locked cupboard.
And these are the city dwellers fortunate enough to practice a trade, country people have to make their own clothes, starting with spinning their own thread.
Even this sounds good compared to earlier agrarian life, when much of the day was spent minding labor and food animals. Books about energy by Richard Rhodes and Vaclav Smil described a constantly increasing quantity of energy harnessed by humans to make life more bearable, going from muscle power to animal power to mechanical power with ever greater efficiency and capacity.
Improvements in life quality are notoriously hard to measure, like pain at the doctor's office, but even the most nostalgic Luddite would be unlikely to find contentment in the world of 1250, or even 1800. (As demonstrated by the small number of people who choose to live without life's modern conveniences.)
How about life at the workplace? Discontent is immortal, but today we hear complaints about "bullshit" desk jobs without meaning or warehouse work without air conditioning, when meaningful, hazardous jobs without air conditioning used to be commonplace in agriculture, construction, seafaring and mining.
The disputed tenet is that the standard of living of workers is decent because "government passed a bunch of laws protecting them." Even finding correlations can be difficult, so coming up with explanations that will convince anyone is probably hopeless.
Regulation may, as you mention, lag behind the leading edge of rising standards, but it may also have the benefit of "regularizing" a new practice in workplace safety and, importantly, enforcing the standard rather than passively waiting for every business that locks the factory doors to go out of business when a fire kills all the employees. Good regulations could set an example for other authorities to follow and raise expectations of what is considered acceptable. If only the unintended consequences and unseen effects were not so often negative.
But Caplan speaks of the "main reason" and "high worker productivity" is undeniably a beneficial influence. Workers who can produce more value (with a plow instead of a stick, with a horse instead of without, with a tractor instead of a horse, or now with a fleet of GPS-enabled tractors) are typically able to capture more of that value, as shown by the pre-1970 income charts. What's happened since 1970 should be the topic of another post, but even the most pessimistic accounts seem to be that incomes are not growing like they used to, that after being adjusted for inflation, incomes are now "stagnant" rather than growing. Given the tremendous value added by the tech companies (scorned, as usual, by their most avid consumers), it's hard to imagine anyone preferring to go back fifty years with the same (adjusted) income.
Competition between employers is so not often recognized, especially since most people have experience as employees but not as employers. It's often noted that employers pay as little as possible, but not mentioned that they don't dare pay any less than that because a mobile workforce is always ready to switch to Plan B. Minimum wage is the much-discussed exception, the law that enables (or forces) an employer to hire the less needy, more advantaged, higher-skilled applicant from the excess supply of applicants that is the predicted result of a price floor.
The Jungle was not assigned in my public high school so I did not read it until this year. One of the reasons I so enjoy social novels is that they remind me how good I have it with access to a motor vehicle, smoke detectors, reliable refrigeration, daily hot showers, electric lights in every room and a flush toilet.
–
Hi.
I'm more drunk than usual?
ANd I haven't had a lot of sleep
And I need to get up in the morning so this will be more terse than usual
BUt
HOLY
FUCKING
SHIT dude,
You just reached back to the MAGNA FUCKING CARTA
to prove a libertarian talking point.
Electric
FUCKING light
is 700yearsinthefuckingfuture in your account.
fuckingSTEAMENGINES? FiveHUNDREDyearsout
The year you choose to argue
Is closer to the FALL OF FUCKING ROME
than the fall of the twin towers.