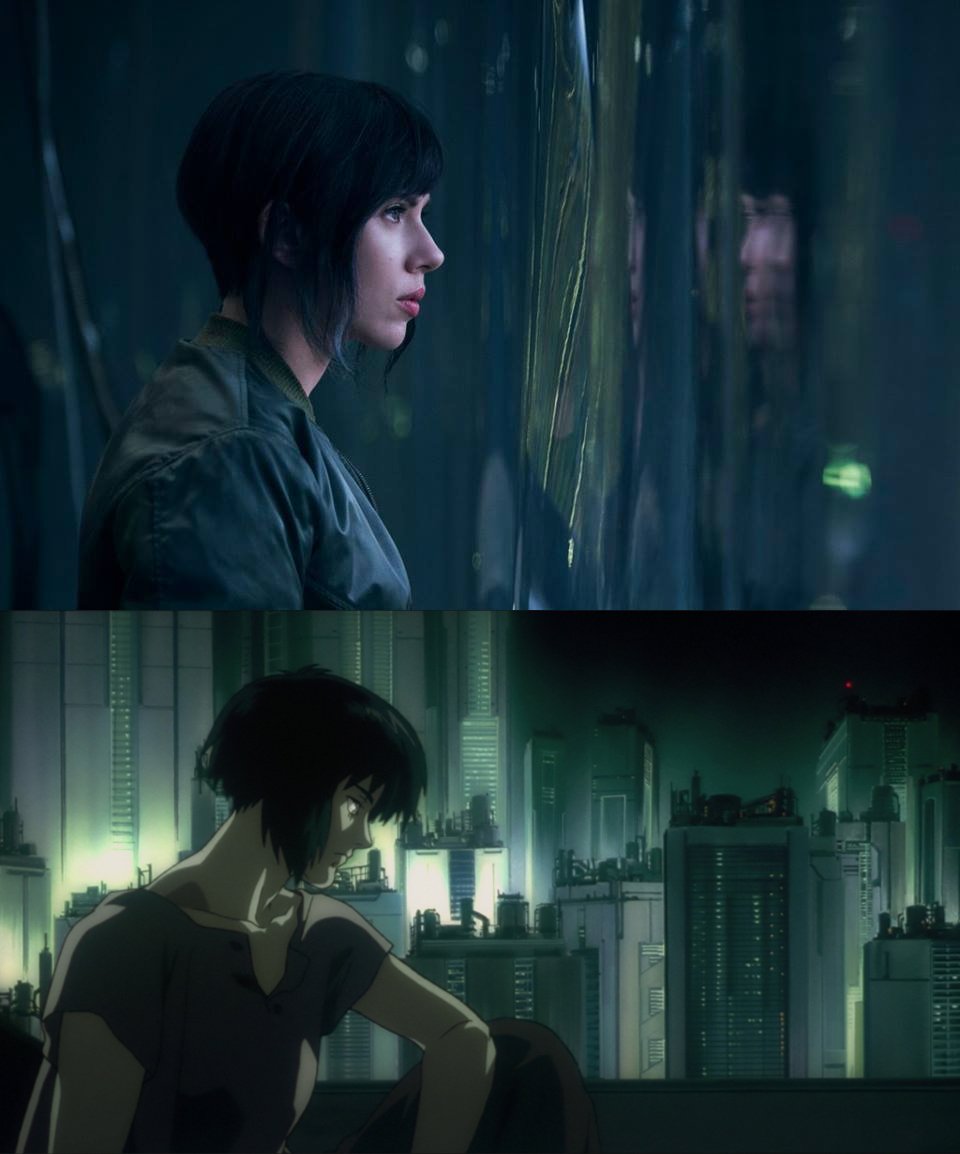 I mentioned this last week and I figured we might as well go ahead with it. Let's have a thread to discuss/compare/deride the new Ghost in the Shell movie as well as the previous anime installments and of course the new porn parody (yes, if you search "ghost in the shell porn parody" it's the first thing to pop up).
How does the live action Hollywood edition hold up? If you haven't seen it, what do you expect? What does it spell for the future rash of live action comic and anime adaptations?
Trombone kleinbl00 JakobVirgil mhr OftenBen plewemt elizabeth blackbootz Meriadoc Tiger_the_Lion _thoracic johnnyFive tehstone rthomas6 War Dala OftenBen bhrgunatha kantos francopoli anatomygeek Purple_Ruby
I hadn't planned on seeing it even before the reviews came in, mainly because I didn't trust Hollywood to get that kind of cerebral subtlety at all right. It looks like my expectations were accurate.
I haven't seen the live-action version, mainly because of lukewarm reviews, but I've always been a fan of the original.
Live-action adaptions are hit-and-miss for me. Some of the comic movies have been really excellent (like The Dark Knight) and others have been total dogs (see: every other recent DC movie outside of the Batman trilogy). The fact that live-action GitS turned out underwhelming isn't much of a surprise.
So I've actually seen the new movie. Overall, I think it was better than expected. The visuals and atmosphere were true to the original with lots of little details that pay service to the franchise. Various iconic scenes were remade nearly shot-for-shot, which I had no problem with. The part where it really suffered was the Hollywood retooling of the plot to hit all the groan-worthy tropes. The villain was overly villainous and lacked any credibility or realism. Some of the character relationships also suffered due to unknown reasons. The Major is untrusting of Batou at points?
Also some dialogue was traded out for crappier dialogue. And The Major's character was... uncharacteristic of what it should be. Uncertain and overly emotional rather than detached but confident. There's plenty for a purist to rag on.
Also acting was kind lousy. WTF scarjo, you can't act well and be famous at the same time? On top of that there was an almost amazing amount of word slurring going on for a feature film.
–
The visuals and atmosphere were true to the original with lots of little details that pay service to the franchise. Various iconic scenes were remade nearly shot-for-shot
Hollywood tends to produce gorgeous motion pictures as of recently: Avatar, the Mad Max remake/sequel, Man of Steel, Batman v Superman... Wanna know what else they have in common? Superficial story. Plot, characters, mental details (as opposed to perceptual) - all of it gone for the sake of a nice picture.
It's not as if you can't make it look good and tell a good story. Just look at what Breaking Bad and Better Call Saul have done so far. Beautiful cinematography. Great stories. Granted, it's not fair to compare TV shows with cinema films. My point is - it's not impossible, but Hollywood doesn't want that. People want bread and circus. Such pictures give you both, and you don't even have to give them any thought. Quite a deal.
kleinbl00, hoping to hear your thoughts on the matter.
–
Hollywood tends to produce gorgeous motion pictures as of recently: Avatar, the Mad Max remake/sequel, Man of Steel, Batman v Superman...
For certain definitions of "gorgeous."
Plot, characters, mental details (as opposed to perceptual) - all of it gone for the sake of a nice picture.
I agree with the statement but not with the reason given.
Breaking Bad was made for a basic cable channel that was going to make its money back (1) on initial ad sales and subscriptions (2) on secondary sales (foreign markets, Netflix, etc) (3) on merchandising (DVD sales... I doubt they knew they'd make this much money on t-shirts and branded merchandise, but once they had, they certainly pushed it). HBO pioneered that model: make content, show it forever. You can do this with TV shows; they fill airtime, they get cued up, they get binge watched. The economy for television is "fit it to your market, make your money over and over again, and if anybody else wants to watch, you get that money too."
Movies, on the other hand, have experienced a dire sea change. In, say, 1985, you had four weeks, five weeks, eight weeks to make your money back in theaters. Then you'd get another run in second-run theaters. Then you'd get money for licensing it to airlines and hotels. Then you'd get money licensing it to foreign markets. Then you'd get money licensing it to domestic broadcast. Then you'd get money licensing it to foreign broadcast. And by the way, that movie wasn't particularly risky. Star Wars was the most expensive movie of 1976 at 10 million. That's a $43m film these days.
Amy Schumer's Snatched is estimated to have cost $42m. Batman vs. Superman? $250m.
The studio lost their shit over George Lucas squandering $10m on a space opera back in the '70s. Adjusting for inflation, he could have made it six times for the cost of Batman vs. Superman.
ET? $10m. Blade Runner? $28m. Goonies? $19m. Heaven's Gate, the gold standard for extravagant bombs? $44m. But run down that list of things you can make money on and compare and contrast:
- the window for a movie in 1985 could be eight weeks or longer. E.T. was in theaters for a goddamn year. Sixth Sense ('99) was on over a thousand screens for 18 weeks. Now? Guardians of the Galaxy got 11 weeks. Granted - it got 4,000 screens. For two weeks. But more on that in a minute.
- airlines and hotels. Sure, the airlines and hotels will still pay you for your shitty movie but they won't pay a lot, which is one reason you see such shitty movies. When i flew to the UK I got to see Ghostbusters 2 on the plane. When I flew to Thailand 10 years later it was shit like "Little Nicky." Granted - you can sell six times as many things now but that means the airlines are paying 1/6th as much for each license... probably less because they know you're watching netflix rips on your iPad.
- foreign markets. ...put a pin in that.
- Domestic broadcast. Nobody cares anymore. By the time it's shown on TV it's been on Netflix or Hulu or Amazon for three years. That's a dead revenue stream. Ahhh, for the good old days:
(Note that at the time of this presentation, Alien was FIVE FUCKING YEARS OLD)
- Foreign broadcast. Again, gimme a minute.
So the money's all gone. Except it's not. What's happened is that all this lost revenue from domestic stuff has shifted to foreign stuff - for about five years now, what was an ancillary market has become a primary market. Hollywood films now make more money in foreign markets than they do in domestic markets. Which means they're competing globally, with foreign market films. Which means things of cultural nuance - movies like Goonies, movies like Breakfast Club, movies like Dazed and Confused - aren't going to translate to China, to Russia, to Germany. What translates?
- bombastic villains
- simplistic plots
- nuance-free humor
- ridiculous special effects
- giant set pieces
So what gets made?
- Superhero movies
- big dumb action movies
- big dumb sci fi movies
Because let's be honest: you don't even need to understand the language to "enjoy" something big and stupid like Batman vs. Superman. And it's something that your domestic market probably can't do as well.
To be clear: if you're Chinese, you're going to watch the shit out of Mad Shiela. And if you're a Chinese production company, you're going to make the shit out of Mad Shiela because you can put it together for less than the catering budget of Fury Road. And if you're making Mad Shiela for the Chinese market you can fill it full of Chinese-specific in-jokes, Chinese cultural references, Chinese tropes, Chinese design, Chinese color palates...
And if you're an American production company, you have to compete against Mad Shiela.
That's really the bottom line: every country now has an indigenous market that shows native films that satisfy native audiences. And every country now has these big bombastic American things that you go to see for pure spectacle.
Every country but the US. The US no longer has an indigenous market. We've got an export market. And it's an export market designed for universality and maximum early profit. Because of windowing, a theatrical release effectively has to make its entire budget back its opening weekend. This is a bookkeeping tour-de-force equivalent of a multi-story office building being pure profit the minute it opens. A Hollywood feature is now in the same budget territory as an off-shore drilling rig except instead of amortizing its expense over 10-15-20 years, it has to make its money back now.
And it's really hard to do that.
Making things even harder, nobody goes to the movies except kids anymore. We used to talk about "four quadrant films" - these are pictures that appeal to children, teenagers, adult men and adult women (think pretty much any Pixar movie prior to Up). Not even Pixar cares anymore - there's no part of Cars that appeals to anyone over 15. And the kids mostly go to see movies in theaters to get away from their parents, which they can do at the mall, which is just gonna get harder:
So what we're left with is the death spiral mentioned above. Theaters, in order to make money, have to make big bombastic things that appeal to teenagers worldwide enough for them to spend $15 each to get away from their parents on a friday night and the place they're most likely to do that is the place that's getting murdered by the crunch of available spending money and it bums me out but it's been a long time coming.
–
In other words, Hollywood production is aiming for generic image that's widely recognizable and easy to understand around the globe because it strives for a bigger, more intense market. I wonder why don't studios recognize that better work means better yield of cash as well as audience satisfaction.
The latter sounds like extremely pragmatic thinking. There's a saying in Russia, put forth by a pop singer of days gone by, Bogdan Titomir. When asked why would he produce the kind of music that he does, he replied: "Folk chomps it" (in Russian, "Пипл хавает"; good luck translating that). The music can be superficial, but as long as people are hanging by it, they will keep consuming it. Same, it seems, applies to the film industry nowadays.
For certain definitions of "gorgeous."
"Eye candy" is what I should've said. I heard someone on Hubski say that phrase while describing what made Mad Max a good film.
Man of Steel is quite a sight, no matter the coloring.