These last two weeks have been busier again work-wise. Product launch and stuff. It feels like work again, which is mostly good. I've been offering feedback and advice to a few people on their own efforts. I don't like to talk about startups much. I think that's because of some of the culture and cults of personality associated. Startups are 99% about the founders, and there's a humble grind that gets lost in the noise. All the books about startups are useless. I'd advise anyone that wants to start a company to toss all those books out, and to spend the time building. At best, those books are PR for the author. You either work at something when it makes no sense to anyone but you, or you fail. I've seen this play out several times in a number of ways now. There will be at least one point where your effort no longer makes sense to anyone but you. One of my YC batchmates has been grinding at his product since 2017 and it's now starting to pay off. It's a wonderful thing to witness. It has nothing to do with the money. It's like climbing a mountain, or placing in a triathalon, or playing a piano solo in a concert hall. He's been working to build something of value, and people are starting to take notice that he really has. It's a joy to watch. I'm so happy for him.
More progress on the painting:
I figured out a trick last night regarding shading. Sometimes I feel like painting is a collection of tricks.
I have also continued to build my custom RC car. The pace has slowed since my office isn't in my garage atm, but it's moving along. My next effort is to turn a sheet of lexan into a body with a heat gun. I've already used it to modify the angle on the roll cage. I didn't realize how quickly heat guns get hot. I almost destroyed it immediately.
Finally, I have the long-term goal to create an iOS app. I believe that I am going to write the service in Python using the Django framework. I have a Django droplet deployed on DO at any rate. Happy to take advice. I've done some looking to see if there is an open source Swift/Django app out there without much luck. Not a big deal, but I love to learn by poking around with something that already exists.
–
I'd advise anyone that wants to start a company to toss all those books out, and to spend the time building.
Someone recommended reading Founders at Work to me yesterday, which I'm sure you've heard of, not because it tells you how to found a startup but because the advice is so wonderfully contradictive. It supposedly shows by example that there are no good ways of doing things, that really nobody knows what the hell they're doing anyway, so just do what works for you and figure out a way to combat your blind spots.
I have the luxury of working half to most of my week on a sort-of-startup. I'm saying sort-of because it's a government-funded pilot project to develop a new mobility app to compete with Uber and Google Maps, so it's a startup with a safety net. It's wonderful to still be at the stage where we can be so nimble and change course today if we have to.
–
I haven't actually heard of it. To be honest, I eschew that literature on principle. I agree with that conclusion, however. IMO you can arrive at the same from reading biographies, and you get history lessons to boot. :)
That sounds like a daunting and fun challenge! The buddy I referred to is beating Google at speech recognition.
I worked within the TechStars business incubator when I was starting my marketing consultancy. I saw 3 whole cohorts go through the program, and the start of the 4th cohort.
The owner of TechStars was a client of mine, and he had his business housed in the same work loft as TechStars. So I wound up being the "in-house marketing consultant" for all the TechStars founders and projects.
I got to see a number of big name projects in their very infancy. The best ones always had 4 people at the core of the project as co-founders. One person is too myopic. Two people argue. Three people just kind flail around each others' orbit.
But once you have 4 people, each person has a 'reasonable' amount of work to do (<70 hrs/week), and there are three other people you can "team up" with to tackle specific problems, depending on their area of expertise. ALL of the 'winning' projects from TechStars had 4 people at the core.
Although, once launched, those projects would quickly lose two founders, and gain employees instead. There always seemed to be two founders who had little interest in running a company; they wanted to build shit, and not be confined. So they'd be bought out, or become silent partners and pursue other interests.
It was a cool environment to be in.... got to hang out with Sir Mix-a-lot, even!
Work is exciting right now. We are launching a new product and all indications are that it truly is remarkable. It will likely help a lot of people and it will help the company, significantly. It's fun launching something new. Hat's off to mk for developing the patent behind it.
Kids are doing alright. I think it's been hard on them that I am working a lot more again. I mean, I never stopped working, but I am back to taking a lot of calls after hours, etc. It's hard for them to see me be in the same home but not be able to spend time with them. Much easier when dad is out of town or at the office. Out of site out of mind.
My wife is close to opening her own clinic. Should launch in February. Lot's of effort has been put in to this. I'm proud of her. She's going to do very well, I have no doubt.
We are about to do two major renovations on our home. Our master bathroom and our kitchen. They'll start in February. It's gonna be a wild Feb - May. Once that is completed, we will work on the detached music studio that sounds_sound is designing for us. I am very excited for this. VERY.
I just transitioned to Logic Pro X. kleinbl00. It was time for me to get a new Mac and there was a really good deal on Logic. I thought, "why not try." I got the Apollo Twin X as my interface. I'm sure I'll have time in the next 3 months to eventually set it all up. But it's nice to know that there's a new toy waiting for me. I've also bought some neat little things to make my recording space neater. Pedal board, new cables etc.
Just need that studio, sounds_sound
Hope everyone is safe and healthy, Hubski. See you all tomorrow at the 10 year reunion!
My long-term care facilities should be getting vaccine within two weeks. There's a stupid amount of questions outstanding and I'm pretty sure there will be absolutely no guidance for any of them and I won't be able to help my people. It's not fun.
But there's so so so much relief at these facilities. I'm hoping my job is obsolete in a few months. Like yeah employment is cool and all, but so is no covid. Realistically if all goes well vaccination rates will be high among residents and staff and then rates of disease will be super low and I'll be able to focus on a lot more beyond just the facilities. Likely that means painfully repetitive investigations, but if that's what it takes to ensure my people finally get some damn rest after running on 250% for almost a year, so be it. I think we're moving in that direction and I'm so happy.
Update 12/17 - state provided some guidance so I was partially wrong and I quite pleased about it. Not full guidance, but every little bit helps.
I made homemade pizza on Sunday, which really means homemade crust with sauce, cheese, and toppings I bought. It isn't worthy enough of its own #breadwatch post, but I have two more yeast packets I'll need to use up. I'll either try pizza again or maybe something else? I'm open to suggestions.
I'm working tomorrow and next Monday, then I'm off from 12/15 through 1/3. It's probably the longest continuous stretch of time off from work since I started. I wish I was traveling somewhere, and if it was just me to worry about I might. But I don't want to ask someone to check on my cats during a pandemic. I don't want to ask them to increase their risk, and I realize it increases my risk, too. I'm going to try to cover more of the Ice Age Trail, probably trail running some but maybe hiking, too. The closest segments I haven't done are at least 90 minutes away, so I can't do that every day because the driving would be super annoying. I'll try to finish a couple books I have around. I'm halfway through Cloud Atlas, and I know I have White Fang here.
I have a broken tube amp that's been partially repaired for years. This might be enough time to finally try to see if my fix worked.
I'm open to suggestions for hobbies to try.
Go for it, everyone. The sight of actual vaccines fills me with relief. Actually makes me optimistic for next year, even though there's a fair chance it might be another half year or year before it's my turn. There's light at the end of this tunnel, jfc.
My new PC build is almost complete. I'm now transfering all of my files from slowpoke ancient HDD to a blazingly fast M.2 NVMe SSD. Just mounted the GPU in this teeny tiny NZXT H1 case, now I need to figure out how to have it use my 1060 instead of the internal GPU. Probably a bios or driver thing.
This has been the most challenging PC build I've done, which is the equivalent of saying it's the most challenging IKEA furniture I've built. A bit of a puzzle to squeeze it all in there, but this 7x7" case really does fit everything I had in my ol' bigass case plus more, somehow. All the wiring goes out to the bottom, which is wonderful too.
Best of all: if I didn't fuck anything royally up, I can finally start my Christmas holiday this weekend with Cyberpunk 2077 after being hyped for almost 8 years. Feels like I've been waiting forever, not just for my Christmas holiday to finally arrive, but also for that game, so it seems fitting.
–
Can't wait for the vaccine, myself. Apparently it is a two-stage vaccine... one shot today, continue as if you never got the shot, then a second shot a month later. A week (or two?) after that, and you are vaccinated against COVID.
I see a lot of issues with people adhering to that process, and am filled with trepidation about what will happen when COVID mutates for a whole population of half-vaccinated people...
I love y'all.
I am less often myself than I would like to be at present. Holding pattern. Or as best I'm capable.
Moving soon, just checklist items, nothing up to chance or question anymore. Now I get to learn the gripes and grievances of home-ownership, starting with an electrical box that for some reason is located in a basement bathroom.
And this beautiful little thing just entered into our lives. Meet Willow.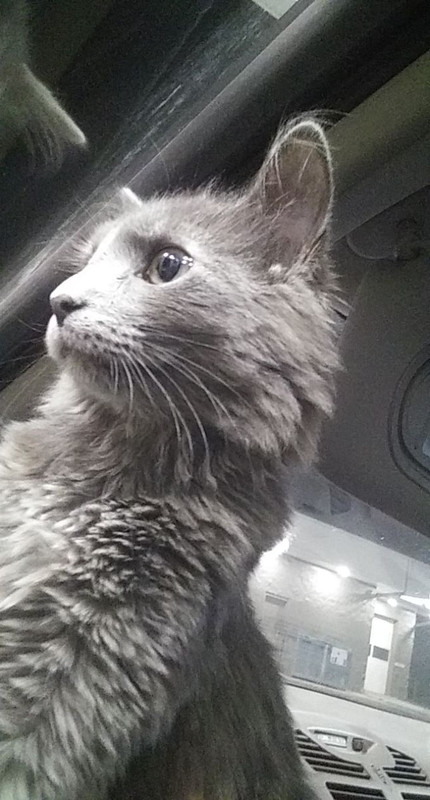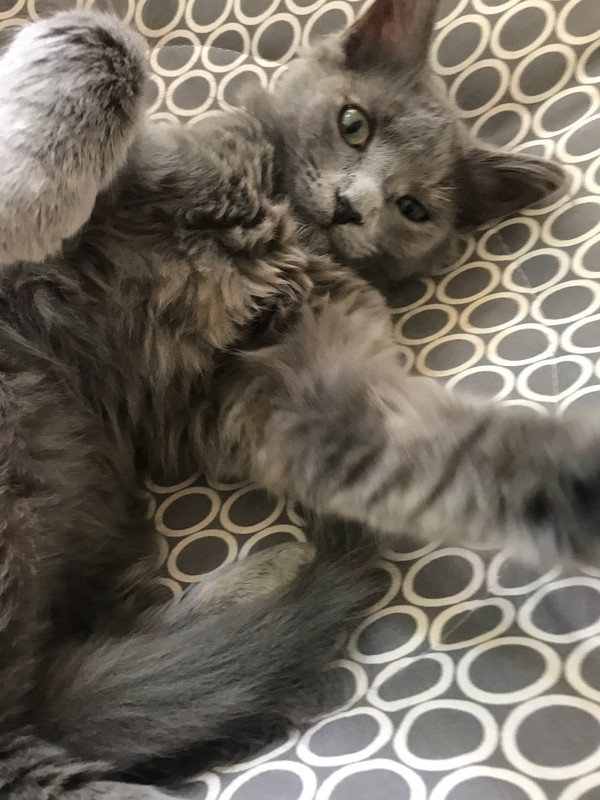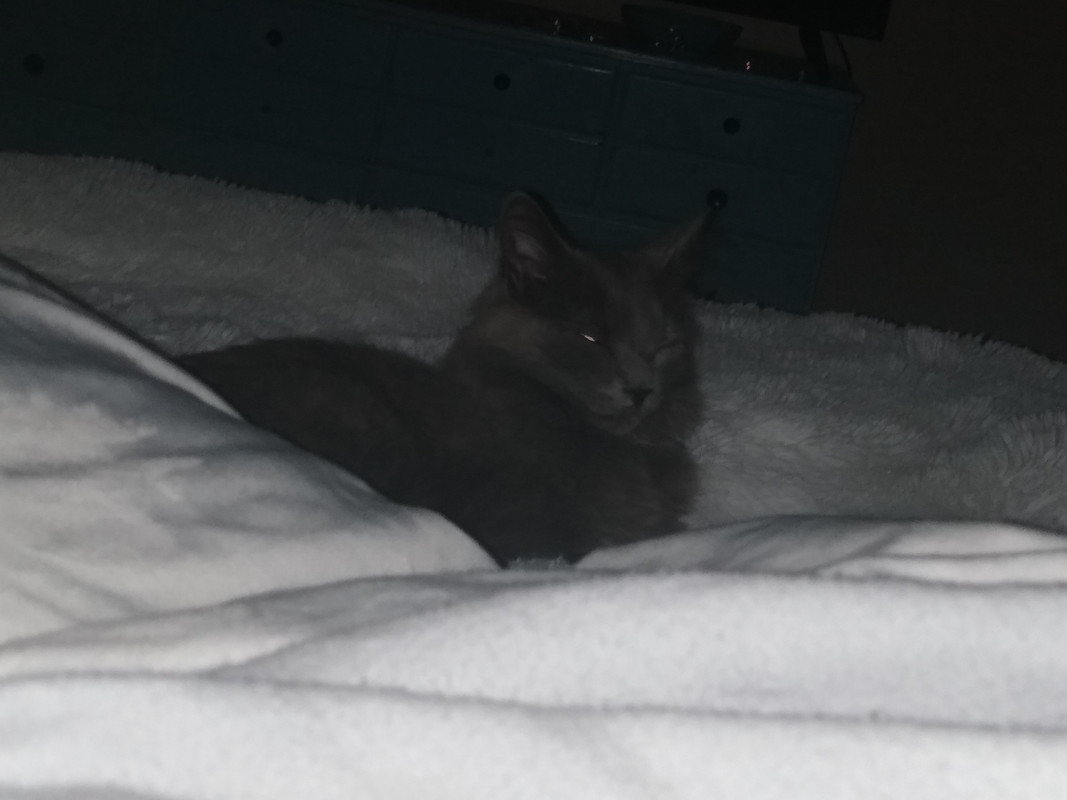 My mom is fostering her until we move. Grateful for some forms of support that aren't conditional, or at least less so.
Almost as important as the kitten is her origin story. A friend knew we were doing some looking around for a pet and a cat is more than suitable for me at the moment, she mentioned a relative of hers has a kitten they needed to rehome. Willow comes from a large family who adopted her as a barn kitten, took her home about as soon as is safe to do so. Unfortunately, over the time it took for all of the kids in this large family, especially the oldest, to bond with her, Dad figured out he has a genuine cat allergy and the cold weather and covid restrictions only made his symptoms worse. After arranging the foster we drove to pick her up today.
Meeting Willow's family I was instantly heartbroken. I recognize a days worth of crying packaged up and kleenexed away. I recognize an oldest sibling holding a family pet close, petting her companion each time like it's the last. I'm almost crying again writing this even though I kept a brave face and said all the requisite (Trite) things. We will give her as much love and attention as you have. Yes, I'll make sure her stuffed bear is by her bed, even if she only sleeps with it occasionally.
On the drive home we decided that just saying thank you and the card / giftcard we had planned was insufficient. Kids under the age of ten deserve more than to lose their kitten this close to the holiday. Collaborating with our friend, their second-cousin? we are going to write the family a card from the kitten's perspective, stick it in a big basket of treats'n'sundry, as well as a separate card for the oldest who clearly had this kitten close at hand since quarantine started. I don't know what we're going to say yet exactly but between my thesaurus and a few other people gifted with more emotional intelligence than I, maybe we can offset a little of the bitterness that is part and parcel of today and all days like it. If anyone can tell me what entertains kids under the age of 10 other than various sugars and electronics / what kinds of gifts parents don't loathe please message me.