THE FOREWARD
Morning, Hubski!
A continent is on fire and the Situation In The Middle East continues its decades long trend of being concerning. Let's talk about watches and embroidery and quilts to take our minds off the news for a bit, shall we?
Note: I'm going to keep writing smalltalk forewards, but I'm starting to read more poetry recently and I'll probably be sharing some excerpts moving forward. Y'all keep letting me post this thread, so you can't be surprised when I turn it into a soapbox ;)
THE AGENDA
Post updates to your projects, announce the beginning of new projects, or just show off what you've done!
QUESTION ONE: Are people at all bothered with the craft thread's posting scheduling being a total tossup between Tuesday, Wednesday, and Thursday? I could definitely plan it a bit more - thus far I've just been posting it when the moment feels right!
QUESTION TWO: Does anyone want to be added/removed from the tag list? Feel free to DM me! Some people have been intermittently active: let me know if a preference emerges!
THE TAGS
Foveaux, kleinbl00, veen, zebra2, applewood, darlinareyousleepy, elizabeth, Dala, thenewgreen
Alright! So, garden. Please ignore the messy soil etc, we've had winds so strong someone is in hospital after a branch fell on them walking down the street - all kinds of crap has made it's way in but it shall be tidy again! I would like to pour one out for both my spinach and my capsicum. The spinach grew well. Too well. It went to seed rapidly and we had to remove it before ever trying some.. Next time we'll be better prepared! The capsicum, well I planted four and one by one they literally disappeared. I don't know what happened to them. Maybe a large enough bird took a liking and just ripped them out?
Firstly, my peas. Growing nicely, got them on stakes but they're producing pods and becoming full without getting much taller so it may have been overkill.
-
-
Now, the carrots - and some chives in the bottom left, apparently chives help keep some sort of bug away that will otherwise consume my precious carrots. The carrots are far too bunched together but I planted them in a very hectic time and we weren't able to visit for a while, they have been thinned at least! The tiny ones I unearthed during this process were delicious.
-
-
The spuds! I planted 9 spots, only three have taken. Apparently the soil has been used as a dumping ground for a few years, so it's time to make it happy again. This is a good trial run at least. I worked the soil over initially and I found plastic, beer bottle caps, glass! So in time I'll be able to get it cleaner.
-
-
The cat! Elvis is settling in nicely. Even handling the various visitors we've had over the past couple of weeks. Normally he'd shoot away as soon as you sneezed but now he sticks around to receive pats from strangers. Still can be skittish and does not like to be looked directly in the eye. However, he has this fluffy gray blanket he loves, and my partner's mother got us this floral bit of fabric for him to scratch up, ideally saving our furniture. Gonna come in handy as we're replacing these light brown seats for a larger L-shaped sofa and I have no doubt the wee man will tear it up. But look at him! He's so comfy now.
-
-
To a slightly different project, the road to the 140kg bench has begun. I was meant to have this done last year, but it was a very messy year and training seriously fell by the way side. Below, is 115kg - a weight I've dropped down to focus on some technique tweaks I want to try. Basically revamping my entire setup. My current max is 137.5kg which is frustratingly close to 140 but, gotta earn it I guess. I know this and the cat aren't exactly a craft so I won't be updating on these part, but they're a "project" of sorts so I included them once for my peace of mind.
Hi. I didn't want to make a stand-alone post, and I remembered seeing this thread pop up at relatively regular intervals, and it seemed like a good place to drop something I (just) made that I'm pretty positive about.
I know at least applewood probably remembers that I was experimenting with lino/stamp carving a few years back. I have continued to experiment. This year for Christmas I carved stamps to decorate my wrapping paper. The wrapping paper turned out well -- well enough for my mom to tell me about some other stamp-carving lady she'd read about in Oprah who also carved her own stamps and sold cards she printed online. Mom and I talked about hand-carved stamps twice actually and both times she had a different name or two of people who practiced lino carving and sold their stuff and who had websites which I could check out, if I wanted.
I did want. I was interested to see what and how other people were doing with lino that was sellable. I've had my etsy store continuously open for just over a year now and it has been a bust. I have lost money through the etsy shop hands-down, the entire year. I'm not exactly surprised or disappointed by this, as the etsy shop was always a bit of an off-the-rails venture for me, but it certainly hasn't helped me feel like I make anything art-wise that interests the masses, either.
One of the artists I looked had a different technique than my usual approach. This person would take an entire lino block or stamp block (a block the size of the card faces she was printing) and carve out an entire scene in the block. She used the carving to create black lines, and then colored in the white spaces with watercolor. Yesterday as I was messing around with stamps all day I decided, hey, why not, I have never done anything like this before, I should give it a try. All the lady's products were nature scenes and it made sense for my first attempt to do the same. (Mostly because, I had no other direction and "why not?" ref said.)
I decided I'd carve a fox, googled my way across this particular fox-picture, started sketching and shortly after, heck, I started carving.
After some intensive carving time, here's my end result (the print).
I am pretty darn happy with this. It's absolutely the most complex thing I've carved.
Next I am going to take one of the black prints and try coloring it in to see how that might change the finished product. Instead of watercolors I'll be using crayons (because I don't have watercolors and I've had a surprising amount of success with using crayons on art lately).
What's different/interesting about this piece and approach to carving is that, if you notice, there's a fair bit of solid black in my print -- uncarved lino. I don't think it would benefit this particular stamp to have the background fully detailed. I think a fully detailed background would distract from the fox, which is supposed to be the focus of the print. However, I bet there are other ways to deal with black areas (maybe just pattern them with lines or something) etc...
Well, let's just leave it at I have a lot to learn here, still. Also, it's worth noting that to use an entire stamp block to carve 1 stamp is...ridiculously resource-heavy compared to what I usually do (carve single image stamps out of a larger sheet and try to reuse scraps). However, I do have an untouched mounted lino block I got as part of a stamp carving set which is 4"x5", which means I will be doing another one of these full-image attempts someday in the future. I was thinking maybe a snowy pine tree, but now that I've carved this whole fox in the forest, a snowy pine tree might be boring.
I'll have to think about it.
Anyway, I'm glad this thread exists! It's good to have a place to share.
PS. Another stamp I carved yesterday, this one done in my "traditional" method and colored in with crayon:
–
–
It's OK. I've learned a ton this past year experimenting. And my mom's convinced that Christmas wrapping paper is going to be/should be my breakthrough. (Too bad the paper I bought is semitransparent -- that's the main thing preventing me from throwing anything like these guys up for sale -- pics below -- ok yes i'm oversharing.) I have theories about how to fix the paper problem, and if that doesn't work, who cares because yet again I've been forced to try something new in the face of something I planned not quite working out.
On a sidebar, when I move to a new state mid-this-year, I'll arrive in a town where I actually know someone who co-owns a specialty paper/stationery store. I have a crazy hope I'll have a decent number of really compelling creations by then, and maybe I can lean upon that personal connection and see if they might be willing to carry my stuff in the store. I think that cards and the like probably sell better in person -- the counter to that is a pure-white card is pretty fragile and easy to smudge or bend or otherwise devalue, which is why I haven't tried schlepping all my cards around to the small & local indie art fairs (the most popular of this type of local fair is held at a bar...)
In the meantime, I will continue learning how to make more random paper-related shits!
Looking at casting machines. There's one that's been on eBay for eighteen months "local sale only" that happens to be six miles away. Owned by a working jeweler with a bunch of other stuff. I can't really afford it right now but I'd like to be able to afford it soon. I also don't wanna lowball someone local because this is a tiny f'n community.
There's a 3D printer showing up today. The isopropyl and ultrasonic cleaner and curing lights and stuff will show up tomorrow. The resin showed up last week; I have to remind myself that the basement-dwelling dollprinters are largely juveniles because like, they're all "I've been in the garage all day and I just read the instructions on the bottle and it says "may be harmful if swallowed" and I'm breathing it is it too late for me or should I go to the emergency room" and fuckin' hell, guys, I've drunk gin with more offensive fumes. Fuckers need to meet aircraft remover. Shit'll turn your skin clear and eat your pants. If you're fourteen? You're allowed to be a pussy. But if you pay rent?
I was cleaning up yesterday and found my viking knit box. So I made some. It takes about an hour to make eight inches badly.
I made a few inches last spring 'cuz it's a good thing to do while you're sitting doing nothing, kinda like real knitting. I think there's something there.
Viking knit, near as I can tell, cannot be made easily by machine. This protects you from Teh Cheapness. This is Patek Philippe:
This is Teh Cheapness:
I'm not sure what is there yet but I'm not ready to give up. I'm positive it's not this.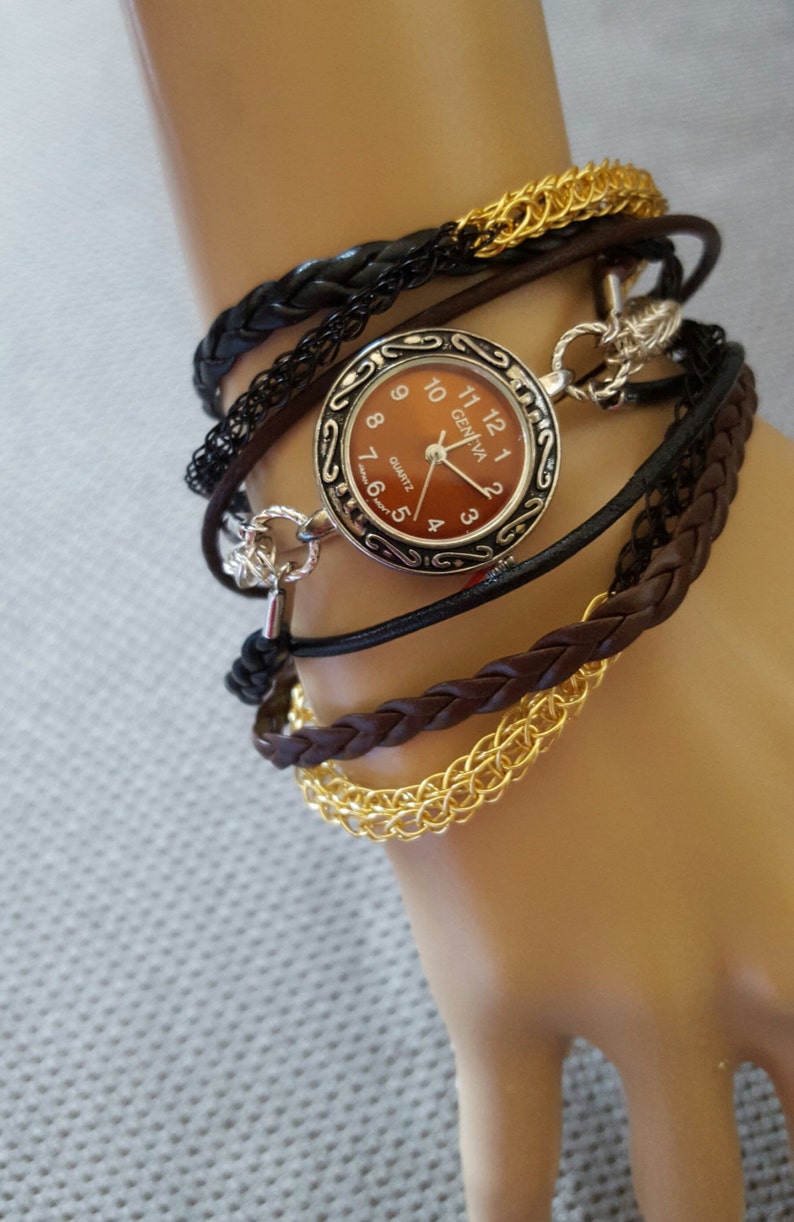 In other news, I had an hour so I dismantled a lady's watch. Old Clinton. You didn't even know that was a brand. They were out of Chicago, used Swiss movements. Went back to the twenties, yadda yadda. Broken balance staff, mainspring that was maybe at 10% power. The back hit me though.
I posted this to Instagram:
Here's the thing about watches.

Someone gave this to Angie back in the 50s, probably. It's a company you've never heard of, a base metal case, probably a cord strap, maybe an FHF movement, who knows, maybe we'll find out in a minute. It probably came from Montgomery Ward. It was never a Rolex, it was never a Patek.

But Angie wore it for twenty years or more, based on the service marks inside the case. This was a part of Angie's daily routine through the Red Scare, maybe kids, a few cars, who knows. She wound it every day.

Eventually it wasn't worth fixing. Maybe her kids or grandkids unloaded it in an estate sale. I bought it in a bag of thirty or so for six bucks. It's undoubtedly garbage now- it's not vaguely worth fixing and is another cadaver for the table in pursuit of horological knowledge.

But for twenty years it was a part of Angie's life.

That Apple Watch on your wrist. Where's it gonna be in 2039?
People hang on to their watches. Even now. I fixed someone's dad's Lorus this summer. Watch probably cost $30 in 1972. One of his prized possessions. There's something about a machine that becomes part of your identity. A device that's with you every day, everywhere you go. I think that's one of the things we have such a fucked up relationship with our phones - we invest ourselves in them while also knowing they'll let us down, betray us and need to be replaced after two years.
Angie's been making me think.
–
I haven't made any Viking knit in ages, or thought much about it either. Now you're making me want to, even if it will probably look like crap. I wonder if I still have the book that I learned that and Byzantine chain from?
That watch with Angie on the back has a neat shape. I am curious as to what the front looks like? I have an old watch that I picked up at a yard sale, a wind up, that still runs, I had the clear bit replaced because it was pretty raggedy. The guy that worked on it was pretty surprised to see it still running. I don't wear it often, mostly if I am dressed up.
–
Viking knit is great. It looks like ass and then you run it through the drawplate and suddenly you're a genius. Get a lazy daisy. Hella easier, hella more fun, an awful lot of money for a simple chunk of dung but handy as hell.
Angie's front isn't great. She's plated steel and the plating is long worn through. She's also stamped and not particularly high quality. She's got this sort of rubbery warmed-over art deco kinda vibe.
There are far more interesting weirdos in the drawer; this strange little Benrus, for example:
Wanna see baby, tho?
She's a Jaeger Lecoultre. Somehow I managed to buy her off eBay for $7, despite the fact that she's got the same movement as a Reverso. She's not gold, she's nothing special, but she's a JLC.
And she runs.
Know a guy. Watch weirdos have what we call "grail watches" - as in, "this is something I MUST OWN." I don't really have one - I mean, it's a watch. But he really needed some form of JLC 101, which has held the title "world's smallest movement" since 1929, when the collective watch world went "nope, you guys can have that one. We out."
So he bought one. Dude lives in a basement with his dog. No idea what it cost him; thing has a tubogas band and 101s don't come up very often. And it's not like he can wear it - hell, anyone with any sense would be afraid to wind it.
Mine? Mine was $7. And she makes me happy.
user-inactivated
· 1430 days ago ·
link
·
I'd have more done, but I recently fell victim to the siren's song that is videogames.
I've been mulling over, for a while, ideas about how to make an American Bald Gryphon flag for my friend and I think this is the general layout I'm gonna go with. Basically, I'm gonna sew together three pieces, blue denim, red denim, and cream colored denim, and then embroider a gryphon onto the star. I think in the final layout, the star will be a bit bigger, but this is just a visual idea with what I'm gonna be working with here.
I had more elaborate ideas in mind, but I decided to keep it overly simple for two reasons. The biggest of which is, if I'm gonna actually sew pieces of fabric together this time, instead of doing the collage type sewing I usually do, I need to keep it simple because I'm not that good yet and an 8"x10" little flag is gonna be a bit to work with. The other reason is, as much as I love my country and my neighbors, where I'm at at the very least the lines between iconic Americanism, Patriotism, and Jingoism are unfortunately really blurry right now and it's making me all sorts of uncomfortable. The way I see it, if my working on crafts is supposed to be my escapism and sense of relief from the world, I don't want to bring discomfort into it.
Answer 1) I personally think you can post whenever you want to. This is supposed to be fun for everyone and since these are your threads, why create arbitrary rules that'll ruin that?
Answer 2) I'd like to stay on the list. I like the shout outs.