THE FOREWARD
Is it just me, or does it feel like this one's going up way later than the last few? I've been pretty busy this week, tough to know what's work-induced time dilation and what's not.
THE AGENDA
Post updates to your projects, announce the beginning of new projects, or just show off what you've done.
THE TAGS
Foveaux, kleinbl00, veen, zebra2, applewood, darlinareyousleepy, elizabeth, Dala, thenewgreen, ilex
So the Apple Watch outsold the entire Swiss watch industry in 2019. The trades are understandably strident about this shit because of course they are because the watch industry has never found it advantageous to explain the watch industry to the press that reports on it.
By 1977 Seiko had become the world's largest watch company in terms of revenues. According to the Harvard Business School study, Seiko's watch revenues for 1977 totaled $700 million on a production of 18 million pieces. Timex was number two, ahead in unit production (35 million) but far behind in revenue ($475 million).... The industry had two large watch groups: SSIH, whose star was Omega, and ASUAG, whose top brand was Longines.They were, respectively, the third and fourth largest watch firms in the world in 1977, with combined sales of $545 million.
The Quartz Revolution
When I wrote that I wasn't expecting this.
I had the phone on the left. The phone in the middle had just been announced. the phone on the right is where we are now. And the phone industry now requires you to have a dinghy in order to make it to shore whenever you need to check a text because your phone is now a cigar box made out of gorilla glass. Women everywhere: "but it doesn't fit in our hard-won pockets!" Apple: "Fuck you get bigger pockets."
It's funny. The whole of the watch press pictures this guy going "You know, I was gonna blow $28k on a GMT Master but come to think of it, I've always wanted to look like a Spy Kid in my Brioni so I'll just buy an Apple Watch instead."
And this shit just gets so fucking obvious. When was the last time you saw a Timex Ironman? Or a Casio G-shock? The guys willing to spend $300 on a watch that gets their texts instead of $150 on a watch that doesn't? They're Casio's problem. They sure as shit aren't Longines'. But it's such a bizarre corner-case little industry that you can legit get up on a closed Facebook forum dedicated to people who are 3D printing for jewelry casting and say "What are y'all supporting in?" and assholes will proudly say "I've been doing this for 50 years and have no idea what you're talking about" because they bought a B9Core for 12 grand and their boss pays for a 12 grand license of 3Design and they didn't even know there were options.
There are, by the way. I've been evaluating them. On the left, a 25 micron vertical print out of Chitubox. On the right, a 25 micron vertical print out of Formware3D. In the center, a 25 micron optimal-angle print out of Formware3D. Note the overhangs are perfect but the little blivets where it was sprued up suck. They won't suck when we're working in metal, but they kinda suck in clear resin. Enough to put up with the crappy overhangs? No. I think I'll take crisp overhangs and blivets.
There's an electrician coming over any minute to look at adding circuits to the garage. In the meantime I've been focusing on other stuff. Like my little friend Ardath.
A. Schild 1051s, as it turns out. 21 jewel versions, which AS never officially sold. You can still buy them new despite the fact that they haven't been made in over 50 years. They keep surprisingly good time for as small as they are; they're consistently 70-90 seconds fast in six positions timed individually. I let 'em run at the same time 'cuz I wanted to see if they get into resonance. They don't.
He's missing a medallion on the back. It was suggested I could probably model it and cast it up which, you know what?
...that's a to-scale STL output out of Fusion. It took me an afternoon and I'm not even good at Fusion so that was pretty dope. And hey so long as we're casting up logos...
–
–
Thanks. It owes more than a little to EG&G
and Mitsubishi
and definitely Led Zeppelin
But you don't have to dig into triquetras too much to realize (A) the hippies are right, they're f'n cool (B) if you take the hippie out of them you get some stuff with real legs
Because boy howdy there's something about three-arm radial symmetry that people just love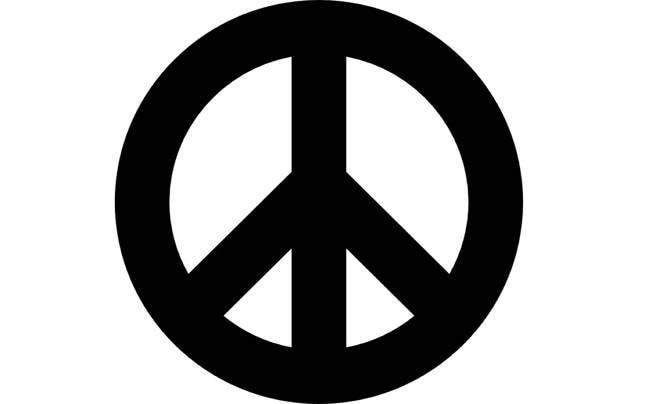 and semiotically speaking? I need all the firepower I can get.
–
Honestly I think I stan radial symmetry in general. Not that I'm designing logos on the regular, but if I were...
I think it's been said 1,000,000 different ways in just as many places, but it sucks that the Nazis took such a neat looking design and sullied it (outside of its original context as a religious symbol imo) by association
user-inactivated
· 1401 days ago ·
link
·
So here's the quilt. It's starting to pucker a bit, probably not because of material issues, but because it's so hard to get consistent tension on this thing. I need to just bite the bullet and get a sewing/quilting frame. But yeah, this is roughly a foot by foot area and it's really starting to come out kind of nice. Not visually, maybe, but texture wise, let me tell you. It's back to being a blanket for now and if I can get the whole thing done, it's gonna be niiice.
Yeah. That's all I got. Looking forward to seeing what everyone else is working on.
Oh! Wait! I did make something else this past week. A really bad lymeric. Wanna hear it? No? Too bad. Here it is.
  There once was a dog named Pete,

  Who was born with four left feet.

  If you asked him to dance,

  He'd give it a chance,

  But after it all, he'd expect a treat.
There you go. :)
An unconventional one because I don't have any concrete product to show off, but insofar as my injury-recovery is a craft I WALKED A MILE yesterday. A full ass mile on my still-swollen no-longer-broken leg! Today I am sore. But it's a good sore, and I feel a lot stronger than I did a week ago.
Honestly, the peace of mind that comes with knowing I can still walk a mile is better than the actual experience of walking a mile. I'm getting stronger :)
The good news is that Komplete 12 is all up'n'running. The bad news is that my Focusrite decided to stop working for no goddamn reason, so today I had to send my 7th email to get the return process going. Which means that I can't listen to audio on anything good enough for a while. Booo.
But alas, I made another demo. This is two hours of fiddling around with some of the candy I found in NI's candy shop. It's unmixed and doesn't have a well thought out song structure. I just like how the sounds fit when they all come together.
Mostly I've been thinking about what it means to have a sound. I still don't have a good idea of what music I want to make, I just know that I like to make stuff. When I design anything else, I usually some design aesthethic / ethos / philosophy / principles that resonates with me and that I use to bring more focus to what I make. I feel like I'm nowhere near that with making music.
What I do know is that I am very heavy on beats and rhythms. Which makes sense, since as a kid I spend years playing drums. I had talent for it - my teacher really didn't want me to quit, but I did so all I got was this penchant for beats. Out of all the tools that Komplete has, the synth Rounds has piqued my interest the most now. I have yet to figure it out (haven't read the manual just yet), but I'm thinking of digging my heels into that tool, making songs with those sounds and see where it leads me.