So, Ripple has blown up. I very carefully didn't invest in any back when it was 17 cents because I noticed
A) it's not a crowd thing - it's the tokens of a single company
B) there's a set number of tokens
C) it's delineated in Yen, basically - there's 38.7 Billion ripple out there, and that's what it's gonna be. By comparison, the asymptote Bitcoin is supposed to approach is 21 million bitcoins.
However, the market is now insane and nobody has gotten as far as looking at (A), (B) or (C) and as such, Ripple is trading at something ridiculous like $2.60 each (at this moment). And shit - there aren't actually 38.7 billion XRP, there's 100 billion XRP and Ripple owns 61.3 billion of them. Which if they ever cashed out would be worth a shit-ton of money. Or would it crash the whole network?
____________________________________________
According to the St. Louis Fed, the "informal economy" accounts for 13% of the GDP of developed nations and 36% of developing nations.
According to the CIA, the "Gross World Product" is $107 trillion. The World Bank puts it at 78 trillion. If 3/4ths of that is the developed world, that's 58 trillion, or a 6 trillion dollar black market. If 1/4 of that is the developing world, that's 20 trillion, or another 6 trillion dollar black market. 78 trillion plus 12 trillion is 90 trillion, not 107 trillion, but hey we're talking about trillions which is nuts enough (6 trillion dollars is more than 18 F-35s!) but let's call it 12 trillion dollars to have a number.
Presume the sole purpose of Bitcoin is to transact off the record. It is solely a marker for black market transactions. If 10% of all black market transactions were to transact in BTC, and all 21 million BTC were used to do that transacting, then 1 BTC has a nominal value of $28,000. If 100% of all black market transactions, 1 BTC has a nominal value of $285,000. At a circulating supply of 17 million BTC, worth $15,000 each, bitcoin only has the capacity to cover 2% of the black market.
I have no idea what I'm talking about. But then, that puts me in good company when discussing crypto. Somebody shoot me down - because I think I just argued myself into believing that the "top" in crypto has a ways to go.
–
Say, for example, a coffee shop in Berkeley is known to have a certain bitcoin address, and a wallet used by an extortionist transfers the same amount there every morning at 9 a.m. Police can stop by and make an arrest.
Especially as our villain is gonna be sitting there for days.
3564 minutes. If he initiated his transfer New Year's Eve, he's getting his coffee at 10:30 tomorrow.
I think Ripple is rising fast is because people understand it. They look at Bitcoin and think why? I'll use a credit card. They look at ether and ask if they really need to buy a cryptokitty. Huh. But Ripple is going to be used by banks, to send money fast and save the banks 60% in fees. (As I understand it, a bank need to have an agreement with another banks for transfers between currencies and both need fiat locked up just for transfers. This keeps a lot of banks' money off the table, just for transfers and conversions. Ripple could eliminate this need.) That makes Ripple very understandable to people who have money and so they buy buy buy.
Yeah, there's too many of them, but what will the crash point be and what will the final price bewhen it all settles? 10 cents? $1? $10? I don't even know how to think about it.
I do know I bought some last summer, made a huge return, and sold out most of it week.
–
I think Ripple is rising fast is because people understand it.
I think you're right, and it's discouraging.
"Why bitcoin? I'll use a credit card." - Because bitcoin isn't a credit card, bitcoin is a less-traceable, more portable sink of value for people attempting to shelter earnings.
"They look at ether and ask if they really need to buy a cryptokitty."
Without recognizing that cryptokitties are derivatives and that investors trade in derivatives all day long. On the face of it yeah, it's stupid as hell but I guess the market cap of Dogecoin crossed a billion dollars yesterday.
Ripple? Yeah, it's a marker for banks to talk to other banks. Except the banks already have Hyperledger. And they already have fractional reserve banking. And they already have the ACH settlement network.
But primarily, it's a lower number. My cousin told me he wasn't investing in Ether or Bitcoin because "he didn't have that much money to spend." At a certain level, we've got speculators that don't even understand you can buy fractionally.

I've wondered to what degree Bitcoin's value is actually based largely on "tax evasion for everyone", and not on all the things crypto nerds dream about. I have lost all faith in it ever being a transactional currency. While I don't really understand the whole "store of value" debate, I do see Bitcoin as gold that you can transfer within a day to anyone. Taking a $6 trillion estimation of the gold market, Bitcoin could reach almost $400,000 just to be equivalent to gold. Even if you take a more conservative $2 trillion, that's still a lot of room for growth.
–
Gold is a curious one, too.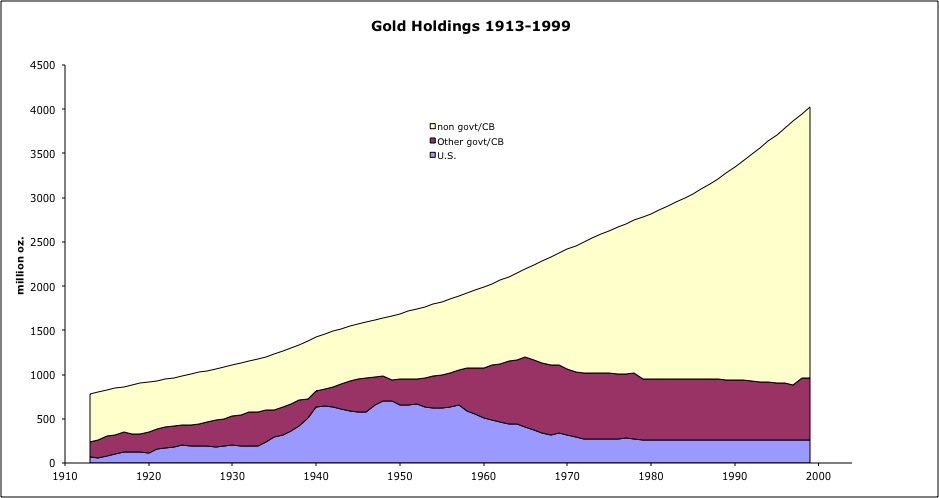 Not adjusted for inflation and the gross world product does something similar:
https://media.treehugger.com/assets/images/2012/02/indicator2_2012_gwp.PNG
Gold has a use, though. Most of that which is mined is used industrially and commercially which takes it out of circulation as a marker of value. Looks like half to two thirds of gold is used in jewelry, for example.
Still puts that number hella higher than it is now.
–
–
The best way to think of Ethereum is as a preinvestment in runtime on a globally-distributed mainframe. At the end of the day, all any of us have is energy and time and it takes time and energy to execute commands on this network, which takes time.
Ether is the unit that measures that energy on the Ethereum "machine." Strictly speaking, Ether is one of the only cryptocurrencies that has a non-zero intrinsic value. That intrinsic value is directly related to the utility of the machine running it.
There are five possible use cases for crypto that I see.
1. A black market currency
2. A low-fee, decentralized international payment system
3. An investment
4. A general-purpose currency
5. A secure, trustless information ledger
As A Black Market Currency
For use in the black market, we're going to want a way to hold the currency anonymously, and a way to send private transactions.
- BTC wallet anonymity is possible with a few hoop jumps, but private transactions are impossible. If address X has a transaction with a known black market address, this is public knowledge, and address X is forever associated with this shady exchange.
- XRP has the same problems as BTC, with the added risk of validators simply rejecting transactions with known shady addresses.
- ETH is currently no better than BTC, but they plan to implement technology borrowed from ZCash to allow private transactions, so ETH will be more private in the future.
Best alternatives right now for this use case: Monero, ZCash
As An International Money Transfer System
For this, any low-fee system will work. The lower the fees, the better. Right now this means everything but BTC, but what would the fees look like in the future, assuming widespread adoption?
- BTC "on-chain" transactions will only get worse, but they are working to implement Lightning Network. This will end up sort of like a "real" BTC wallet that you treat like a savings account, and a Lightning BTC wallet that you treat like a checking account that has low fees and fast transactions. The catch is that you have to pay the on-chain tx fee to transfer from your BTC wallet to your Lightning wallet.
- Same story for ETH, really. Widespread adoption of ETH will result in high transaction fees. Not as high as BTC, but high. Ethereum is working on several scaling strategies in parallel, but realistically they're a year or two away.
- XRP was built for this use case. It will scale, be low fee, and in the future, it may even be possible to use it through your bank. It's not super decentralized, but it's fast and low fee.
As An Investment
At this point I have no idea. I don't understand why the market caps on these coins are so high. Let's be honest, they don't do anything cool yet. As a general rule I'd say don't put in anything you can't afford to lose 100% of.
In the long term, I think any cryptocurrency that has a capped supply and a plan for scaling is a decent choice. I personally like the smart contract ones: Ethereum, Zilliqa, Eos, Cardano, RChain. Raiblocks is cool too. There are also some interesting ERC20 tokens. But those are all just opinions.
As A General Purpose Currency
For this use, we want widespread adoption, stable value, low transaction fees, and transaction verifiability. For this space, my favorite is USD.
Seriously though, a deflationary general purpose currency makes a bad currency, and so does a volatile one. Imagine buying something on credit and owing waaay more than you thought you would, or buying something when you could have bought two of it a month later. Deflation and volatility decrease the money velocity of a given cryptocurrency to the point that any economy based on it is much smaller that it would be otherwise. It makes the currency hard to spend and discourages its use. We already see the effects of this: Very very few businesses accept BTC directly because its value is so unstable. And it's a vicious cycle; less businesses accept it, so its utility is less, so less businesses accept it.
In the long term, I think something like Dai or OmiseGO has a chance of being useful. But it's not ready yet.
As A Secure, Trustless Information Ledger
This is the space that I think has been explored the least, and which I think has the post potential. It could disrupt a lot of industries, including certificate authorities, DNS, and, maybe someday, thinks like deeds, titles, stock ownership, and land registries. But all of this is years off.
- BTC and XRP cannot be used well for this purpose.
- ETH was built for this use case. Maybe in a few decades we'll see corruption in some countries being combated by registering things in an Ethereum or Ethereum-style blockchain.
I usually have no idea what I am talking about either, but given this is rumination....
Reading around it seems a lot of analysts are taking the same approach. There is some debate around the velocity of Bitcoin (how many transactions in a year would a single unit account for). Interestingly many pundits are suggesting Bitcoin should be measured with a velocity of ten, which is similar to hard cash in many cases. Velocity of 10 * 21 million BTC asymptote gets 210million transactions per year or $3tn at current valuation.
I believe that Ripple rising up so much is also due to the fact that new comers see it as "being cheap", in the sense that it was only 1$ to own a coin a week or so ago. Other people analyzing that new comers would see it this way, they wanted to make some quick money analyzing the sentiment of the crowd and went in: Self-fulfilling prophecy. I would not invest in Ripple now. I don't own any. I used it to cash-out $50 because it was the cheapest & fastest option (I wanted to see how cheap/fast I could cash-out). But then again, who knows what it will be worth in 1 month.
I never thought the black market would be this big. What you write makes me want to double down on one of my bet. There is this coin, Zclassic, that is going to transform into BTCP (Bitcoin Private), where each owner of Zclassic and each owner of BTC will receive 1 BTCP. So owning 1 Zclassic now is like predicting the price of Bitcoin Private if everything go as planned. The fork is supposed to happen before february. It's risky, but the market seems so big that maybe there is place for a new player.
–
One trend we're seeing a lot of is regulation. China clamped down, Korea is threatening to clamp down... those of us in NY and WA are already dealing with this; if you want to trade crypto, you have to trade in a house that's FDIC insured. It has to act like a bank, look like a bank, be regulated like a bank and have reserves like a bank.
That means Gemini.
And Gemini deals in BTC and ETH, and that's it. There may be other firms willing to step up to the requirements necessary but as other states clamp down on crypto (which they will do, the first time anybody loses their home or some shit because of speculating on BTC futures), it's gonna close out a lot of the weirder coins.
One thing about BTC and ETH - it's not that hard to move around without an exchange. But for everything else, it's gonna be exchange exchange exchange. Even now most of the transactions aren't wallet-to-wallet, they're internal exchange.
–
–
That's right - I forgot they were okay to trade because my experience with them has been so bad. Just logged in for the first time in like a year and that neglible little bit of BTC I left in there 'cuz it didn't matter is now worth over $100.
Crazy times.