But I found that the reactions to my Evo's new chaotic livery surprised me. Unlike all of my previous playful experimentations, people mostly . . . liked it. Some people seemed to really like it. At a certain point, it seems one passes through an ugly-event-horizon and reaches a new place of funky charm, like those dogs with extremely flat faces but nice smiles. At some point you break the rules so thoroughly they just don't apply.
user-inactivated
· 336 days ago ·
link
·
This comment has been deleted.
My dad was a part of the Southern California hot rod culture in the 1950's and 60's.
He knew Von Dutch:
And Robert Williams:
And the eponymous So Cal Speed Shop:
http://www.est1946.com/socalhistory1.aspx
When shit was made of metal, it was much easier to modify.
When shit had fewer electronics, it was much easier to modify.
When shit could be repainted for a couple of bucks... people did it.
Paint a car today, and it'll cost you the equivalent of a small used car! I'm all for modifying and painting and tattooing your car... but damn... that shit is expensive!
I've worked in automotive for the past decade and agree with this assessment. You'd have to really break down what you mean by "mainstream." To me it's chopped up in so many branding pieces it's not even funny. OEMs are all going to do their own thing, with their own design engineers and their PERCEPTION of what people want. The smart ones test this stuff, the others guess or just style against functionality and money saving tactics.
"Why is mainstream America so bold in our other aesthetic choices and so meek in our automotive ones?"
Because cars are a durable good, designed to be held for multiple years and then sold to another buyer for a substantial sum of money.
Because getting 50 strangers together with rattlecans will give you a paint job that looks good for about six weeks and then it will fade and be absolute shit.
Because most people want their cars to be an extension of them - they do not want to be extensions of their cars.
I say this having built a 4x4 Triumph TR-7 in primer gray - I've driven memorable cars. I had a buick with only three doors. I've made city council meetings with my vehicular choices. And here's the thing: The general reaction of everyone on the road to everyone else on the road is dislike and disdain. When you become noteworthy in that miasma of uniform disdain you become a lightning rod. Yeah, traffic was bad, but that asshole in the graffiti Lancer....
And I mean, look. Here's what it takes to paint a car. Porsche is being special about it because of course they are (colors outside of their selected range are $3k extra) but it Kias aren't painted significantly differently. It's an ordeal to make a car pretty for the life of the vehicle and it's a stone cold pain in the ass to do it custom.
You wanna see what customization looks like?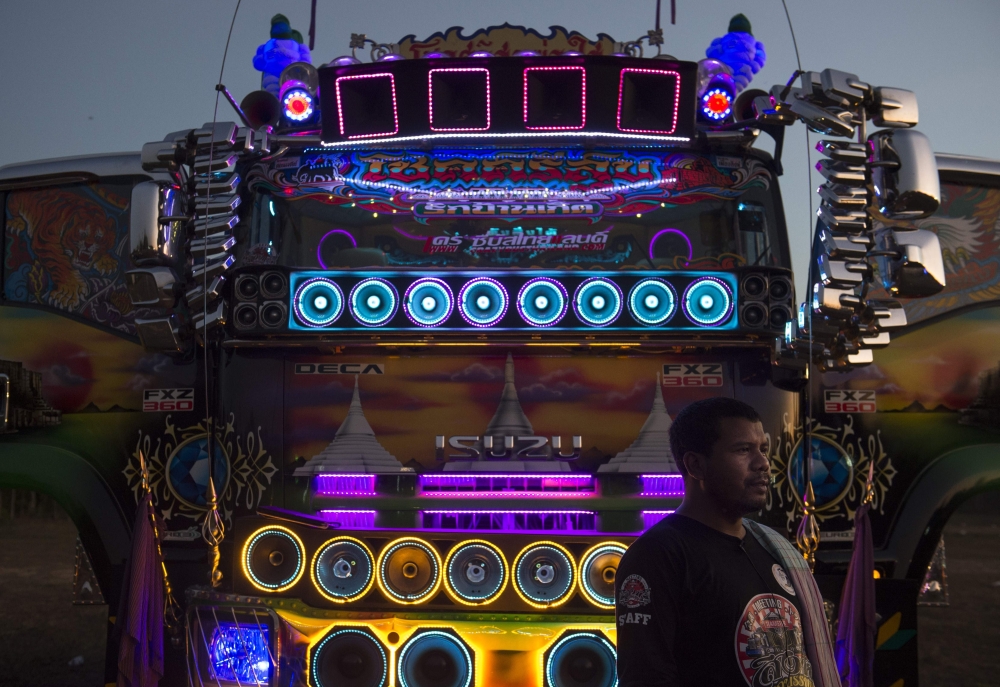 That's a truck. That guy lives in that thing. Drives it all day every day and that's how he signals his truckdriverness to all the other truck drivers. The rest of us? The rest of us don't define ourselves by our cars and we don't want anyone else to, either.
So. black, red, white, silver.
It put me in mind of an early review of the Ford Focus RS. The review expounded upon the car's nimble handling, its sprightly pickup, how fun it was to drive. In the comments, however, dozens of commenters said that the car sounded great, but that it looked too memorable for them to be interested.
user-inactivated
· 337 days ago ·
link
·
Shooooot. I like this outcome. It's exactly me and exactly the exact opposite of me at the same time. I'm tempted to have a bunch of art school students do this to my car now.
Lots of people who love cars, who love art, and who love flash, do outrageous things with their cars. From lowriders and donks to pro street to rat rods to actual, literal, art cars. That so many people don't do this to their cars doesn't mean they're anti-art or anti-flash or anything of the sort, it just means that they sit comfortably at the crossroads of seeing their car as an appliance and not wanting to draw attention to themselves while on the open road. That's fine. There's so many other ways in life to express oneself that there's nothing wrong with not doing it through your car.
But most Americans don't. Seventy-six percent of cars in the U.S. are black, white, silver, or gray. There are a variety of financial reasons for this — you can't mess with a car you lease, and if you intend to resell quickly, customization only hurts you — but finances aren't what are keeping the majority of vehicles looking stock.
This whole article is just complaining about conformity. A car is a device designed to take you from point A to point B and most people don't want their neighbours to look at them weird so they don't make their car have bright colours. Even wearing clothes, sure, some people might dress up as hypebeasts but the aesthetics are nothing compared to customizing a rainbow clown car. It can also be changed easier.
So in the capitalist system I dress in soothing indoor tones and drive a black minivan. If anything complain about the aesthetics of NA cars compared to Japanese ones.
That being said, I don't disagree. We need all the see self-expression we can get.
"I think if human beings had genuine courage, they'd wear their costumes every day of the year, not just on Halloween." - Douglas Coupland