TL;DR - lower seatbelt use, higher drunk driving, more speeding.
user-inactivated
· 513 days ago ·
link
·
lower seatbelt use, higher drunk driving, more speeding.
I blame our cultural sense of individualism and it creating a sense of having a right to ignore the rules when we want. It's everywhere. You see it in the soccer mom taking a cartful of groceries to the express check-out demanding to be served because she doesn't want to wait in line. You see it in young computer users who torrent television shows or video games because they don't want to pay full price for entertainment. You see it in the rich who store their wealth in tax havens. We have tabloids about celebrities with substance abuse or marital problems. We have whole genres of heroes who flaunt authority from comic book characters who engage in vigilante justice to cowboys, soldiers, and cops who decide to take matters into their own hands. We not only engage and celebrate in this behavior, but we always seem to find ways to justify it.
So what do we get from that? We get the sense that rules, even ones that are there to protect us and keep us from harming ourselves and each other, can be pushed, bent, broken, and worked around. Use you're seatbelt cause it's safe. Don't speed cause speeding is dangerous. Don't drink and drive because it's super dangerous. Don't expect those rules to apply to you though, cause you're an American, you can do what you want. Then when someone tells you no, punishes you, or heaven forbid something disastrous happens, you get to play the outrage/entitlement/victim card.
/rant
Holy crap. 75% of the vehicles on the road in America are consistently running in excess of the speed limit.
There's a lot to unpack in that one statistic right there.
The sense of entitlement we are raised with from birth - American exceptionalism - manifests is such shitty, rude, and inconsiderate adults.
–
You have to factor in design speeds, though. When a road is 60 it is generally designed with radii for 70 or 75 (here at least). People drive at the speed that they feel like they can handle, so it's not a huge surprise that people do it, although I agree it's still large share.
–
Very true. Having just driven an Audi A4 for two weeks straight around the British Isles, I got to deeply immerse myself in another country's driving culture for a while.
The brits don't bother with speed limit signs and speed traps and cops hiding with radar guns. People drive according to the conditions, and - if they don't - they crash. THEN the police show up, call you a tit for driving like an ass, and scrape your body off the pavement.
One-lane country roads, to B roads, A roads, and M routes, everyone behaved like they owned rear view mirrors and didn't want to unnecessarily impede other traffic.
Except in London, and it's surrounding area within the M1. Everyone driving there drove like a typical American road-hog dick.
It's been interesting to come back to America and see the entitled shittiness we impose on our fellow citizens just because we are sitting behind a steering wheel...
–
Motor vehicles per 1000 people, UK: 519
Motor vehicles per 1000 people, US: 797
Miles per car per year, UK, 2013: 8000
Miles per car per year, US, 2013: 12,000
Imagine the US with 2/3rds as many cars going 2/3rds as far. I'll bet we'd all find it a lot more pleasant. London was able to pass a congestion tax. NY was not. I believe that speaks volumes about the practicality of getting around the UK with moderate car use vs. getting around the US.
–
Also: Roundabouts.
Jeebus Crisp those things work REALLY WELL.
Roundabout coming up... slow speed a bit... check to the right... look for a hole in traffic... move around the roundabout to your exit... speed up to highway speeds again.
Stopping at traffic lights and stop signs is really fucking annoying after driving in countries with roundabouts.
–
Preach! They're not great if you are prone to get car sickness, but they are safer by lowering the speed for everyone and in most low-to-medium-volume intersections they can process more traffic from more directions. What I've heard (as in, anecdotally) is that drivers in the US are not taught what it is and that pretty much nobody knows how to properly yield.
Did you also get to see a turbo-roundabout? Instead of a circle, it consists of two interlocking spirals: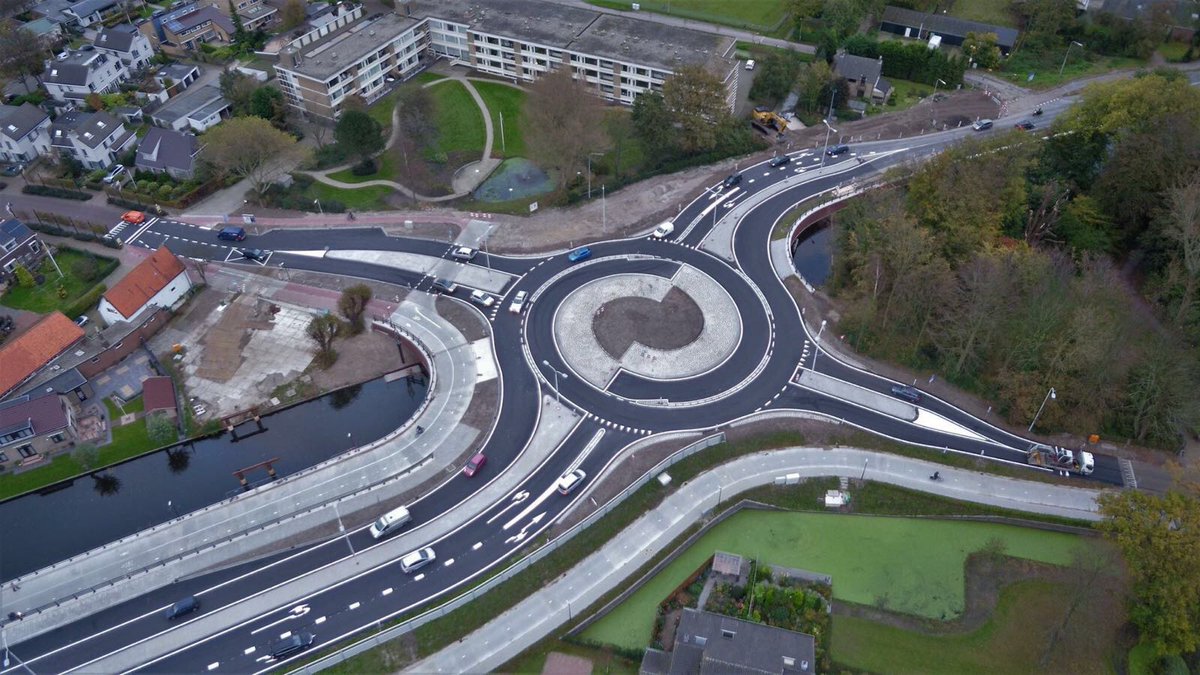 My hometown of 100k already has more than a hundred roundabouts, but added a dozen of those in recent years because they can handle a much larger capacity. It obviously has a larger footprint, since two directions need to pick a lane, but it's pretty darn cool.
–
Making a left in that turbo roundabout seems more finicky than it needs to be.
It seems like this is going to be more trouble for anyone that doesn't know exactly where they are going. It also only works where there are 4 potential exits. Add an exit, and the middle lane becomes a wasteland of lost tourists, wandering aimlessly... ;-)
Well ok, maybe not THAT bad! But I think in the UK the majority of the roundabouts had more than 4 exits.
Heck... maybe that's why roundabouts came up in the first place... to make it easier to join multiple roads, rather than just a crossroads...
–
–
To put some numbers behind it, the theoretical capacity for a regular roundabout is 20-25k vehicles/day, whereas the above can process up to 40k/day, mostly dependent on where the largest flows come from. (A regular intersection with traffic lights can handle between 20-35k.)
All directions can use the heuristic 'if you go left, take the left lane, if you go right, take the right lane.' It looks harder than it actually is! You're right though, it's a solution that does not always fit the problem.
Dual-lane roundabouts usually create more confusion because people might not change lanes in time, like here:
everyone behaved like they owned rear view mirrors and didn't want to unnecessarily impede other traffic.
This is what I see, or rather don't see, in America. I started to type out a reply to rd95 that I don't see soccer moms demanding use of the express lane with 50 items, I see people in self checkouts who have no idea how to use them taking way too long. The problem seems (to me) not people who say "screw your inconvenience" but rather people who simply have no idea that changing their behavior slightly would have no impact on them but benefit others. Being injured, fatally or otherwise, when it could have been minimized or avoided by a seatbelt has a large impact on others, and I think too many people don't realize that.
tutorial
19vVrqzbbLFKJL7ta9dvR7zX7uk6hdTWwU