When rich powerful people come out as gay, it makes gay more universal -- at least in my thinking -- which seems like a good thing. The more people who come out, the safer the world will be.
Other hubskites see it differently:
What exactly is going to happen to Tim Cook, CEO of arguably the most popular manufacturer of consumer electronics in the world, for coming out as gay? Compared with the meek twenty-something kid working as an intern/junior for a startup in their local hub, you can hardly call the situation the same or even similar. Like, of god-damn course the celebrities and rich-personalities of the world are able to come out safely. They have safety nets so huge, they might as well not even bother with the tightrope act. How are the downtrodden queer folk, aka the real people of the world, supposed to relate to some rich guy who could probably buy his way out of any scrutiny anyway? It certainly doesn't make me any more relieved or willing to be open about myself. I can't afford to take that risk.
Someone else put the tag #whocares on the announcement.
My question to hubski is this: Can a rich powerful person's coming out make a difference? I'd like to know what you think.
As a gay man, I feel as though that any kind of person coming out is a step in the right direction. Although I agree with the commenter in many ways, I do think that as more different kinds of gay people come out- the more mundane "being gay" will be seen in greater society. It will give the sense that gay people come in many forms: rich, famous, successful, poor, etc. In the future, we may even reach a point where people think you are just mentioning it for attention.
We obviously aren't there yet, though. And I think this is where the frustration for some of us comes from. I identify as gay cis male- and I'm openly out to my friends and family. But "coming out" is not a process that ends the first time you do it. You have to eventually come out to every one you (at least) associate closely with. Now, nobody is by any means obligated to reveal their sexuality in the workplace. But straight people have nothing to lose when they mention their partner in casual conversation. Gay people might have to lie, give the runaround or be honest and ready to deal with the potential consequences.
Ultimately that is part of the problem. As a 21 year old who is just starting out in the workforce, I can't afford to come out to my boss or coworkers. I don't have the luxury of affirming my sexuality in the work environment- because discrimination against gays is still very much a relevant issue (whether it is overt or not). There is no doubt in my mind that had Tim Cook come out earlier in life, he most likely would not be in the same position that he is in today. He has the ability to say he is proudly gay because it doesn't matter at this point- he's the fucking CEO of Apple. He's untouchable. He's got nothing to lose- unlike myself. I'll have to wait until I reach a certain age or status where I know I can comfortably be out at work. It is for this reason that I respect someone less privileged being out at work more. They don't have the so-called safety net that Tim Cook has.
–
Ultimately it comes down to this: Tim Cook has money in the bank, right now, billions and billions of dollars that, even if he WERE to face the heaviest repercussion anyone can face for being openly gay in the workforce in 29 states of the US (termination), is just sitting there. Apple doesn't own it - it's all his payroll. He's literally set for life, and probably has been for a majority of his tenure as CEO.
I do not have this luxury. I don't have a bank account (due in part to the large amount of debt I already owe staring me in the face), and I live paycheck to paltry paycheck, indefinitely.
When framed this way, I think one would be very, very hard pressed to tell me Tim Cook coming out at work and me coming out at work is at all even remotely the same damn thing with similar or, lord, more things at stake for him!
–
The goal is humanizing gay people. That's the importance of coming out. You need to come out to people you can trust and people whose opinions you can change and you as a tiny, unimportant person probably need to be careful. At this point Tim Cook coming out isn't very important or brave. Ellen Page, maybe, because she's not a very stereotypical lesbian and is even a bit wholesome, girl next door. The Cook story just shows that it's less and less of a big deal every time this happens with a public figure.
Every time some random person comes out it could be 1000 times braver, and even more important, than a celebrity, it's just not news. There's no angle for public interest or spectacle and there doesn't need to be for little courageous acts to be important.
So another way to put it is... If no celebrities or CEOs came out ever, would we be as open as a society towards homosexuality? Ellen, Elton John, Anderson Cooper... all straight, or presumably so. I can't see a situation where in this hypothetical world, it would be easier for gay people to live openly.
I think it absolutely makes a difference. It is sad that they have to, and it's sad that is a newsworthy event when they do come out, but it is necessary.
Well, he certainly hasn't come out of his activist closet, so until then I think anyone who's remotely progressive finds it trivial. Like, what's the first fact you'll know about Tim Cook? "CEO OF APPLE," not "GAY CEO OF APPLE," as if there's a straight one as well. Epitaphs such as these take precedence. Echoing cxavier,
There is no doubt in my mind that had Tim Cook come out earlier in life, he most likely would not be in the same position that he is in today. He has the ability to say he is proudly gay because it doesn't matter at this point- he's the fucking CEO of Apple. He's untouchable. He's got nothing to lose- unlike myself.
and I take his quote here as anecdotal evidence that popular faces in society are so abstracted yet influential. See, it's so far away from us that #whocares ? As for the mid-to-high-level manager at the company that makes Java (family friend), who is absolutely fabulous, by the way, but hasn't directly come out, I wonder if this will embolden him and others (particularly in tech world and of Gen X) to come out?
–
user-inactivated
· 2149 days ago ·
link
·
> Like, what's the first fact you'll know about Tim Cook? "CEO OF APPLE," not "GAY CEO OF APPLE," as if there's a straight one as well. Epitaphs such as these take precedence.
It's like Kathleen Wynne when she got re-elected (as premier of Ontario). Nobody cared that she was lesbian. Hell, I didn't even find out until after the election was already over.
I agree that it's probably easier for rich gay people to come out than others, but I think it absolutely matters that newsworthy people come out -- maybe more so then others for the very fact that they are newsworthy and will get a lot of attention. The more we can put in the public eye that it is ok to be gay, the faster change will occur and the better it will be for everyone. And by everyone I mean everyone -- gay acceptance is about human acceptance and it makes the world better for all.
Here's an great graphic from xkcd: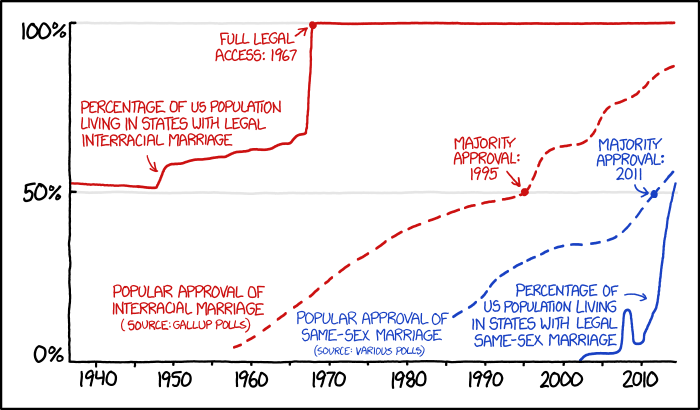 I think it's a double-edged sword.
On the one hand, it can be a motivation for people who are homosexual themselves, Or it can be a role model as someone else already said in the comments. And it might be a wake-up call for one or the other rather 'conservative' thinking person.
On the other hand though, something like this shouldn't be a big media attention thing. He's gay, that happens, who cares. That was basically my reaction, but that also implies that for me homosexuality is as common as heterosexuality. So in this sense, a who-cares-reaction might be a positive thing. Sure, there might be people are sincerely desinterested, but I think a big part of the who cares sayers has accepted homosexual people as part of the society just like heterosexual, so this news really causes reactions like "so what?". I'm personally somewhat annoyed by news like these, because we should treat it like a normal thing if we want it to be one. But sadly there are a lot of people still that do not think as forward as people who accept homosexual people yet, so being annoyed by titles like these might be a bit selfish and idealistic.
Nonetheless, I can't wait for a time where 99% of the people react with 'who cares?' to such a headline.
In a way agree with every view I've seen so far, I think it does matter he came out and that bit lil quoted makes it matter slightly less, because it's much easier to come out in his position. It's still very helpful for gay people though, for many reasons sourced from all over the comments here.
So my answer to
Can a rich powerful person's coming out make a difference?
is yes.

However, [this](www.reddit.com/r/technology/comments/2krtf0/apple_ceo_cook_comes_out_im_proud_to_be_gay/) I found is completely irrelevant, Tim cook coming out has nothing to do with technology, big news maybe but it's comparable to putting a note saying "My dog had puppies!" in a Customer Suggestions box at a chip shop.
–
Another thing to note is that this isn't necessarily him coming out From (sorry) Gawker
Romantic interests: After Cook was profiled as a "lifelong bachelor" and "intensely private" elsewhere, we wondered if he might be gay. We've since heard from two well-placed sources that this is indeed the case, and it sounds like Cook's sexual orientation has been the topic of at least some discussion within the company. One tech executive who has spoken to multiple Apple management veterans about Cook was told executives there would support Cook if he publicly acknowledged his orientation, and even would encourage him to do so as he steps up his leadership role, but that they also had concerns about whether his coming out would impact the perception of the Apple brand.
Honestly, I don't care at all.
But I'm sure quite a few people have just gained themselves a role-model, assuming they are apple fans.
And others care because they are going to be thinking twice about buying apple products. For all the wrong reasons.
Honestly though, in the grand scheme of things, it doesn't matter to the majority of the population.
After thinking about it for a while, I think it does matter.
It does no directly influence me, as I support gay rights, but does influence many younger people that did not make up their mind about the subject.
So many teens own apple products and worship them that I think that many will start to associate being gay to "being cool". Even thought this is obviously the wrong reason to support gay rights. But I think that it will later lead to acceptance of gay people because the young ones will be confronted more often with gay people.