In essence?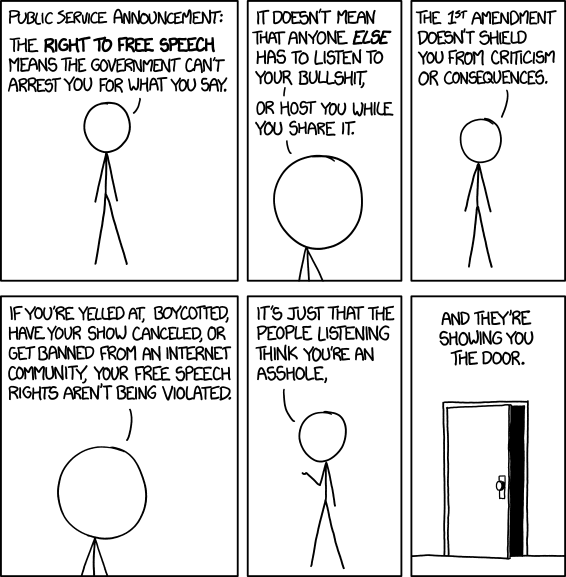 Randall Munroe is not always the most chromatic*, but he is succinct.
*I can't find the right word here, but Chromatic (meaning coloured) sort of works here.
Further reading:
https://www.scribd.com/book/232956987/The-Open-Society-and-Its-Enemies
I hope to pick it up soon - seems like a book worth reading.
Skeptics might ask, "Well, how do we precisely define intolerance, and who gets to make that determination?" This is admittedly a potential point of contention (one that I plan to write about soon)
I'll be interested when the author writes on this question which is the crux of the issue.
While we may each have somewhat different opinions on precise definitions, I believe that we can (and should) easily come to a consensus
I disbelieve this.
–
There will never be a consensus. It's whatever the shifting Supreme Court says it is. If you have the money to get that far. As Justice Potter said in a 1964 decision defining obscenity, "I shall not today attempt further to define the kinds of material I understand to be embraced within that shorthand description; and perhaps I could never succeed in intelligibly doing so. But I know it when I see it..."
I call it the "I know it when I feel it" test. That is as specific as many of these things can get.
You would think that something as simple as exposing organised animal abuse would be a no-brainer as protected speech. But it isn't.
On another level, it is what local law enforcement says it is, unless you have the money to fight back. Even making a Facebook post denigrating an ex-husband/cop for something silly or liking that post can get you arrested.
–
There will never be a consensus.
Then man will never fly or slaves - be free. Yet here we are.
Humanity is still exploring its cognition: you can see it thanks to Sigmund Freud and his excessively new theory of the unconscious mind. Once we're capable of expressing our deepest feelings with the right words, a written consensus shall not take long.
I guess I would draw the line at violence. Anytime someone uses violence to suppress speech no matter the type that's a problem. If the government fails to protect the speaker from violence and again fails to punish the violent offenders then the government is defacto suppressing speech.
That's the problem with that milo guy. Guy maybe a total ahole but allowing violent protesters to deny him his right to speech, and the right of those attending to listen sets a really bad precedent. Because in many cases the local police choose not to press charges they basically complicit in the suppress of speech.
The comic misses big picture of one group of people using violence to denying another group their legal rights. Clearly somebody wanted to listen to milo and they were not allowed to. He wasn't shown the door he was made to leave by an intruder at gunpoint.
My problem is we consider stuff like Milo and Spencer's work as protected speech. It isn't protected speech in any right. I'm all for the discourse of ideals, but when your ideals say that people like me don't have a place to express my ideals, when they preach the suppression of my voice, and my livelihood I don't label that as speech that deserves protecting. I'm very much in agreement with what the author says. Milo and Spencer preach hate, suppression, harassment, and in some cases violence that shouldn't be allowed. If it is allowed then you can't be angry when people become violent because that is literally what they want, its what they preach about every moment of everyday.
–
I'm very much in agreement with what the author says. Milo and Spencer preach hate, suppression, harassment, and in some cases violence that shouldn't be allowed.
The problem is how do you decide what is and isnt allowed. There is a lot of opportunity for abuse. If you are the Ferguson mayor maybe you argue that BLM is engaged in hate speech and violence and shut them down. Or maybe you shut down people protesting an immigration law, because you call that hate speech. Or how about religious leaders what do you do with them? Is it ok for them to preach hate speech? If not do we shut down all catholic churches because they preach intolerance to gays?

Generally the courts in the US have put a very limited threshold on what sort of speech is NOT protected for this very reason.
–
It's very easy. Does the person take part in actively harassing, harming, destroying the lives of others with their actions and speech? Milo whatever his name is, does that pretty regularly. He incites his following to active suppression, and in some cases takes part in it himself. Thats no longer protected speech.
–
–
The intention remains completely different. MLK's intention was to create a new stage for colored people to voice their opinions in public discourse where none previously existed. Its present in his rhetoric. Milo and Spencer are working to tear down public discourse by suppressing voices across race, gender, sexuality, and religion. Those topics are also present in their rhetoric.
–
If you actually listen to what they have to say, they're not doing anything to "tear down public discourse," they're actually trying to introduce more (highly controversial) ideas into that discourse. It is actually the liberal establishment that is acting to shut them down, either through tactics like no-platforming or otherwise disrupting their speaking engagements.
–
A peaceful ethnic cleansing is a new and interesting idea that deserves discussion? Really? Me having to defend why I deserve to not only have a seat at the table, but live in the country I was born in? Normalizing behavior that actively works to silence my voice is absurd, and counter to freedom of speech. Milo Yiann-whatever uses his platform to do shit like OPENLY mock a transgender kid on stage? To dox and verbally harass people from every stage of life? I've actually heard the dude speak in public, and was promptly told by a few people in the crowd I should go back to my own country and I'm from fucking Puerto Rico a fucking US territory. Liberals at the talk were openly mocked when asking questions, and made fun of by the surrounding crowds. Wtf is that? That's freedom of speech? I actually left that talk because I physically didn't feel safe there. That's not silencing my freedom of speech? By normalizing contempt/hatred/etc. for others you are actively working to silence those groups. Sorry I don't find that defensible its very easy to see where the line is drawn for me.
In other words, the right to speak freely is a declaration of capability, not a responsibility for other people to uphold before you.
No right is absolute. Never has been. I have always been a fan of the free marketplace of ideas but lately: 1) the "alt-right" seems to have been energized with brigades of people obsessed with lying and manipulating discussion forums; they openly organize and strategize on places like stormfront or voat and overwhelm other forums like reddit (I have not seen that organization from opposing voices) and 2) I am too old to bother to exchange with or counter that shit. So they "win" I guess, as long as extremists are energized and organized and people are stupid enough to buy into it. Lots of speech does not mean good speech.
p.s. I could not even begin to count how many dozens of times I have posted that comic in response to people being butt hurt about being banned.
–
Nuanced would be a good word. I dunno if it was what i was originally looking for but it's basically right.
–
K.
Small point of clarification from the linked article.
Yiannopoulos did not 'incite a fierce campaign of doxxing and harassment.' Jones got into a spat with a known Trump supporting firebrand, and couldn't deal with the trollstorm that comes from engaging with such people. Yiannopoulos did not directly order people to go after her, because he didn't have to do it. She made herself a target and continually made herself a bigger one by continuing to engage with him. She broke one of the cardinal rules of the internet, don't feed the trolls. If you are a grownup who wants to use the internet, you must learn how to not feed trolls. She chose to do so and blamed Milo for the fallout.
I'm not saying he's guiltless, he could have stopped replying to her at any point and he chose not to do so. But he didn't doxx her, (How do you doxx a public personality anyway?) at most he said mean things to her, which people do all the time on twitter.
–
How do you doxx a public personality anyway?
The same way you Doxx anyone else, really.
- you post their Drivers License and passport on a hacked version of that person's website. This actually happened in this situation.
- You post their private home address
- You post their private phone number
- you post their private email
- you post their real name If they perform under a pseudonym (like many hollywood actors do because of weird name rules or because they want to distance themselves from famous family)
I can't specifically comment on that situation. However I hope you don't disregard this article just because you disagree with Serano's reading of the situation.
Frankly the more i've been reading up the Jones/Yiannopoulos situation, the more I am inclined to believe that if Yiannopoulos didn't incite the doxxing, he definitely fanned the flames and made the situation worse on purpose. Then again, He believes that people like myself are worthy of derision So I don't really care to believe in the better angels of his nature.
–
–
Y'know, I had a huge response written, and I was all fired up, because the experience Jones had is functionally identical to the experience of anyone who is not a white man on the internet. She didn't have to feed the trolls - She was a black woman who was in a movie they didn't like on principle alone and that was enough. Whether she fought back or not, the result is the same, so one might as well fight back.
But then I realized - I'm not even sure you really read the article, because you're doing exactly what Serano (and Karl Popper before her, in 1949) argues is the wrong way to treat these people.
I read the article that you posted. I wish that its idea of "just ignore them and they will go away" was a viable strategy that worked, but it's never panned out to be true in any situation I've seen, and Popper, who was writing as a Viennese Jew who was on the ground as the NSDAP was consolidating power, also seems to agree that it doesn't work either. These people aren't just trolls, and they aren't on the internet where one can commit hate speech with impunity.
Serano herself speaks from experience, and I speak from my own. Perhaps you remember Grendel? We tried to ignore him so he would go away, but it wasn't enough. We basically voted, by the use of Hush, mute, and other functions, and made it so that he no longer had a useable platform. We judged that his intolerant speech was not to be allowed in our community. We had to make the site basically unusable for him. There are now new user tools that exist specifically because of his presence here - that's the opposite of "ignoring".
anyways, whatever.
–
by the use of Hush, mute, and other functions
That's exactly my point. We ignored the troll, stopped engaging with him and he went away.
I read the article, and it doesn't satisfy. 'Punching Nazis' will not stop Drumpf from getting re-elected in 2020, and in fact, may lead directly to it.
–
That's exactly my point. We ignored the troll, stopped engaging with him and he went away.
But that's not all that happens when we use those functions. By the coding on this site, if enough people take those actions that person's links stop appearing on the blank front page. We didn't just ignore the troll. We specifically took actions that would also prevent that person's work from being seen by people who are new or unregistered users on this site.
I read the article, and it doesn't satisfy. 'Punching Nazis' will not stop Drumpf from getting re-elected in 2020, and in fact, may lead directly to it.
and Ignoring them will lead to... what, exactly? There's never been purely peaceful protest that did anything. Even Ghandi's non violence and civil disobedience movement had elements of extreme violence being perpetrated around it - violent protester-police clashes, the INA.
–
This is a semantic problem.
I say 'We used our self-moderation tools to shut the door on a troll and ignore him. We ignored him and he went away.'
You say 'We didn't ignore him, we reacted to offensive things and took steps to minimize our contact with offensive things which is not ignoring him.'
Freedom of speech lets you knock on someones door and say 'I want to talk about these things, this is what I believe about these things.' It protects a person from being violently assaulted or imprisoned for speaking. It doesn't protect them from someone closing the door.
Refusing to engage, making it impossible for the troll in question to engage is the functional equivalent of ignoring it.
I can't say who the 'right' targets are for violence. But I can say in the affirmative that giving Milo Yiannopoulos of all people the moral high ground is asking for more trouble. Engaging with him in any manner is asking for more trouble.