Call it priorities. While I'm impressed that humanity has reached a technological level where it can land on comets, I'm less impressed with the fact people were and still are starving from hunger, dirty drinkingwater, poor nutrition etc, even as far back as 2004. The gentle radiation of this planet by a nuclearplant which is still spewing radioactive waste after 3 years might sound snark but the 'victory' of human inginuity as I feel it's being portrayed feels hollow as long as we haven't cleaned up our mess and misery which we could have done. But hey, who cares? We landed on a comet. Yay!
So... everyone who has any skillset should subvert that skillset and devote all their attentions to the immediate task?
Satellite phones are a direct result of GPS was a direct result of strategic battlefield intelligence was a direct result of a Cold War pissing match between Khrushchev and Eisenhower. If those guys in the labs hadn't spent their time trying to get Sputnik up, the guys out serving Doctors Without Borders don't have any way to coordinate supply and staffing. That's just one concrete example of the advancement of technology due to unrelated fields; did you know that cyanoacrilate adhesive came about because Dow was trying to make crack-resistant fighter jet canopies? Now it's the best way to close a wound short of stitches.
You're at a disadvantage, here. My best friend's dad was chief administrator on LIGO and is chief administrator on the TMT. So "astronomy" I have a more-than-passing familiarity with. My dad? has worked for NEST for the past 15 years and did radiation dosimetry and safety for Los Alamos National Labs for 30 years prior to that. So Fukushima's kind of my bag, too.
So when I say "my dad and my friend's dad can't do each others' jobs and shouldn't have to" it's directly applicable to your complaint.
Let's back it up further, though - suppose everyone should dedicate their focus to solving world hunger from secondary school onward. No engineers, no metallurgists, no computer scientists, just pure, raw agriculturalists. What happens when they need a more efficient tanker to transport grain? What happens when they need a better logistics system to prevent storage logjams? What happens when, oh, I don't know, they need to better predict the weather this season to maximize crop yields?
My problem with your attitude is it puts "science" in the "them" camp, as if you're doing your thing and all these "other people" are supposed to save the world for you and it's beneath you to have the vaguest appreciation for the intricacies of their tasks. Are you really suggesting that the human race lacks the diversity, the ingenuity, the manpower and the initiative to explore space and help the world? More importantly, are you really suggesting that the two are in no possible way related? We will get hit with a comet. It's going to happen.
Chelyabinsk was about 20m in diameter and yielded about 500kT of energy. Tunguska was between 60 and 190m in diameter and yielded 15MT of energy. That's in the past 100 years, mind - here's Tunguska over New York. So really, it behooves us to know a little sumpin' sumpin' about space rocks because there will come a time when we'll need to deal with one.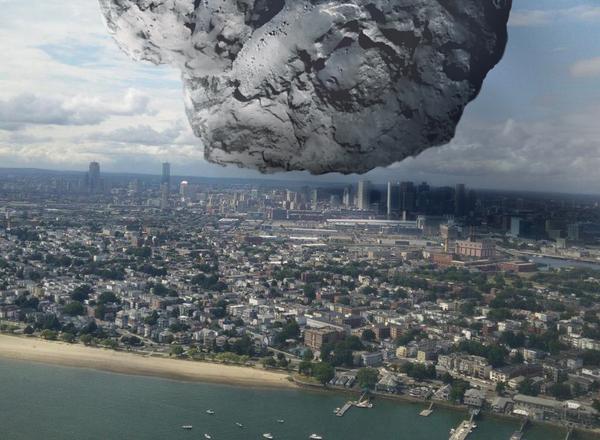 The Rosetta mission has cost a billion euros. Fukushima is likely to cost 80 billion. But shit - the spy satellite we put up to be sure about bin Laden cost 11 billion.
Sure, priorities. Sure, world hunger. Sure, disaster cleanup. But "disaster cleanup to the exclusion of all else" is a pretty facile position to take.
This came from the ESA (European Space Agency) budget and has nothing to do with Japan. Are you honestly suggesting that a decade ago the EU should have put this money aside knowing that they should just give it to Japan 8 years in the future to help clean up a nuclear disaster that hadn't happened yet? Is that honestly the priority you are implying should have taken precedence?
I'm less impressed with the fact people were and still are starving from hunger
So by your logic of being mad other countries are spending money on things you think would be better spent on fighting hunger in other countries you should be selling your laptop/computer you are typing this comment on to feed some people. Again, by your logic, "while I'm impressed you can type ignorant comments from a computer and post them online, I'm less impressed with the fact people were and still are starving from hunger, dirty drinkingwater, poor nutrition etc, even as far back as 2004." How much money and how much time did you donate to fighting those issues over the last 10 years? Or is this one of those things where you just sit back in your arm chair and gripe that OTHER people aren't doing things you care about? You know what I did earlier this year? I pledged a financial contribution to purchase 100 Life Straws that were sent to Africa. Not a huge contribution, but I'd bet my house it's more than you've ever done. I'm also one of the biggest space exploration supporters you'll ever meet. We can do both.
Also, you know the US and the EU send BILLIONS to Africa every year, right? You know we have the DoD over their setting up Ebola treatment facilities right? You know that even though we throw billions at the issue that sometimes bad things still happen, right?
But hey, who cares? We landed on a comet. Yay!
But hey, who cares I have a computer and laptop and and can post comments from my ivory tower online while doing nothing myself. Yay!
–
See comment below. What have you been doing to make this a better planet?
Money? About 1% of my income, which, since I made less than minimum for the most time of the last decade, wasn't that much, I grant you that. Please, don't thump your chest like that. You can at least try to give arguments in a reasonable fashion instead of stating you've done more than I have. I have no way of veryfying, neither have you. So a statement like that looks silly. Time? Last 2.5 years I'm full-time trying to improve the situation. You? THe fact that you did both makes already a difference. You can do that, I do this, the only problem is politicians find it far more profitable to invest in other things than in saving lives.
Btw, I already gave away my stuff. I need nothing more than what I can carry on my back. The comp I'm on right now belongs to the lady whose mom's dying right now, and for whose animals and house I've been taking care this last couple of weeks. Cost me a couple of thousand in seasonal-work, but there's things more importat than just colored pieces of paper. So yes, you're absolutely right: if you want to speak about improving the world, lead by example. That's what I'm doing. You?
Your argument was perhaps best summed up by Gil Scott-Heron in Whitey on the Moon:
It's not an accurate representation of our choices. There are any number of expenditures in our national budget that dwarf that of NASA's etc. It's not space vs food and to color it as that is a pretty naive thing to do, don't you think?
–
Not a bad find. You're talking nationally, I'm talking humanely. Whitey/whiney on the moon has nothing to do with it.
It might not be space vs food per se but it's (take-your-pick) vs human decency. Yes, naive I might be but I do not see the importance of shouting 'excelsior!' for landing on a speck of spacedust whilst allowing individuals of your own species to die of malnourishment, preventable disease and pollution.