So... everyone who has any skillset should subvert that skillset and devote all their attentions to the immediate task?
Satellite phones are a direct result of GPS was a direct result of strategic battlefield intelligence was a direct result of a Cold War pissing match between Khrushchev and Eisenhower. If those guys in the labs hadn't spent their time trying to get Sputnik up, the guys out serving Doctors Without Borders don't have any way to coordinate supply and staffing. That's just one concrete example of the advancement of technology due to unrelated fields; did you know that cyanoacrilate adhesive came about because Dow was trying to make crack-resistant fighter jet canopies? Now it's the best way to close a wound short of stitches.
You're at a disadvantage, here. My best friend's dad was chief administrator on LIGO and is chief administrator on the TMT. So "astronomy" I have a more-than-passing familiarity with. My dad? has worked for NEST for the past 15 years and did radiation dosimetry and safety for Los Alamos National Labs for 30 years prior to that. So Fukushima's kind of my bag, too.
So when I say "my dad and my friend's dad can't do each others' jobs and shouldn't have to" it's directly applicable to your complaint.
Let's back it up further, though - suppose everyone should dedicate their focus to solving world hunger from secondary school onward. No engineers, no metallurgists, no computer scientists, just pure, raw agriculturalists. What happens when they need a more efficient tanker to transport grain? What happens when they need a better logistics system to prevent storage logjams? What happens when, oh, I don't know, they need to better predict the weather this season to maximize crop yields?
My problem with your attitude is it puts "science" in the "them" camp, as if you're doing your thing and all these "other people" are supposed to save the world for you and it's beneath you to have the vaguest appreciation for the intricacies of their tasks. Are you really suggesting that the human race lacks the diversity, the ingenuity, the manpower and the initiative to explore space and help the world? More importantly, are you really suggesting that the two are in no possible way related? We will get hit with a comet. It's going to happen.
Chelyabinsk was about 20m in diameter and yielded about 500kT of energy. Tunguska was between 60 and 190m in diameter and yielded 15MT of energy. That's in the past 100 years, mind - here's Tunguska over New York. So really, it behooves us to know a little sumpin' sumpin' about space rocks because there will come a time when we'll need to deal with one.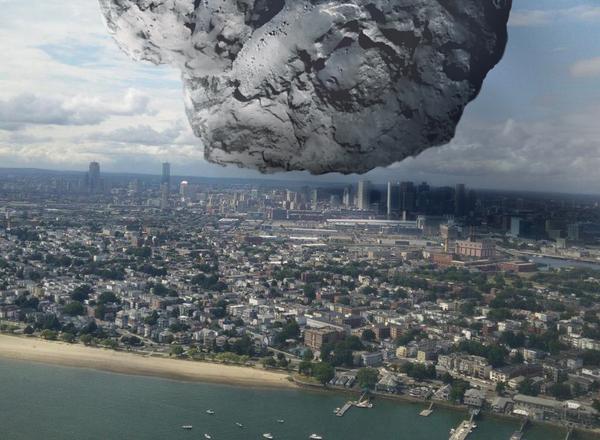 The Rosetta mission has cost a billion euros. Fukushima is likely to cost 80 billion. But shit - the spy satellite we put up to be sure about bin Laden cost 11 billion.
Sure, priorities. Sure, world hunger. Sure, disaster cleanup. But "disaster cleanup to the exclusion of all else" is a pretty facile position to take.
–
D'oh. I also went 1000ft with the airburst, just as a rough guess. Did you see they have a 3D one involving Google Earth? I haven't messed with it much.
Back in the day, FAS had their serious simulator online. You could plot fallout maps and shit and it would incorporate the day's jetstream, topography, the whole nine yards. That went off the air many years prior to 9/11/
I haven't said everyone should subvert their skillsets to the imlmediate task, however it might not be a bad idea if we took a few steps in that direction once in a while. The other result of the Cold War pissing contest were the Berlin Wall, the Stasi (whose tactics we've been enjoying so very recently again, see Snowden etc), the dividing of Yugoslavia and Tito's brilliant legacy, etc etc etc. So please don't come with a wound-closer: it's not worth the suffering, as far as I'm concerned. I have yet to read where in my previous posts I have been talking down on 'astronomy' or on your familiarity with the subject. I'm happy your dad landed himself a good job, same for your best friends' dad. Congratulations, I mean it. I don't know what 'my attitude' should be. Maybe feeling frustrated we're letting half the planet die and burn up because our scientists are allowed to examine comets instead of being funded to help and alleviate human suffering has something to do with it. Nobody is supposed to work for me, nor is it beneath me: we're back at the priorities-part of the discussion. I'm not suggesting the human race lacks the diversity, ingenuity, manpower and initiative to explore space and help the world. Far from it. Mankind merely lacks the will to do so. And that's disgusting.
It's not just worldhunger I'm talking about: I'm talking about the clean water, clean air, the non-GMO food, the non-radioactive regions etc etc. There are a lot of problems right now, maybe even more than we can handle, but to aim for the one that will hit us in the (far) future instead of tackling more pressing matters closer at hand does not justify the almighty hoopla Rosetta has stirred up.