Table of Contents

No, shorter sleep does not imply shorter life span

No, a good night's sleep is not always beneficial: sleep deprivation therapy in depression

No, lack of sleep will not outright kill you

No, the World Health Organization never declared a sleep loss epidemic

No, two-thirds of adults in developed nations do not fail to obtain the recommended amount of sleep
user-inactivated
· 337 days ago ·
link
·
This comment has been deleted.
An unsigned essay titled "Responses to questions from readers" appeared on a new WordPress site:
https://sleepdiplomat.wordpress.com/2019/12/19/why-we-sleep-responses-to-questions-from-readers/
It was announced by an anonymous account.
The response essay is just as scientificish as the book, appearing to express appreciation for the criticism but dodging the actual complaints.
The book's misattribution of the CDC statement to the WHO will be corrected in the next edition.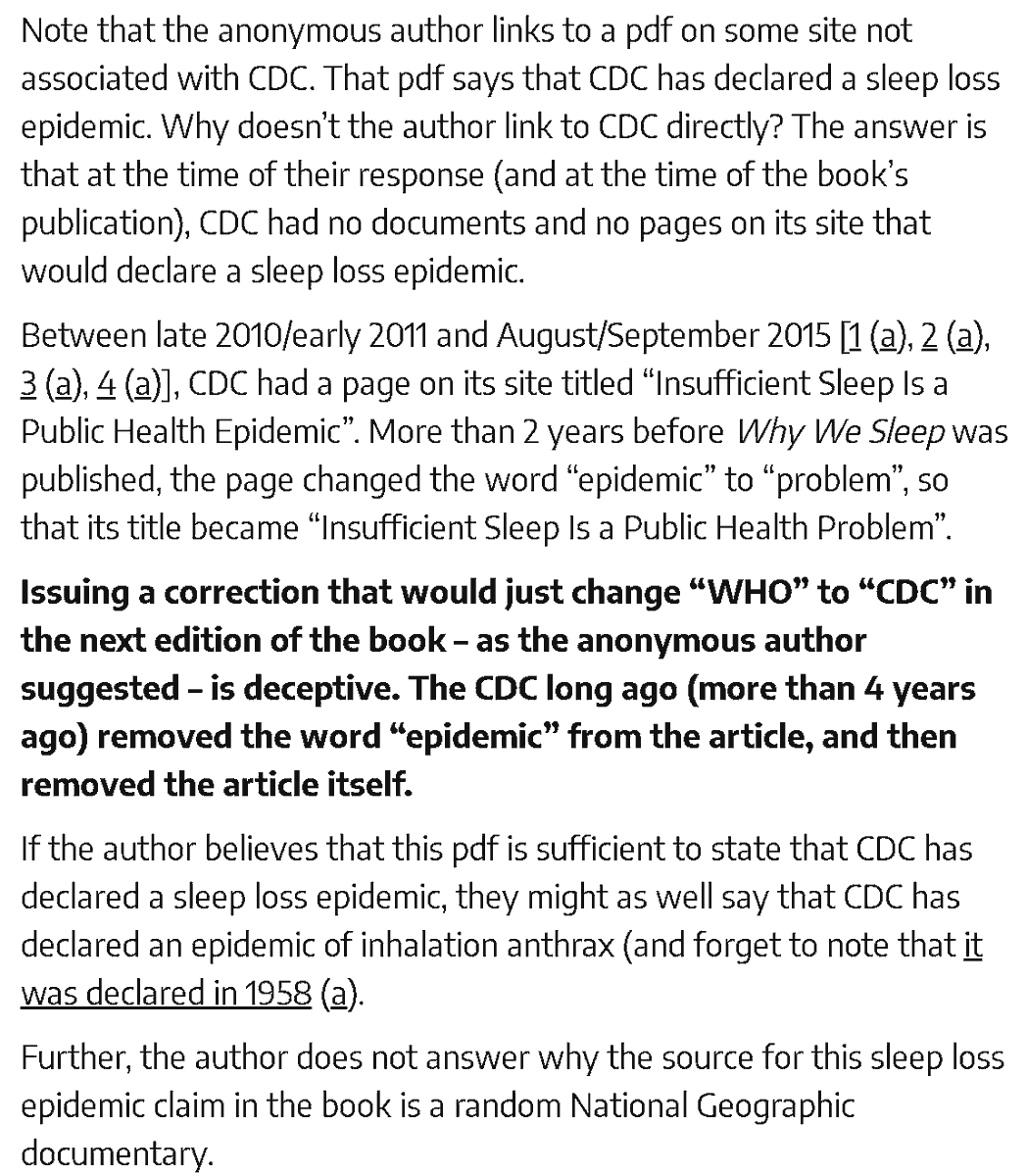 –
I like the thorough approach, but I wonder if the big points get lost while providing so many small details for detractors to cling to.
Guzey quotes Walker claiming "Routinely sleeping less than six or seven hours a night demolishes your immune system, more than doubling your risk of cancer" without providing evidence.
Guzey also points out that Walker misspelled the name of the publisher of the Encyclopedia of Sleep.
These are both errors, and both are relevant to the argument that Walker is careless and unreliable, but they are not equally important.
Among many comments (with no word from Walker after two days) I have seen only one substantial critical response. Kinkajoe repeats Guzey's point about sleep-releated health studies showing only correlations, while also citing studies showing correlations e.g. between low sleep and obesity. Kinkajoe also neglects to mention the cancer quote, which is Guzey's very first example of an extraordinary claim.
No, a good night's sleep is not always beneficial: sleep deprivation therapy in depression
i'd almost go as far as to call this dumb, likeable though guzey is. isolated demand for rigor, maybe
the rest of it was appreciated