1. Aggressive carbon tax on all emissions
2. WPA-style investment in alternate energy and training American workers in the technologies
3. Pull out of the Middle East entirely
4. Cut all ties with Saudi Arabia
5. Set a flat tax of 10% on all earnings over $10m
6. Aggressively pursue the richest tax evaders (both private and corps)
7. Overturn Citizens United
8. Destroy "heathcare/insurance" companies
The result: A huge technological and skills boom in America, that sees everyone who wants a job getting trained and into a quality career that advances America again as a technology world leader.
Budget surpluses funding science and education programs to keep up with the blistering pace of innovation in the energy sector, and converting our old failing infrastructure to updated standards and technologies. (Everything from power generation, to bridges, to rail.)
Actual heath CARE provided at a reasonable cost by a competitive market that is focused on RESULTS, rather than government handouts. (See: Flood Insurance.)
The influence of corporate money fades quickly, due to there being less to throw around, and it being less effective at reinforcing old and outdated status quos. (Fiber internet. Campaign finance. Gerrymandering. Tax breaks/evasion. Properly funded government agencies providing proper oversight (like in aviation, tax compliance, and reporting standards), and government workers being appreciated for their diligence in spending this money wisely, rather than being told they are part of a "deep state" conspiracy for doing their jobs carefully and methodically.)
The Middle East falls apart into fiefdoms, none of which are very effective because none of them can work together without the inspiration of trillions of dollars of money to pilfer. They are completely emasculated and take three generations for a new structure to emerge from the ruins.
Russia loses ALL of its ability to influence/direct US policy, since we are no longer butting heads with them anywhere on the planet. When there is nothing to push against, it's hard to be a strong-man!
NASA has to quickly find an alternate solution to Roscosmos to get things off the planet and into space... which simply leads to more interesting construction projects in depressed/rural parts of the USA, and more people getting jobs, and more money staying within our borders.
The world economy tanks - for about 5 years - until the void of the US spending overseas is filled by dozens of smaller players who actually hold some interest in the areas in question, and spend their limited funds more wisely than the US ever had.
Which means the rise of China, India, Brazil, and (Egypt? Kenya? South Africa?) on their respective continents, and spending money/political capital on their immediate neighbors, thereby making better neighbors and stronger continental partnerships.
To achieve all of this innovation, diligence, and simple construction, will take a better-informed and more science-literate populace, which will push back the nationalist and anti-science morons to their backwoods cabins, to wallow in their own irrelevance and anti-vax filth, and slowly let those genes die out and eliminate themselves from the gene pool.
And BOOM! The world is fixed, by getting America to actually focus on, ya know, AMERICANS, and on improving our quality of life without fucking up everyone else's quality of life, and letting them get on with their ways of being.
Turns out, if you really truly pursue an aggressive "america first/americans first" policy, everyone around the world would be better off for generations.
At least, that's my plan when I become king. :-)
Glad I could help. :-)
Devil's advocacy:
1) an aggressive carbon tax favors manufacturing and development anywhere without aggressive carbon taxes. Raising the price of industry in the United States will largely accomplish the repression of industry and development in the United States, not on the planet.
2) Investing in particular industries will favor industries that aren't necessarily supported by the market. This is how you grow Albanian mushrooms.
3) Withdrawing from the Middle East will only create a power vacuum into which China, Russia, Turkey and Israel will jump. The combatants will not change but we will be without influence.
4) Right now the only thing keeping a lid on Wahabi extremism is the Westernization of the house of Saud. Pull away and god help you.
5) The current top marginal tax rate is 37% so that's a pretty big giveaway. Like, "Reagan only dreamed" tax cuts.
6) I think you will find that if you knock the top rate from 37% to 10% you will have substantially less evasion.
7) ...you know, I can't come up with a reason not to overturn Citizens United.
8) One in ten jobs in the United States is in healthcare. It is the fastest growing sector in the job market. What, precisely, do you anticipate replacing it with?
–
1) But we don't make anything anymore anyway. So if we tax the shit out of carbon, and invest heavily in renewable energy generation/storage technology creation and use, we improve the quality of the products on the market, which will make their way to the Manufacturing Nations eventually anyway.
2) Yeah. But we do that already. American Farmers have already received more bailouts from Trump than the banks did, and everybody is A-OK with that.
3) So-the-fuck-what? There is zilch we need from the Middle East, and we spend more money there than on ANY US program, including the Military.
4) So what? Let the Wahabbi's go crazy. The only reason they are a power feared in the world is because they US gives them ridiculous sums of money, and they use it for ill. Cut off the flow of cash (and our military equipment), and their influence will end where their toes get wet.
5) Yeah, the top marginal tax rate is 37%, but ZERO people pay that, because - if you are in that tax bracket - you have politicians in your pocket, and bank overseas. Charge them 10% AND COLLECT IT, and our tax revenues will skyrocket. Scrooge McDuck will be jealous of our piles of cash ready to be spent in America on Americans.
6) That's the hope, yeah.
7) Bad decisions are bad decisions.
8) No, because we do not have healthcare, we have sickness profiteering. If we actually had health CARE (like you provide at your clinic), then we would have adequate staffing to take care of the Boomers that are falling by the wayside today. And high-quality research into actually solvable issues. And quality nursing. And lower costs across the board, because the profit motive would be removed, and healthy humans would be the sole focus.
Yeah, I know I'm short-handing a lot of this, but fuck... it ain't hard to see how our current system is spending 99% of its time and money propping up untenable and illogical bad decisions made in the 1950-1980 timeframe.
–
1) But we don't make anything anymore anyway. So if we tax the shit out of carbon,
We don't employ many people to make anything anymore. We make more than ever though.
Chart from here: https://www.pewresearch.org/fact-tank/2017/07/25/most-americans-unaware-that-as-u-s-manufacturing-jobs-have-disappeared-output-has-grown/
|
You're not shorthanding it, you're dismissing it through cliches. You're chanting "fuck manufacturing" as if destroying every manufacturing job hasn't had the exact cost of creating the vacuum Trump sits in at this very moment.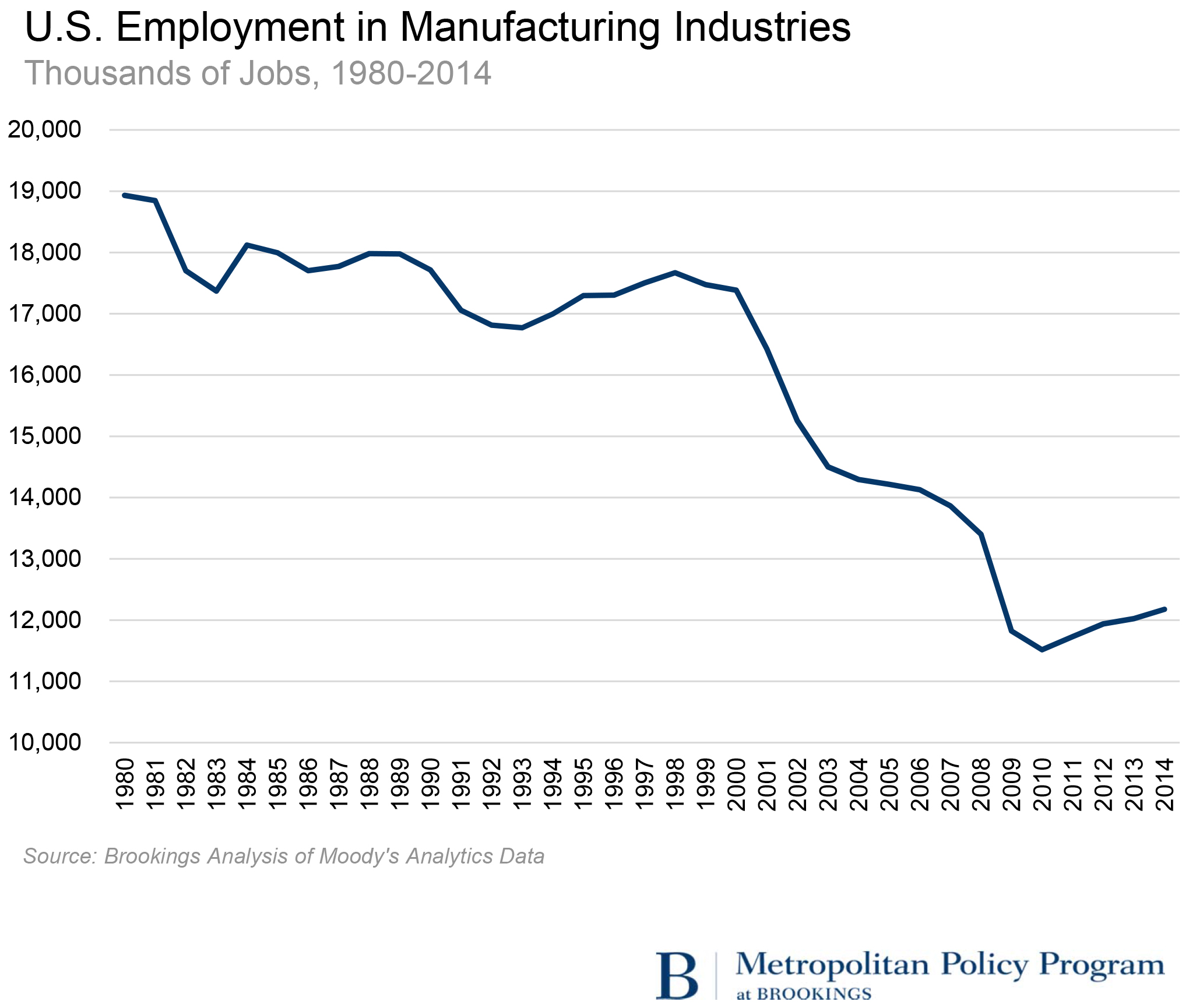 The Industrial Revolution created a lot of jobs for a lot of people and effectively led to the success of the middle class. It also destroyed the artisan class, led to mass unemployment and created the whole of the Victorian slum ecology that led directly to WWI. You can't just wave your hands and go "they'll get new jobs." They won't. That's why they're mad.
It's the same way you go "American Farmers have already received more bailouts from Trump than the banks did" as if this subsidy, that subsidy, they're all subsidies what does it matter? NO ONE is "A-OK with that." Farming is a fucking catastrophe right now.
I could go on down the list - you don't have any counter-arguments, you have sloganeering reflective of a willful disinterest in the mechanisms by which we've arrived at this point and the mechanisms by which we strive to continue forward. The system certainly needs tweaking, but your viewpoint is effectively "drain the swamp" with a different swamp substituted.
Cut out the cancer. Sure. BUT THE PATIENT NEEDS TO LIVE. You're in full "watch the world burn" mode because you're disinterested in thinking your thought experiment through.
We can fantasize all we want.
If you can't sell your idea to red-blooded guns'n'god'n'nothin' else folks, it won't get off the ground.
We have our feet nailed to the ground by the combined spikes of Evangelical Christianity and every other flavor of Trump supporter.
–
Yes, but we are only beholden to them because they are scared and generally poor. If the money flowed in, and the medicine got cheap and doctors were abundant, and a food was cheap in the stores, and everyone could have a job they WANTED, rather than NEEDED... I expect they'd change their colors right quick.