The package wouldn't be complete without the entire process being much slower than the old card swipe. What took a second or two before now seems to take millennia. Most of this time is spent waiting for the machine, without any indication of progress (apart from the flickering, lest we forget), which makes it seem even longer and more annoying. In an age when we are used to machines responding instantly, the awardee reminds us that complex operations are happening that require time and care.
I love that this lists all the reasons I hate those things. It's one of those devices that annoys you by the virtue of it being clearly poorly designed, rather than by the actual inconvenience of it. Why does the screen change so many times when nothing changes? Why is the error sound the same as the success sound? I mean, holy crap.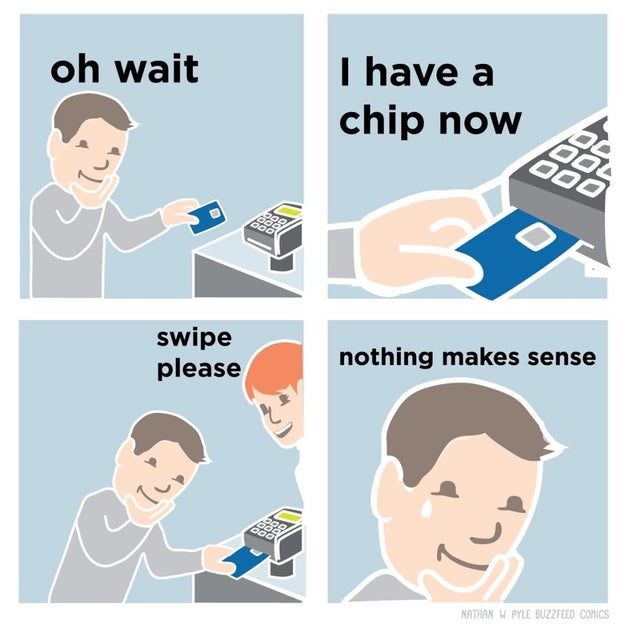 Many merchants taped over the card slot on their new terminals, for a piece of aesthetically questionable decoration.
Worth noting: Target rolled out a company-wide chip block for their terminals because they decided to renegotiate their rate with Visa and MasterCard after the roll-out. Apparently they felt that the devices were too shitty to use unless they, personally, got some real compensation for putting up with all the customer complaints.
Chip cards are more secure, but it sounds like nobody thinks the trade-off is worth it. I'd wager that Hubski users don't get their identities stolen as often as the average person, nor is it common in their/our social circles.
WHY IS THIS STILL A PROBLEM????
In the UK we have gone beyond chip and pin, we have had that for years but now we have machines that use contactless. I initially scoffed at it but it's so easy to use you just put the card on the card reader for a second and that's it. Well I guess they are a little bit hard to use, you have to make sure you are holding the card totally still. But once you have figured that out it's easy. I feel like contactless is the point at which using a card at a bar is easy enough that you don't have to carry cash when you go out. It's easier for the staff as well.
The two local mega marts have different ways of working the chip reader. One store, the chip reader reads the cards, needs one press of the OK button and is done in 25 seconds (I timed it). The other store, the better store IMO, has the absolute worst way to do the chip reader. Insert the card, wait 20 seconds. Hit a button. Something happens. Hit a button again, then wait. The whole process takes 70 seconds if you are on top of the button pushes. I don't go to Store 2 unless I need to get something at that store that is not at Store 1.
As an aside, the last time I went to Store 2, more people were using checks. And the parking lot was empty at a time it was normally full.
bring on the amazon grocer
tutorial
19vVrqzbbLFKJL7ta9dvR7zX7uk6hdTWwU