As some of you know, I've been renovating a viking camp and turning it into a math creativity center. Last week we were building a new railing for the deck. One of my guys asked what kind of math we want to put into it... and he wanted to start the next day. Came up with a fast idea - place horizontal support nearer the top and bottom to leave the middle open and cut a sine curve through the railings.
I drew the curve using geogebra and projected it on a piece of wood to use as a template. With some careful adjusting we got it just the size we wanted (184 cm wide by 36 cm high). My guy Thomas then cut out the curve from the sheet and traced it onto the railing and made quick work of the pattern.
I'm very happy with the result. It was quick and easy and makes nice shadows. Plus, the company name is Matematikkbølgen which means "The math wave", so a sine curve is fitting. Next step is to trim down the bushes so it's more visible from the parking lot.
That is awesome.
Since you're working with wood and doing lots of math, you may be interested to know that the science of noise reduction relies heavily on quadratic residues; there's a company called RPG that basically makes "math panels" of various orders and purposes.
Dunno if you have anywhere that might be used for lectures; having a bunch of awesome-looking wood and an explanation of why the wood looks like that would be a pretty rad addition to a "math center".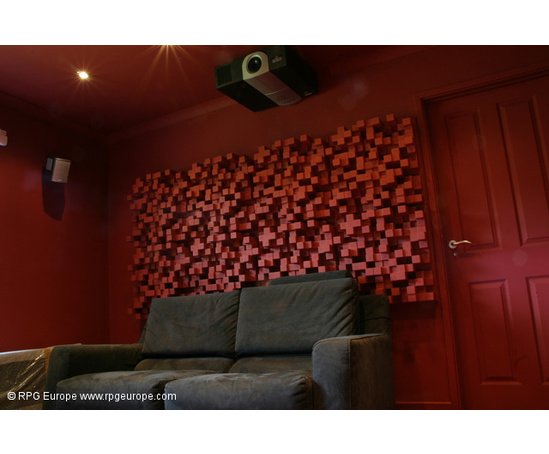 (all of RPG's panels are vacuuformed plastic; I've long wanted to give 'em a try in stained wood but I'm no bueno at maths)
I've been renovating a viking camp and turning it into a math creativity center
This may be one of the finest sentences ever uttered on the internet, my friend. Wow...
Followed closely by this one:
which will become a light covered patio, possibly enclosed and filled with mathematical plants
I support your project with all my heart and soul!!
–
We're starting on removing a big heavy ugly grill patio which will become a light covered patio, possibly enclosed and filled with mathematical plants. Insert your own "square roots" joke here. And before summer we'll have a 10 meter diameter geodesic frame in the garden for concerts and dancing!
–
OOOOOH BE REALLY REALLY CAREFUL
There are few structures with acoustics as shitty as geodesic domes. If you leave it open, you'll be fine. If you put any panels in you're hosed.
The acoustic response of circular and ellipsoidal structures are beyond counterintuitive. You can understand, for example, that standing at one locus of an ellipse and speaking will make for spooky gain at the other locus. However, a conversation within an ellipse is a maddening experience. Likewise, geodomes - had a friend who lived in one and you'd walk around the room and the stereo would go from "mute" to "too loud" and there were places you could stand and hear the bathroom entirely too well.
I'm still fascinated by this idea of the math park!!
You might be interested in my friend Tim Celeski's woodworking art. Recently he has been carving waveforms, which are strikingly beautiful in wood. http://timceleski.com/
–
Love it! Just checked to see if I could register that as a domain name. We're hunting around for a good international name. Matematikkbølgen works great in Norway, but we want to sell products and games and math furniture internationally and that name just doesn't work so hot. "Mentat" would be sweet, but there's a lot of products and services named that already...
–
Viking Math
Mathkings
Ancient Angles
Nordic Numbers
If I had a better understanding of the nordic languages, I'd suggest finding a word that means something meaningful about "education" in its native tongue, and sounds good in English.
I was in a group called "Narings Liv", once. We chose that name because of the meaning in Swedish, but also because it could be easily spoken by native English speakers.
So there are some ideas from the guy that does Marketing for a living!