this was also a long time coming
Worthy of note: those numbers are bullshit. The counts per rev on the motors isn't vaguely right, there's a 9:1 gearmotor between the motor and the ballscrew, and the ballscrew calcs aren't even incorporated. And uhh obviously the motor and the ballscrews aren't even physically connected.
But that's the software, cheerfully controlling a servo motor to a tenth of a micron.
The backlash of the gear motor is under 3 arc minutes, or under 0.05 degrees. The backlash of the GT2 belts is 2.7 arc minutes, or also under 0.05 degrees. two of the axes are 4mm/rev ballscrews, one of them is 2mm/rev. .1 degree at 4mm/rev is 0.0011mm, or 1.1 microns.
The machine originally used closed-loop control via Heidenhain glass scales that were totes stolen by the brigand that sold me the machine. With that closed-loop control the machine managed 1-micron precision. I can buy Mitutoyo scales that will work with a module for the servo pack that will get me to within 0.01 microns, or "a coronavirus." I don't think it'll take that. To assume mirror finish for any waveform you need half the wavelength. Visible light starts at around 370nm, so half of that is 185nm, or around 0.2 microns. The motors, for their part, are 24-bit encoders, so 0.0013 arc minutes per pulse or 0.077 arc seconds. 0.073 nanometers per pulse at which point you acknowledge you're measuring absolute fucktons of noise. 4600 pulses just in the combined backlash of belt and gear motor.
But I've taken this creature from "is it possible" to "do I want it."
I got the motors to wake up yesterday. They appeared in SigmaWin and I could jog them. I choked up like I was watching the end of Babe. I've got at least one dead servopak; I paid $190 ea for them because the local guy told me they were $3k and fuck him. I could buy another for $190 used or $400 new out of China or, apparently $1100 out of any scrupulous North American distributor who isn't giving me the fuck-you price. I found this out when I inquired about getting mine fixed and was told they won't fix it if it'll cost more than 70% of the new price or "around $800."
Here's a $4500 mill. Like that surface finish? Here's its stepper motor. A B C D, baby! Mine have 1500 parameters, life-cycle monitoring and not one, not two, but five thousand-page manuals. Which allow fancy moves like this fucking voodoo at 3:30.
I'm literally at "the plane flies." It's not ready for passengers? I wouldn't take it across the Atlantic? But the proof-of-concept has proven out and this fucker IS GOING TO WORK.
–
Holy crap. That "voodoo" video is NUTS.
At first I'm getting vibes of the Turbo Encabulator, and having a larf.
Then the vibration damper kicks in and the top of my head blew off and my brains boiled. WAT. THE. HELL.
It's the little things that impress us rubes...
–
FUN FACT
When Paramount rebooted Star Trek and put soap opera people like Marina Sirtis and Jonathan Frakes in it, they went similarly low-budget on everything, particularly the writing. Fortunately they managed to find a handful of pie-eyed dreamers who were so stoked to be working on STAR TREK, FFS, that they gave it their absolute all. Not that they could pull it off on their own, of course. Geordi LaForge's dialog, in particular, generally left the writer's room with a block of TECH where his lines would have been because one of the writers had a college buddy working on a Ph. D in electrical engineering at Cornell. They'd write something, he'd call up his buddy and get a bunch of tech nonsense, and it'd be Geordi's lines the next day.
The show did much better than anyone hoped, of course, and oddly enough the guy whose job it was to come up with TECH decided fukkit, let's head out to Hollywood and have a little fun before joining the rat race. The writer's name was Ron Moore and his college buddy was Naren Shankar.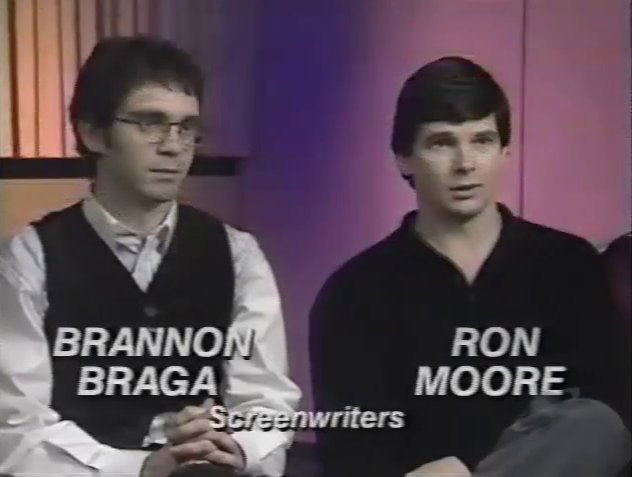 Ron ended up doing pretty well, obviously, going from "fucktons of Star Trek" to rebooting Battlestar Galactica to Outlander to For All Mankind. Naren Shankar? Star Trek to Sea Quest to Outer Limits to Grimm to Almost Human to The Expanse before also ending up on For All Mankind, but not before making an absolute mountain of cash as an executive producer of a little franchise called CSI. So the next time you see a bunch of rubes chortling about stupid jargon?
Keep in mind that to write bullshit you have to speak bullshit fluently, and that the most fluent bullshit speakers are often making their jokes at your expense.
my bad 2.7 arcseconds of belt lash is with the 52-teeth pulleys, the ones I rejected as being not ridiculous enough. I have 100-tooth pulleys which are going to be preposterous and also get the belt lash down to 1.4 arc min. so not 1.1 microns, 0.7 microns.
The original setup was not one, not two, but three 8mm T2.5 MXL belts, each inducing 26.7 arcminutes of lash for a total of 80 arc minutes or 15 microns. It's abundantly clear that the original design relied heavily on closed loop feedback as that's, like, half a thou. Which is pretty nice for like a Haas VF-2. Which will also churn our a cylinder head, not a watch case.
(haven't opened this excel file in a while...)
I got a tablet to do some digital art and read and write and stuff.
Is fun! I've really missed doodling. I think everything I've done so far has been moody and monochrome.
https://imgur.com/a/wSRQLQQ
More moody things to follow.
I wish it were openly acknowledged that Trump would have never been able to retain the US Presidency no matter what the outcome of Jan 6. Sure, he might have been President of a handful of red states for some time, but there's no way in hell that he would have been recognized as President of the 50 United States.
I often wonder if Trump got that far in his thinking.
I joined a tennis league that runs this month. I'm the only 2.5 player on the team of 3.0's and 3.5's. I'll be playing up as a 3.0 as they say. Here's hoping.
–
user-inactivated
· 121 days ago ·
link
·
I wish it were openly acknowledged that Trump would have never been able to retain the US Presidency no matter what the outcome of Jan 6.
How do you know that? Isn't that such uncharted territory that it's impossible to determine how public opinion would evolve if Trump refused to leave the White House, and had enough Secret Service and Pentagon flunkies to hole up in there for a few weeks? The legitimacy of the presidency is something we the people grant, if the perception is there, right?
I'm sure that Trump would rather be president of some states than none, but I mean... there are tens of millions of people who still genuinely believe that Trump is the rightful president, and believing or pretending like Trump was wrongfully denied a second term is literally the only litmus test for holding public office in the GOP.
Difference between them and us? We are objectively correct. But does that really matter? Maybe only insomuch as being a motivating force, and I really, really, realllllllly don't wanna have to experimentally test whether or not the left is too soft to riot in the streets, should the situation call for it.
I'm interested to see how mobilized the Trumpists are during the midterms for poll watching/intimidating, but I'm 100% sure Trump intends to whip them into a frenzy by the end of 2024. He could even legitimately win the election and just decide to have some fun, like, in December of '24: "IF SLEEPY JOE LOST THE ELECTION THEN WHY IS HE SLEEPING IN THE WHITE HOUSE??? MAYBE WE WILL HAVE TO KICK HIM OUT OURSELVES!!!".
Especially if DoJ indicts, he'll go for broke. And DoJ has to indict. Making decisions based on the fear of violence from Trumpists is letting Trumpism win.
I breathed like 10,000 sighs of relief in the early AM of Jan. 7th, when they finished certifying the election. Some relief was because, yes, our democracy survived, but a lot of relief came from the fact that I wouldn't have to travel to DC on the 20th and attempt to extract Trump from the white house myself, because he'd just shot his shot, and it failed.
I guess that's another big difference between me and the Trumpists: I'm not jonesing for violence, but we also probably can't defeat fascism by politely asking the fascists to stop fasc'ing.
In the meantime, it's time to talk about letting an international team of election workers help us out for the next several election cycles. The rubber stamp wouldn't sway any Trumpists, of course, but it will help out "independents" and foreign perceptions of our democracy's health.
edit: btw, I suspect that Trump used a burner phone on Jan. 6, and ordered the deletions of J6 records, including texts. Probably tried to order the deletion of the order to delete records. And DoJ is probably going for Trump, there's no other good reason to seek Cipollone. Also; Alex Jones. lol
I have a nice Tuff Shed in my back yard as my workshop. I put it in the northwest corner of the yard, behind our big Douglas Fir tree, to make it a little less of an eyesore and keep it mostly out of direct view from the house. It's got a foundation under it and everything. Great little box to do woodworking jobs in, build fun stuff, rebuild a motorcycle, etc. It's my workshop.
Problem is, there's no power out there. So I run a 100' heavy duty extension cord across the lawn, and have a seriously janky breakout box inside the workshop to power tools, lights, etc. And regularly pop the fuse on the GFCI at the house, because electrical loads over long runs of wire act weird...
So finally took my father-in-law up on his offer (yes, he passed two months ago) and am getting two 20A circuits run out to the shop professionally.
The electrical contractor is FANTASTIC (As You Wish Electric in King County, WA if you are interested), and for about $3800 they are running power from my breakout panel AT THE SOUTHWEST CORNER OF MY HOUSE all the way out to the northwest corner of my property where the Tuff Shed is.
They hooked me up with the trenching company to dig the trench out to the shop (60 feet, approx) while avoiding my 100-year old Douglas Fir tree's roots. FOR $4500!!!
I was talking to the trenching guy and laughing because the HOLE is going to cost more than the entire new electrical line, all the hardware, and all the labor to install it!!
He said, "Oh yeah. I know. NOBODY wants my job! :-)"
Probably more than a year ago there was a thread here about books on talking/arguing with people you disagree with. I can't remember the titles, authors, or which of you were involved. 99% chance kleinbl00 was in it.
I think "shoot the messenger" was a takeaway from one book.
Do any of you remember the thread or the books?
-------------------------------
New etymology:
Dog days of summer = when it's still too hot to walk the dog at 10PM so she's awake and restless all night and everyone is tired all day.
-------------------------------
Also it's so dry the fire ants left. I haven't seen one on more than a month.
-------------------------------
This week's meditation is "fear of failure".
-------------------------------
–
–
That isn't the thread, but the Righteous Mind might have been one of the books. I have requested it from the library.
You may have seen my comment before I edited it, but shooting the messenger was definitely part of the discussion, and I think an important point in one of the books.