If we're going full-on nonlinear weirdness, there might be a possibility of equal in size, localised, travelling dips to the sea level. Even if it's the kind of mathematical construct that exists only on paper, I can't help imaging a ship suddenly plunging into a 30-meter-deep hole in the water.
–
user-inactivated
· 915 days ago ·
link
·
This is correct, and they're called rogue holes. But maybe be a little careful if only searching those two words, could get into porn territory, heh.
–
I'm pretty sure I encountered one of these bastards once in Puget Sound, of all places.
My family had a nice inboard bow rider pleasure boat, when I was a teenager. We used to pile it up with family and friends and go crabbing in Puget Sound. Put the boat into Lake Sammamish, go through the Montlake Cut to Lake Union, then through the Ballard Locks into Puget Sound.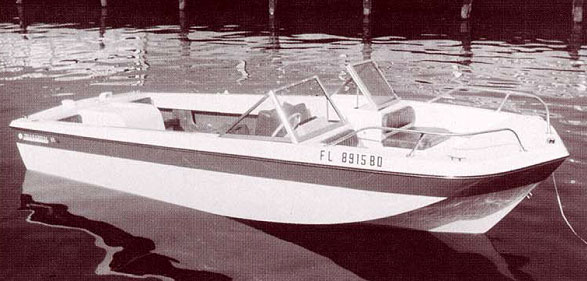 Then we'd putter around the islands until we saw a nice, easily accessible beach. We'd drop the crab traps, and motor up to the shore, offload everyone and all the supplies, then my Dad and I would go back out to check the crab traps we'd set on the way in.
On one of these trips, I'm driving the boat (I'm about 15 and actually had my boat driving license before my car driving license!) as Dad is getting ready in the front of the boat to hook our first buoy.
When I swear a HOLE opened up in the ocean that was about 3x the length of our boat, and we DROPPED into the air, and SLAMMED into the bottom of this hole. Which quickly filled up, and lifted us back up to sea level.
It felt like we dropped 8-10 feet. It seemed to me like the horizon went away. I was standing, with one knee on the driver's seat, one hand on the wheel, and one on the throttle, in the standard "boat pulling up to a dock" pose.
My Dad was getting the pole hook ready in the bow of the boat, and putting on gloves, and not really watching the water. So he didn't see anything. He was just suddenly slammed down to the floor of the boat, and - when he got up again - we were back at sea level. He thought I'd hit something, but I told him what happened.
I know fluid is weird stuff and does weird things from time to time that may seem inexplicable... but are really just probability asserting itself.
I've always thought that I'd found a rogue hole, that day. No idea if they can even happen in waters like the Puget Sound, but I'm pretty sure probability caught up with me, and let itself be known.
–
–
And yet I keep 'discovering' stuff from the '80s and '90s in my spare time like it's going out of style. 100% seriously, I think it wouldn't be a bad idea for me to pick a bunch of my-thing journals from those decades, go through them page by page, and spare myself future embarrassment.
–
When I was sixteen - so, 1985 or so - I invented a new valve system for four-stroke Otto cycle engines. Had the cycles all mapped out the timing, etc. It had thunderously more valve area than poppet designs and no reciprocating parts. I went through developing it to the point that I had a donor Briggs & Stratton and was in the process of coming up with a cylinder head for it.
Then I happened to catch an episode of Beyond 2000 where they were talking about a "revolutionary" new valve design a French Formula 1 team was pursuing. And there the fucker was. Not only that, they had even thunderously more thunderously excessive valve area. And they showed how it worked. And they showed a Formula 1 car ripping off down the track.
I wept in the goddamn shower. Two years down the drain.
Here's the thing, though - the idea worked. I'd come up with something that fuckin' worked. At sixteen. And here's another thing: it didn't work well enough to bother with. I had a suspicion that sealing against combustion was gonna be a problem but I knew that was the sort of thing you had to deal with experimentally. So did they. I didn't drop $15m making a Formula 1 engine that couldn't finish a race.
I dug into it once I got to college 'cuz that shit bugged me. Talked it over with some guys who did engine design. Turns out it was an idea that had been tried back in the '20s, too - and didn't seal any better back then. So not only had I come up with something original, I'd evaluated the problems inherent and hadn't wasted a fortune discovering that they're fundamentally unsolvable.
The embarrassing thing is not learning from others' mistakes. I discovered that the act of making an engine run isn't that big a deal; it's the act of making an engine run efficiently for thousands of hours. And that shit takes metallurgists and chemical engineers and guys who focus on this one tiny corner of how things work and I have never been one of those guys. So what I took from it is "you know what? I'm a reasonably clever person that is also not obsessive."
So should you.
It's worth pointing out that I've spent dozens of hours since the dawn of the Internet looking for this shit. Never with any success. But tonight? Tonight I can show off the engine I came up with at fuckin' 16.
"Unfortunately, for all its engineering brilliance, the MGN-unit failed to do one very essential thing: start."
user-inactivated
· 914 days ago ·
link
·
Why do you think you should be embarrassed for independently arriving at an idea? Especially if you're increasingly nipping at the heels of the cutting edge.
Perhaps the most important thing a good advisor does is serve as a living record of the publishing history in their field. Take ideas to them, and they'll tell you if you're in relatively uncharted waters or not.
Ingesting decades of research history in a field (at least as large as mine) is difficult while trying to publish your own research at the same time. But difficult hasn't stopped you yet, and advisors aren't infallible... :)