S/O to francopoli. Noticed the account was disabled. Don't know if it's taboo to mention if the user's been inactivated? Wishing you well. Had to dig through #moralemenagerie to triple check whether it was really inactive or not.
Either way, was thinking of you, your own photos, and stories of giving strangers a view of the moon through your own set up as out-reach when I was setting this up last night. Took my these photos with my iPhone like a doofus, but doing the best I can with what I got. ¯\_(ツ)_/¯
Accompanying music (archive.org is a goldmine for recorded in-concert audio)
kingmudsy's pubski reminded me how much I missed stargazing on parking garage tops. Here's to quiet nights, mudsy.
Gear: hand-me-down Tasco Model No. 6TE-5 from my pop.
Yeah, they don't make this anymore. So, replacement parts for those missing are hard to come by. Using a Sunpak 61in camera tripod for the mount.
The sight-finder (lil' scope pictured center right) is missing it's fixture to the main body. I've got an idea for jerry-rigging the doo-hickey. Just haven't found the right material in the right store yet. Until then, elbow grease is enough for the moon. Planets and stars will be quite a bit less painful once that fix is made, though.
The Setting
I'm currently in (basically) a college town, which means there isn't much light pollution outside the 'city'. Coming to this town, I learned a new word: greenway.
a strip of undeveloped land near an urban area, set aside for recreational use or environmental protection.
These places are amazing for star-gazing. On a clear, moonless night, I saw more stars here than in the Israeli desert (though I'm 90% confident that was due to proximity to a settlement or two.... so, let's ignore this set of parenthesis to keep the magic alive).
The Night
Last night, the sky was a wispy, cloudy twinge. While clouds were just thin enough for the moon to shine clear through, the clarity wasn't optimal when trying to focus the telescope.
[Bonus Edit] cleaned up & zoomed in version of photo above.
But the wispy clouds DID make it easier to photograph the halo in the sky. This halo effect is visible to the naked eye on a clear night. Happy the clouds helped out this round. Not sure if it's possible to take a picture of it under clear conditions with a phone's camera.
Just to show how bright the moon was, this picture demonstrates how well lit the night was: you can make out the tree-line, yellow ground, the sky, and how damn brilliant the moon would shine in your eye if you peeked into the telescope.
EDITS: Minor additions and formatting. Then an edit to say I made edits. Finally, inserted the cleaned up moon photo after waking up.
Yeah MASSIVE shout-out to francopoli, whom I sincerely hope is happy wherever he is.
I will never be half the astronomer he is. Seeing as I'm at sea level in Seattle, there's very little reason to try. However, I will gladly spill whatever tips I can all over anyone else foolish enough to stand up a tripod.
(1) There are upgrades that will help you now that will help you later if you take this further. Spotting scopes are straight garbage, and the spotting scope in your friend the Tasco is garbage squared. Telrads are spectacularly useful and are available on Amazon. It is rare you see all five stars filled in on a product with over 400 reviews that has remained entirely unchanged since the '80s. If your scope takes 1.25" eyepieces, there are no eyepieces you can buy that are worse than the one you have. Not only that but simply throwing red and yellow filters on the end of it will radically improve your planetary astronomy. Computer modeling kicked the shit out of optics starting in the mid-late '90s to the point where modern glass is astoundingly better. Based on a quick perusal of the internet it looks like the weak point in that scope is the right angle prism. Which is optional and can be replaced.
(2) Your viewing is probably better because you're at a higher altitude. It matters. Of course you're also viewing the moon which is always bright enough that it doesn't much matter. Humidity also screws with stuff.
(3) Greenbelts on the outskirts of town aren't a bad place to see planets. However, greenbelts on the outskirts of college campuses aren't a bad place to see friendly girls who will happily walk up to you and look through your eyepiece. It surprises me that serial killers have yet to figure out how harmless men look with a telescope. Especially if you only know enough to fill them in 30 seconds worth and don't geek out about it. Not saying it will get you laid? But it will get you conversations with people who wouldn't normally talk to you.
Keep it up. Someone has to keep us in astronomy photos.
–
Damn. Deactivated last August.
Seeing as I'm at sea level in Seattle, there's very little reason to try.
In case work ever finds you in a less light polluted city, this is a nice tool for finding good spots for clear skies.
I will gladly spill whatever tips I can all over anyone else foolish enough to stand up a tripod.
(1) Booyah. IIRC the diameter is a measly 1/2", and it'd really be a nostalgia/feel-good DIY fix more than anything. cloudynights (3rd link) was one of the first places I got the idea for jerry-rigging. btw, LOL (in awe) @ how awesome this forum user's setup is: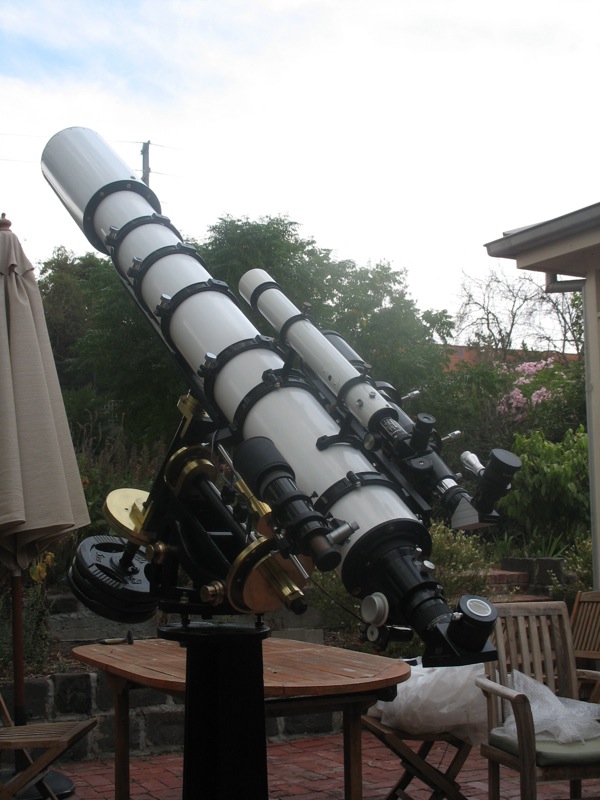 Using the dinky thing AS A FINDER.
Scrolling around amazon now for Telrads. Brilliant point about use of filters. That concept didn't transfer from in-class lecture brain to real-life brain. (DOH)
it looks like the weak point in that scope is the right angle prism. Which is optional and can be replaced.
This is new info to me, and added to the list. Also, in hindsight, microfiber cloth would have done wonders for the quality, too.
(2) This, I don't have an accurate read on given IL desert has ~100m more on my city (Northern FL) on average. Though I can accurately write that the humidity was out in full force last night - more than the usual in FL.
(3) I found the spots based on other redditors' suggestions. I have yet to see anyone else out there yet. Then again, 'small' city = small sample size = small chance of seeing people, etc. A meteor shower+picnic sort of date is in my back pocket, but that's stretch until very comfortable with someone [who is comfortable with being up at peak hours].
–
A meteor shower+picnic sort of date is in my back pocket
A+ idea. That's how I proposed to my wife.
–
–
Yeah, we were a day past the peak of the perseids and not quite at the right time of night, but we drove to a really dark place and we still saw a handful, and the night was wonderful. But no, I didn't have a camera that could take pictures either of meteors or of us in the dark.
–
Not all memories need to be set by equipment.
I drove up to the mountains to watch the quadrantids once. Brought the gear. Got great shots. One burst so low I heard it. Took the film into the lab, waited three days, heard nothing, dropped in, was told "yeah, big bummer, notjing exposed."
I asked to see my film. They pulled it out of the garbage. And there, on the light table, exposures ruined by uncleaned developer, were all my meteor shots. But since it wasn't puppies or some shit, their tech had decided it was garbage.
Never went back. They went under. But that night? The night of the meteor I heard? The meteor I smelled?
It's become ruined streaks pulled out of the garbage in my memory.
These look great! Oh man this reminds me I need to get my Newtonian telescope calibrated. I just started the hobby last year. Any good ways to see the galaxy? Going to see if I can use my new pixel phone with the telescope to see how the night vision feature works.
–
Welcome to Hubski!
Any good ways to see the galaxy?
For our Galaxy, with your own eyeballs? You need a serious dark sky:
BUT, if you have a Newtonian telescope on hand (mega-jelly, enjoy it!), it's possible you have some programmed in there to viewing. Anything else, I'd defer to fellow hubskiers.
That's an awesome photo. Was that taken with your last phone via Newtonian last year?
I might try to get other moon phase shots...
–
Thanks! Yeah got a lot of light pollution around where I live, hopefully I can get out to some national parks nearby for more darkness. I used my pixel phone (1st gen) for that photo. Could have been sharper but it was hot that night (ugh heat waves). I personally like the crescent moon shots, you get lot more texture with the shadows and contrast, while a full moon seems more flat.
Actually a cool idea would be to composite the crescent moon shots together to get a really nice textured look for a full moon.