Read this and was curious what Gambia looks like. It has a fascinating map presence (borders set by UK and France 19th century, never changed):
So I investigated.
Here is the river which the country's borders track: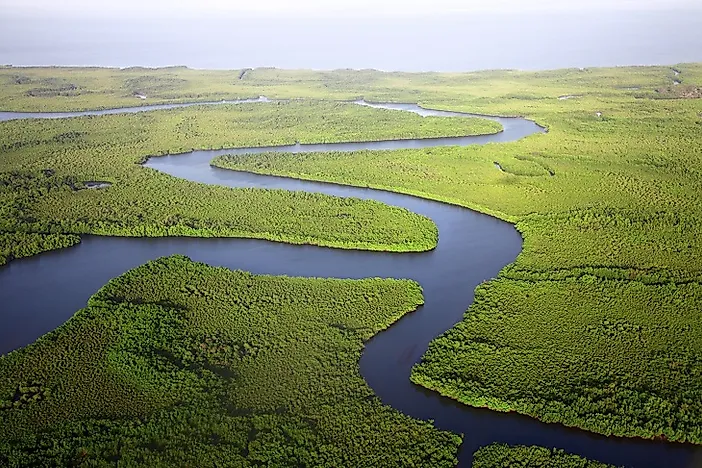 Here is some representative coast:
(near Gunjur)
At the intersection of coast and freshwater are extensive mangrove forests:
Unfortunately googling Gambia interior yields dozens of pictures of this guy, Gambia's former "minister of the interior":
Definitely a paper-pusher. Anyway he was fired last year and went to Sweden with state secrets? Seems like an extremely interesting guy.
The interior is basically savanna though:
A shot from one of Gambia's seven national parks, inland:
I also learned that, I think, Kunta Kinte (or whomever the character was based off of) left Africa from an island in the mouth of the Gambia River. This piecemeal, thoroughly improbable map of Serrekunda (largest city in Gambia by far) seems to bear that out:
Note the restaurant named in his honor, near the Dominos. I'm also curious about the fireflies. Here is a picture of Banjul, the capital, near Serrekunda:
Overall there are vanishingly few pictures showing the scope of Gambian cities, which is frustrating. Quite a few photos of dumb-looking white people posing in one of the city markets, if you're into that. I guess if it weren't for them we wouldn't have any info at all, because people from Gambia don't tend to leave much. But really I just wanted a segue into this awesome story -- https://reported.ly/2015/07/09/gambia-refugee-migration/ -- which you will want to read after you look at this:
--
Other notes: Gambia is entirely encircled by Senegal, barring its brief coastline (semi-enclave). I assume the most influential regional city is Dakar; it's certainly by far the largest. Gambia is just south of the Sahara's edge, and it does not seem to have any desert. Smallest country in Africa.
–
wasoxygen, here is a help me learn new things post, because I bet you don't know anything about Gambia.
tutorial
19vVrqzbbLFKJL7ta9dvR7zX7uk6hdTWwU