Only Watch is a charity auction organized by Prince Albert II of Monaco against Muscular Dystrophy. All the fanciest brands make 1 (one) watch, prototype of 1, quantity 1, 1 of 1, which is then auctioned off.
You will note that "telling time" is a tertiary responsibility of these pieces of jewelry.
user-inactivated
· 258 days ago ·
link
·
Thr relationship between socioeconomics and design has been on the back of my mind. I think there's a middle-classness to the things that graphic designers tend to prefer, skewing pretty liberal - you ever just look at a website or poster and think - damn,this is some inter-city shit.
Something about how Squarespace always advertises in podcasts, something about how Webflow websites always have dropshadow behind elements, some half baked explanation about how the things that come from design tools have revealing tells about the process behind them, so it really just depends on the type of person who uses each tool.
The graphic designer at an AIGA lecture will tell you that he was inspired by modernist soviet posters, the bumper sticker designer at the mall kiosk is just trying to create a living by saying the most clever and incindiary things.
These watches are interesting to me, I feel like they say that the San Francisco minimalist watches of today are chicken shit to avoid like the plague. Everything up to middle class taste in graphic design is a premium mediocre thing, a large set of motivated rationalizations that some things look better than X because of how it compares to other works of graphic design. I think the rich are simpler when it comes to graphic design - especially in a world where even the cheapest knockoff phones have a version of Android with material design guidelines - design is a matter of scarcity and exclusivity.
–
This is an interesting discussion. That "Premium mediocre" manifesto had my attention for a minute but it sure is putting a lot on the concept of "fast casual."
Somewhere there's a brilliant article I read once about selling to ultra high net worth individuals. I wish I could find it now. Regardless, the general gist was that when dealing with truly rich people, you follow a "push" paradigm ("you should buy this one particular thing") rather than a "pull" paradigm ("we sell all sorts of wonderful things") while also understanding that you must never push and that you can wait years before the guy with the Ford truck and membership on 55 corporate boards calls you up and decides he wants to surprise his wife with $800k of diamonds for Christmas. The long and the short of it is you want to be "their guy" for when they want to spend money, and they want to be happy with you as much as they want to be happy with the product because psychologically, the experience of buying it has far more weight than the financial impact of buying it.
My brother in law is an electrician in an incredibly wealthy zip code. He's been paid $20k to put up christmas lights before. He'll get called to change lightbulbs when the kids are bored because the kids like him. Babysitters are cheaper but they need lightbulbs changed and the kids like him and clearly, it's not about the money.
You know that scene in Pretty Woman where Julia Roberts isn't allowed to buy clothes on Rodeo Drive? It's bullshit. I spent an afternoon walking around Rodeo Drive (in cargo shorts and a graffiti collective t-shirt, no less!) looking at and trying on insanely expensive watches. Million dollar watches. Everyone was scrupulously kind and polite. oddly enough, the less exclusive the boutique, the brusquer the staff was - apparently if you've got the balls to walk into Richard Mille, they'll assume you have the good sense to not ghetto up the place too badly. Likewise, the worst experience I had shopping for Porsches was on the lot where it was their hottest car. Once I wandered over to Park Place, where the $40k Porsche was parked between a $1m MacLaren and a $190k Turbo S, I was treated with respect, kindness and affinity. Now - they had to have known that if I scruffed over to drive the cheapest car they had, I wasn't likely to buy it. But they also knew that I'd tell all my friends what a good time I had, and chances are good that I'll make more money as I get older. I'll be back. And I'll have a positive memory of my experiences there. They'll be "my guy."
The chickenshit watches you linked to (thanks for that) are all made in China and OEMed for whoever feels like slapping their label on them. I found a bunch of 'em earlier this year:
They have a resale value of zero. Thing of it is, nobody knows what watches cost anymore; Stauer and other brands exist because the general thought is that watches are priced between "I got it out of a vending machine" and "rolex which costs more than my car" so anything between those brackets is whatever you can sell them for. "Premium mediocre" -
I think it misses the point.
This is a Birkin.
Doesn't look like much, does it? It's got a Wikipedia article, though. Wednesday Martin spent two chapters talking about this bag in Primates of Park Avenue, though, because it's signaling at the highest. If you want one, you have to know someone at Hermes. More than that, you have to be on good terms with them. More than that, you might have to jump through hoops like checking boutiques up and down the Pacific Rim.
Or you can cut to the front of the line.
I don't live in that world. But I'm starting to understand it. The people who would pay that kind of money are dying to impress the people who don't have to pay that kind of money and those of us who don't live in that world truly don't matter. We see rich people and hand-made things and we look at the crude bits and don't even understand why someone would spend two thousand words on what makes a good fake Birkin.
So when we think "rich" we don't think "Breguet" we think "thing that looks like a Breguet" because we have no association with Breguet. We have no friends with associations with Breguet. $90 watch:
$55k watch:
The guy who buys the $55k watch is impressing people who know what it costs. The guy who buys the $90 watch is, too. Neither are impressing each other. It's almost a form of skeuomorphism - the cheap thing must look like the expensive thing because the expensive thing is what drives society and culture but the cheap thing has as little to do with the expensive thing as a floppy icon has to do with saving your Google Drive document.
The guy with the Stauer is never going to own a single hand-made thing. He might have something passed down by his grandfather. The guy with the Patrimony owns mostly hand-made things. When he has enough money that he doesn't have to care about much, he has to be made to care.
Veggie Grill is "premium mediocre" if you were otherwise going to go to Taco Bell. Otherwise it's just fast casual. Thing is, handmade stuff is no longer necessarily crazy expensive bespoke bullshit. I've got a hand-tooled Kindle cover that cost me all of $70. Yeah, that's more than the Kindle cost but honestly, I like the cover better. I like it enough that when that Kindle finally dies I'll probably try and find notepaper about the right size.
The chickenshit watches are worthless because they're trying to sell handmade while also being mass-produced OEM china. That's not "premium mediocre" that's a lie and only the stupid are fooled.
–
user-inactivated
· 258 days ago ·
link
·
Regardless, the general gist was that when dealing with truly rich people, you follow a "push" paradigm ("you should buy this one particular thing") rather than a "pull" paradigm ("we sell all sorts of wonderful things")
I've noticed this to be true of the creative agencies that I want to work for- their website's don't say a thing about what they actually can do for you, their work just speaks for themselves. But it takes a large amount of pedigree to get that point, it's really intimidating.
Now - they had to have known that if I scruffed over to drive the cheapest car they had, I wasn't likely to buy it. But they also knew that I'd tell all my friends what a good time I had, and chances are good that I'll make more money as I get older.
This is something that's never really occurred to me, at all. I've always been a relentless optimizer of consumer goods, probably starting with my dad who cynically taught me the base costs of food whenever we ate out, more relevantly, an ex who taught me what materials and seams she looked for at clothing sales that said that a piece of clothing was quality.
The behavioral psychology nut in me loves thinking about prices, costs, and presentation, but damn, is it only good for waxing academic. I must look like an idiot looking at the cheap shit first.
The unnerving thing about the chickenshit watches (and about watches in general), is that as a designer, the easy minimal stuff is sexy to me. When I was first getting into graphic design, I went through Ebay dreaming about buying a minimalist Braun watch. I went with cheap minimal Casio watches instead, they scream "college student" and I love that.
I'm still at the stage of my life where spending more than $20 on a watch is the watch equivalent of Mitch Hedberg's pen joke: I bought a seven-dollar pen because I always lose pens and I got sick of not caring.
You might get a kick out of this: My current daily driver is a casio sportwatch with the beeper and the mode button disabled. I have it permenantly set to stop watch mode so I can figure out how long it takes for me to drive places.
–
Dan Pink and others have pointed out that once you hit a certain salary, you no longer worry about money. In the US that salary seems to be about $70k of discretionary spending a year (before you account for things like the local real estate market, etc), assuming no kids. That's more than most people have, though. As such, there's a lot of sales to people below that line who aspire to be above that line (which, in fairness, was a point made by your premium mediocre post).
Thing is, those chickenshit watches are all derivative. The whole point of the presentation was to outline how derivative they truly are.
Your watch is not minimal. It is speaking its own design language and it is speaking it clearly. There's nothing derivative about Casio; they make exactly what they make, and they make it well. They make it for what it costs plus a profit margin; things lose that directness when you start talking about the haute couture watches.
This is a Roger Smith. It's 1 of 1.
It was a gift to the British government or some shit and as such doesn't have a price. Thing is, Roger Smith has a workshop that employs 5 people, and they make less than 10 watches a year. That means above and beyond materials cost, each watch costs six months' salary of a trained artisan. It's less minimalist than the chickenshit watches, but not by a lot. What it has is a lot of individual craftsmanship and some great material.
On the other hand, this is an Ochs & Junior:
That's a perpetual calendar with moon phase but it's a lot less ornamented than any of your "minimalist" chickenshit watches. I don't think you can configure one for less than 10k euro. And then, there's always Movado:
You can get into one of those for a lot less than a grand. Or, around a thousandth as much as a Moser.
Strange how with such money, they can barely make a simple one. The visual efficiency on those things is terrible. Too much stuff on the face.
Then again:
"telling time" is a tertiary responsibility of these pieces of jewelry.
–
–
Might as well wear a watch with no time-telling parts.
"What time is it?"
I have no clue. It's basically a fancy bracelet. Are you new here, kid? Won a blockbuster lottery or something?
I imagine people wearing something like this don't really care to introduce people into their world.
I know this response is probably expected, but Jesus some of those watches are ugly.
However, if any of you feel like buying me a small Christmas present, this thing is gorgeous.
–
I'm fond of the rock ones. Harry Winston has a line made out of feathers: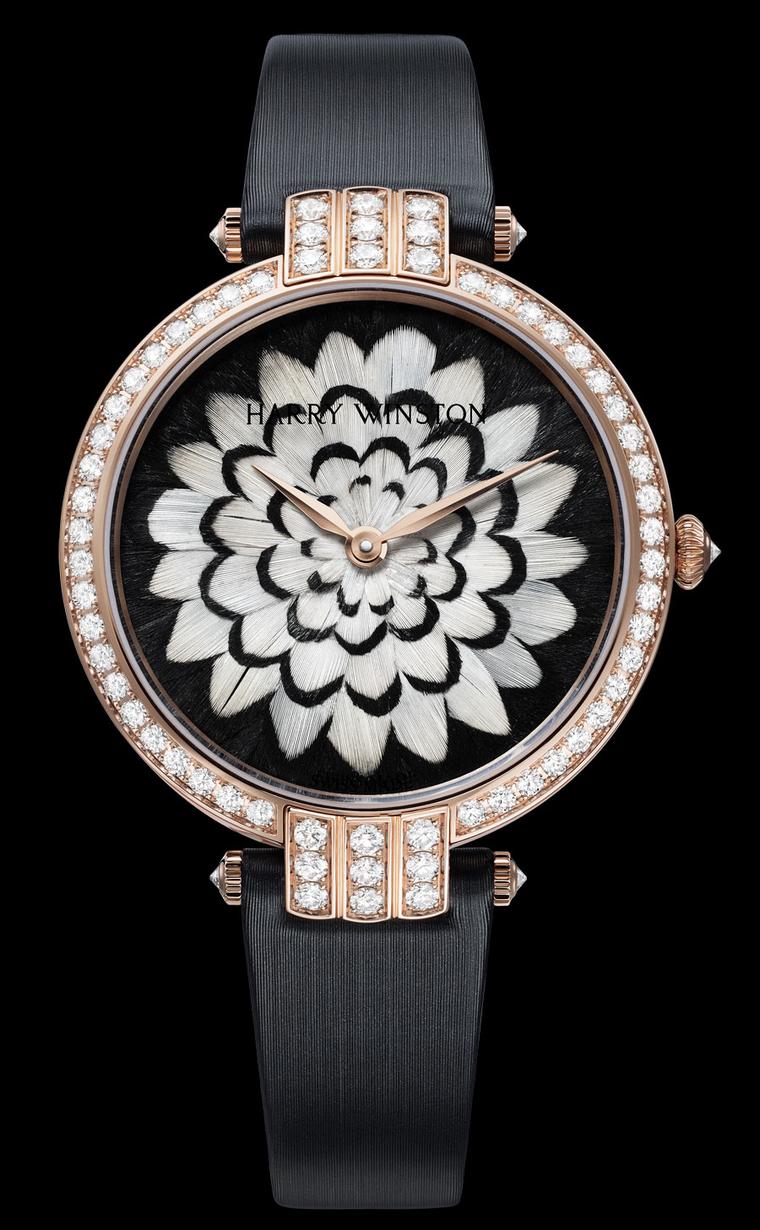 of course, they also slather the poor thing in diamonds because they're Harry Winston so it's like... eh. FUN FACT: in the antique watch market, "slathered in diamonds" costs as much as "not slathered in diamonds" so it's kind of like getting pinstripes at the auto dealership. Costs you money, does nothing for resale value.
Moser tends to go for "cool enamel treatment plus tells time" in their stuff. They also charge 88 skidillion dollars for everything though so...
–
A lot of the product photography in watchmaking is renders. You'd expect less of it in this category but I reckon B&R sent that along just the way it is.
With such a wide variety of watch designs, you could almost use this as a Rorschach test for watch designs. Personally, the Voutilainen strikes a chord but I absolutely adore the Chronoswiss. Not the red €15k one but this €8k one:
It's embellished but no part seems overly so. Now I just need to find me some spare k's...
–
Some very nice guilloche on there. It's actually only 5800 euros.
Myself, I'm a cheap date. If I were to buy something it'd probably be a Stowa Flieger T02 at a whoppin' thousand euros.
–
Guilloche, now that's a word that I've never heard before.
If you'd told me that Stowa was 50 bucks I would've believed you. (I like it though - both my current and my previous watch is white-on-black with a metal encasing.) My less-unaffordable dream watch is be the Mondaine stop2go at €600. It features a movement typical of Swiss / Dutch station clocks, halting every minute before circling smoothly around in 58 seconds. It's a dual quartz, so that is a bit of a bummer, but the signalling to transit nerds would be killer.
–
Say it with me: "guilloche."
Also known as rose engine turning. I'm taking a 2-day course in it in December. It's apparently one of two courses offered in North America, and the other one hasn't been offered in five years.
I'm prolly gonna buy a 17c Elgin movement, restore it, and throw it in a case to put around my wrist. Stay tuned.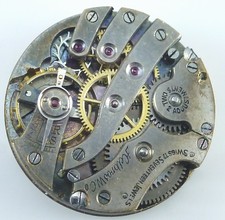 –
Guillocheur Kleinbl00...it has a ring to it. Let me know if you could use a designer. :)
I found this just now! From 1:45 onwards the Chronoswiss guillocheur shows how they use their lathe. These guys found the machine second-hand in a garage, fixed it up and taught themselves how to use it. You probably already scoured Ebay, right?
–
That's pretty dope. I am now a fan.
It's not entirely accurate to say that rose engine lathes aren't made anymore. They're still used in woodworking a lot. The guys who make the one I just linked also make one for a fifth the price who consider, as part of their team, the nice lady I'm taking my class from.
(because OF COURSE Seattle is where an "antiquarian horologist" goth chick would end up)
EDITED TO ADD:
It's also occurred to me that it's pretty stupid to buy an antique rose engine lathe when a modern lathe, plus some numerical control, could make some pretty cool patterns.
tutorial
19vVrqzbbLFKJL7ta9dvR7zX7uk6hdTWwU