Asked to comment, Hawthorne-based SpaceX issued a statement Monday afternoon: "We do not comment on missions of this nature; but as of right now reviews of the data indicate Falcon 9 performed nominally."
Where have we seen this before...
"When it was first launched from the space shuttle Atlantis on March 1, 1990, it was believed to be the first advanced KH-11 spacecraft," he says, referring to the top-of-the-line American spy satellite. "Within weeks, both U.S. and Soviet space sources reported it had malfunctioned and would make a 'fiery re-entry in the next 30 days.' Both assessments were wrong."
From Jonathan McDowell:
Space-Track has cataloged the Zuma payload as USA 280, international designation 2018-001A. Catalog number 43098.

No orbit details given. No reentry date given, but for a secret payload it might not be. Implication is Space-Track thinks it completed at least one orbit
–
user-inactivated
· 588 days ago ·
link
·
Didn't you link something a while back where they did this trick of "losing" a satellite only for it to show up in a completely different orbit? Tell everyone it crashed then either boost the orbit, change the inclination, etc. We also know that they have worked on stealth tech to make it harder for the bored amateurs to track their birds down.
Kick something off the back to reenter, say the boost package. The more I think about this the more trivial it would be to disappear a satellite, at least for a little while.
–
The problem is, that any effort to "hide" a satellite in orbit is ultimately doomed.
Turns out there is this universe-wide background of these bright dots called "stars", and these basic principles like MATH and PHYSICS.
There are only certain places satellites can be.
Watching those spaces to see if anything dark passes in between Earth and the distant starfield is what a LOT of amateurs spend their spare time doing. (And foreign intelligence agencies do it as well, with better tools and equipment.)
So things get launched "secretly", but are quickly (1 week to 18 months later) discovered, mapped, and linked to specific launches, countries, radio frequency transmissions, etc.
Space is like Kansas... big, wide open, and doesn't contain much. But there are certain people who are very interested in it, know the landscape in detail, and know when even something small changes.
Yeah. That's MISTY.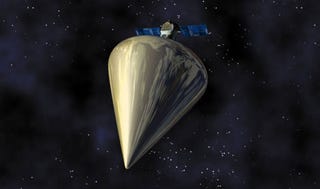 Best part is NORAD used to publish flare data - if it burned up in the atmosphere and ionized something, NORAD made note of it and distributed it to anybody who wanted it - scientists, observers, whatever. They cooked that shit off about 18 months before the first flight of the X-37.
PROWLER was a mere 2900 lb. They coulda dumped 90% of the mass of that launch into the ocean and still launched a legit little payload. Fuckin' TEAL RUBY was 2000 lb. back in like '76. You think we've made some progress in electro-optical technology since '76?
Eh. Maybe lost, maybe a cover story to try and hide a school-bus sized satellite in LEO (or thereabouts).
The back-room part of this story is the one I hope to hear some day...
Was it:
1. "Hey Elon. We are gonna say the satellite never made orbit."
2. "Don't tell Elon, but we are gonna blame his rocket for failing to deliver Zuma into orbit."
3. A poorly-designed latch failed to allow the satellite to separate from the rocket, and both burned up on re-entry.
In Option 1, there has to be a pretty big secret deal on the back-end, if Elon is going to allow them to say their rocket failed after a long series of successes. And his entire future business of SpaceX being built upon the image of reliability and success.
In Option 2, you gotta be pretty goddamn stupid to sabotage your ONLY heavy-launch provider's business and reputation.
In Option 3, SpaceX has an incredible history of public disclosure of every single failure it has had, and how it has learned from each failure. This could get really sticky, because at some point it is going to come down to either SpaceX making a mistake in their latch design, or the DOD making the mistake. Neither is a better option. (Remember when the Mars lander plummeted into the surface like a bullet because one organization was using Metric, and the other was using Stupid American Units? Yeah. That's gonna be remembered for EVER.)
And finally, I don't know the math (KB?) but a spy satellite of that size, with that much power and payload inside of it...? I'm not sure all/most of it would burn up on re-entry, because I don't think it got high enough, or fast enough, to get the heat up in the "destroys everything" range.
That leaves debris on the ground/in the water. Sensitive military debris.
Can you say Glomar Explorer? Or Kursk?
ahem.
–
So what actually happened? No one is saying for certain, but there are a couple scenarios in which the Falcon 9 could have performed as it was supposed to and the spacecraft didn't deploy correctly. Typically, SpaceX uses its own hardware on top of its rocket to send a satellite into orbit, what is known as a payload adapter. It's an apparatus that physically separates the satellite from the upper part of the rocket and sends it into orbit. However, a previous report from Wired noted that Northrop Grumman provided its own payload adapter for this mission. And if that payload adapter failed, it would have left the satellite still attached to the upper portion of the rocket. That's certainly a mission failure, but it wouldn't necessarily be the fault of the Falcon 9.
The Verge
As far as physics, if it'll fit on a Falcon 9 it isn't big. KH-11s take a Delta IV Heavy. And the last time we had a satellite big enough for a DIVH go south we shot the fucker down.
–
Turns out Falcon 9 can lift around 29,000 pounds.
Ironically, the the actual GVWR for a 72-passenger Thomas-Built school bus (made by our parent company, DTNA) is .... 28,999 pounds fully loaded with passengers and fuel.
I have no idea how big Zuma is, but just thought it funny my off-the-cuff "school bus-sized" reference was right within one pound! :-)
Gwynne Shotwell, COO of SpaceX, made a very interesting public statement, that is clearly treading very close to the line drawn by scary spooks in Virginia caves:
http://spaceref.com/news/viewpr.html?pid=52053
Basically, "Everything went well on our end."
Boom.
Remember when the Mars lander plummeted into the surface like a bullet because one organization was using Metric, and the other was using Stupid American Units? Yeah. That's gonna be remembered for EVER.
Every class I've had that involves unit conversions brings this up since high school.
tutorial
19vVrqzbbLFKJL7ta9dvR7zX7uk6hdTWwU