My diagnosis is as follows. There are fewer people analyzing securities than there used to be.

Basically, banks and big hedge funds are spending lots of money on technology and less and less on human capital. Co-locating servers so you have a 3-microsecond latency is sexy.

Some 31-year-old dude from Wharton sitting in his office until midnight, ordering Seamless, poring over company filings, is not sexy… but that is how you figure out that there is a problem at Toys "R" Us. All the computational power in the world isn't going to help you.

Of course, as I say this, some quant reading this letter is pretty certain he can program a robot to take the analyst's job. You know, some things you just can't (and shouldn't) automate.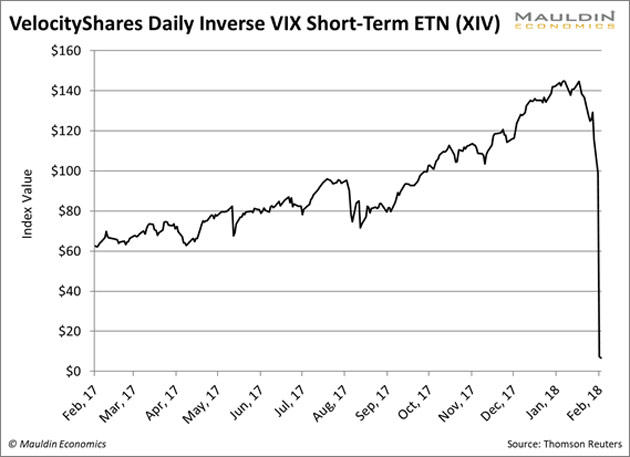 I can't find the quote, but David Rosenberg asserted on Twitter that something like 60% of brokers out there right now started work after the 2008 crash. In other words, there is scant institutional memory of the last bloodbath... none of the lemmings remember what cliffs are for.
Spikes like that are really hard to trade, you know the end result but the difference between making 10x and going to zero is timing. Essentially you have to keep making those high risk timing bets and hope that you get it right often enough to matter. There were probably lots of people that knew Toys R Us was doomed, it was just a matter of when they blew up. Unfortunately if you see that the market isn't reacting at all to the news its really risky to make the bet on failure. If you are an annalist looking at a company that's doing terribly, but at the same time their stock is staying flat or going up there isn't much you can do other than not invest in the company.
This site is really interesting, but I fear they fall peril to the same biases that most heterodox finance blogs do:
Mauldin Economics is a member of the Hard Assets Alliance. Buy gold and silver, store in secure vaults, take delivery or sell positions online.

Check the gold price and the silver price.
–
Hard Assets Alliance definitely pays for placement. I read a bunch of their crap and they have effectively nothing to say about precious metals.
What's been funny is watching them shift on blockchain. Mauldin went from "it's goldbugging for nerds" to "maybe this is something" to "Fuck no it's the end of the world" to having George Gilder as a speaker which made them collectively go
"...huh."
They're definitely old. They're definitely center-right. They're definitely less than innovative and they definitely wear their biases on their sleeve. But I don't get the Old White Money perspective from my usual circle of influence so I pay attention.