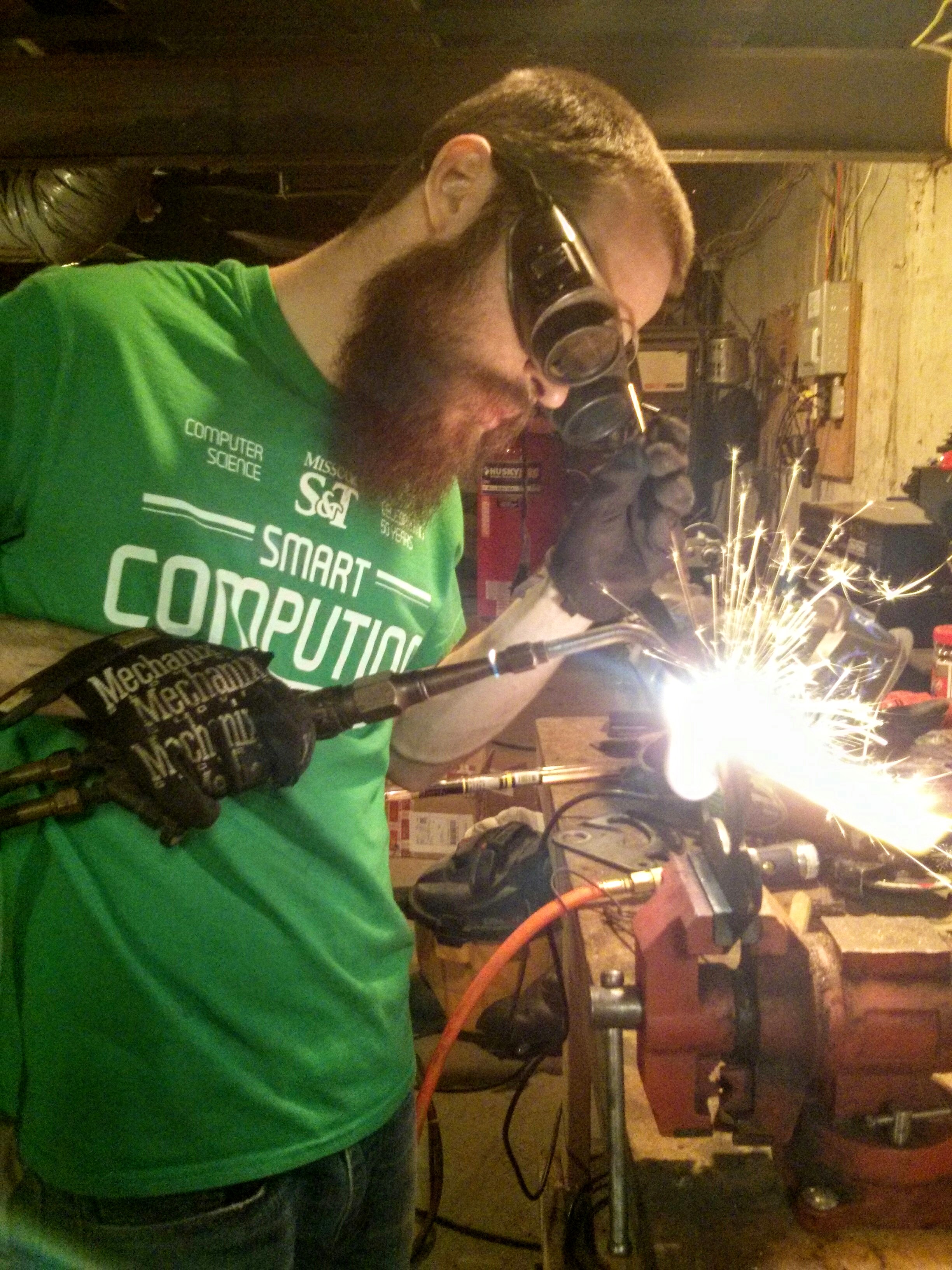 (Please ignore the flame at the neck in the torch; I fixed that a minute or so later once I realized what was up.)
Damn mower steering gear kinda stripped again today, and I don't really want to buy another replacement.
Last time I tried this, the gear teeth failed due to porosity, which is hard to avoid with MIG. (I resorted to welding, then grinding back the weld until I saw no more porosity, then putting in another pass...slow going, to say the least.)
Theoretically, O/A welding lets you take the time to pick the impurities out of the weld, or at least to burn them out and fill in the pinholes as you go. In practice, well, it worked better than MIG but it wasn't perfect. My technique also needs work since I just kind of dove right in rather than doing a practice piece.
Just an FYI - the metallurgy is also garbage. I've welded gear teeth when I want them to last... a little while. If you're working with malleable pig steel you're pretty much there but unless you're picking an anneal temp and then quenching on a timer your fix may not last that long.
It's zen though, ain't it? I love oxyacetylene welding. You can take it eaaaasy.
–
Hey, one question about O/A stuff: do any of your torches have a "pilot light" type setup? If I have the torch lit, then close the acetylene valve on my torch handle all the way, it lets enough gas by that there's a tiny lick of flame at the tip, and I'm not sure if it's supposed to do that or if I need new valve seals.
I believe you that the metallurgy is garbage; the existing teeth I can cut with a file; the welded-on teeth are a bit too hard to file (at least with the cheapo triangular file I was trying to use). I am really unimpressed with this design as a whole and need to find a mower with a more robust steering setup to graft onto this. (Or a better mower to buy as a replacement.)
O/A welding is sooooo zen. Need some heat over there? Just point the torch there. Need some filler here? Bam, just feed a little into the puddle. MIG's fine for production-type stuff where you just need to lay a bead down on some metal. O/A gives you so much control over what's going on, it's ridiculous. Can't wait to try some sheet metal welding with it.
–
Go thick. Because the sheet dissipates heat so efficiently in the plane as opposed to in the cross section, it's stupid easy to pucker the stuff. I had a bunch of not-good results with 16-ga; I did marginally better with our backwoods buzzbox TIG (might have done hella better if we had a pedal and were doing more than Sears Roebuck buzzbox plus arc stabilizer plus argon bottle and handpiece).
But there's definitely something about welding with baling wire and old coat hangers. It's liberating. Eighth inch plate is like woodworking.
As to your torch question, that tiny lick of flame better go out after a few seconds. If it doesn't hell yes change out the seals. I've never dealt with an acetylene explosion but they do a real good job of teaching you not to fuck around.
BTW is it a riding mower? 'cuz yeah. I don't have a lot of experience with riding mowers, but the one I converted to electric had wretched build quality on the steering. Like, the thing was three years old and the teeth were mushroomed. I swear it was made out of roquefort or some shit. I halfway wonder if that's their garbage-ass way of putting some shock absorption into the steering; use something with a young's modulus close to polyurethane and if it turns to cheese who cares because the dumb thing only has a 3-year warranty.
–
Ok yep, I'll check the seals next time I'm at it.
It is a riding mower; an old Murray that I paid...$150? for a while back. What's great is that I actually bought a whole replacement box (can't buy the sector gear individually...) and the replacement gear that meshes with the sector gear wasn't hardened and was turning in a steel bushing. What a shock, it lasted maybe a season before getting chewed up to all fuck. And the replacement sector gear is so sloppy in its pivots that the teeth only half engage anyway, so they wear out even faster. So here I am, using the original steering gear and re-making the original sector gear because they're better quality than the replacements. At least this time I had the new sector gear to use as a pattern.
What'd you do for an electric conversion? That sounds like a fun project and I may be able to get my hands on an engine-less mower in otherwise good condition for a cheap price...
–
Boy howdy. It was backintheday. At the time the hot shit power source was Optima yellowtop lead-acids.
I was working for a company that made electric cars back when an electric '92 Ford Taurus was hot shit. They'd made this thing and a couple others. I feel like the motor was an industrial beast; kinda feel like we just bought it out of Grainger. Nowadays? I'd prolly use lithium motorcycle batteries in series/parallel. But if you're going to do that, remember the mantra of the electric car mechanic:
1 HAND IN A POCKET AT ALL TIMES
(keeps you from inviting an arc across your heart)
–
That's legit! I assume you know of the White Zombie?
Looks like you can use a 3-phase motor and a VFD if you want (and can provide a DC-DC converter or other source of 300ish VDC)....
(damn you, I have other things to do tonight!)
–
I do not! I mean, maybe I do - I think I've seen it before. But it sure wasn't running in the 10s back then....
I did know Ed Rannberg. Stayed at his house on a road trip once. Super nice guy. Let me ride an electric scooter around a giant plant where they built boilers to refry beans for Taco Bell. Got to see Kawashocki taken apart, which was pretty cool considering it was in a couple of my magazines as a kid.
Back when men were men and electric vehicles were made out of lead.