Thierry Legault may just be part man, part telescope. This is amazing, even by his standards. He is also the photographer started the craze of taking very high res images of the ISS and other satellites.
–
Legault has a 20" scope he uses for his images. The camera at Kirtland AFB in New Mexico that took the black and white image of Columbia trailing plasma before it imploded on reentry was heralded as "amazing" yet they have a 32" scope that they use to track "space debris." The camera that took that photo was a tracking camera and they were testing a tracking mount at the time. There are always rumors floating around of images of the Tiangong good enough to see the docking mechanisms, which if my math is correct needs a 30" aperture at 300 miles away to get more than pixels. Adaptive optics may mean a smaller mirror is needed. If amateurs can see a spacewalking astronaut from the ground with off the shelf gear I can only imagine what we have pointed at this stuff and what it can make out.
My stuff is not nearly this good, but I can dream. Googling "first image of the ISS from the ground" lead me to this page. I had to waste a bit of time there.
–
Or you can cheat.
Full disclosure - a friend's dad is the administrator on the TMT. I've had the luxury of asking stupid questions about big scopes, and discussed adaptive optics with the guys at palomar; I figured I could probably put together my own MEMS rig and get something impressive. As it turns out, adaptive optics require a skookum laser the likes of which you get into serious trouble for possessing, let alone turning on... at least, they did at Palomar standards.
The Kirkland mirror was old and first gen and probably a testbed for something military. And really - if you want to look at satellites, do it from orbit.
I'll bet a 30" aperture fits in an X-37 no problem.
–
I'll bet a 30" aperture fits in an X-37 no problem.
Now that is something I had not considered. Doing a back of the hand calculation... the X-37 is roughly 9 feet wide. A 36" mirror, known to be used already in multiple satellites, would need a mirror cell, if we go by normal standards, 1.25x bigger in diameter to hold it in place. That fits easily into that bay. Looking at the images, the X-37 is 29 feet long, the cargo bay looks a bit less than 1/3 that length, so say 8 feet. That would give enough room for a focal length of say 6 feet, and 24 or so inches for the cameras etc. Power and cooling come from the orbiter itself so you don't need the extra bulk behind the Hubble, for example.
Would an F2 camera be good for looking as something as small as a satellite in orbit? Something with that fast a focal length is usually used for wide-field imagery. Assuming of course that they did not go with a 20" mirror; that may work for close ups. ALSO! Assuming that they don't have some form of collapsible truss to make a longer focal length? Hmm... this gets neat to think about.
But, yea, and they can change the orbit of this thing. The guys on the ground who track the X-37 for fun have been having a blast watching it change orbits on them. They were commenting that the orbit adjustment burns were taking place over the ocean so that people on the ground could not track the burns.
–
I'm not the first person to suggest it.
Most of the discussion about the theory revolves around the fact that the X-37 isn't in an ideal orbit to spy on the Tiangong-1. Something I rarely see mentioned, however, is that the X-37 has a payload bay and if you want to put a satellite in there, there's nothing stopping you.
Let's take your dimensions, 'cuz I like 'em. 8' by what, 4' diameter?
Obviously, you don't need to shove the entire third stage of a Thor-Agena in the payload bay of an X-37. But you could fit... lots of fun in a 4x8 payload bay, particularly if you're already in, you know, orbit.
Teal Ruby was a technology experiment to test new IR sensors for early warning satellites. Originally named P80-1 until December 1983 when it was renamed AFP-888 and its launch date became classified. It has essentially a rectangular parallelepiped shape and approximate dimensions 2.4 × 2.4 × 0.7 m. The spacecraft is three-axis stabilized to maintain one 2.4 × 2.4 m surface vector pointing at the nadir. The spacecraft serves as a stable platform reference for three experiment telescopes. The spacecraft telemetry capability is PCM and it uses onboard tape recorders with up to 6 hours storage.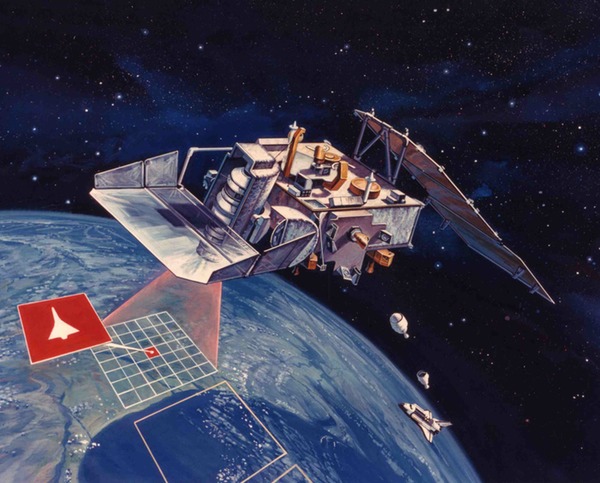 Frankly? I'd build a good'n'proper 2000mm f/2.8 telephoto lense and leave the rest of it for tracking. There's probably a million and one instruments you can hang off of a spying-on-satellites satellite, particularly if nobody knows it's there.
Patent US5345238
You probably know more about this than I do, and frankly, if you can find a link you'd be doing me a favor. All mention of it appears to have dropped off the face of the earth. Used to be the Air Force published a "meteor flare database" or something; basically, a data dump of all the infrared hot spots that SBIRS detected. Then one fine day in 2008 or 2009, they classified the data.
Then in 2010, the X-37 flew... and nobody could triangulate that wonderful public-domain infrared flare data to figure out where our buddy with the payload bay was going.
Ring any bells?
–
I read what you posted, but the size did not register with me. HOLY SHIT. That is both amazing and sort of concerning that they can do that. Every launch of a missile/rocket is registered due to nukes and all, but year if you fake a problem and a reentry...
There was something way back in 2008-2009 in either Sky&Telescope or Astronomy Magazine where the B612 Foundation was upset that they no longer had the raw data about meteor activity in the earth's atmosphere. This is when NASA set up the All Sky Camera network that is on the bottom of Spaceweather's page tracking fireballs.