Inspired by mk's comment about his dad's service in Vietnam in the most recent Pubski. Obviously, it doesn't have to meet any particular standard - Tell a story that is happy, sad, personal, or generic!
I'll start the thread off with the origin story for my family's dumbest inside-joke (so far).
-----------------------------
I've been told by friends and exes that my dad and I talk louder and faster than just about any two people they've met. Every time this gets brought up, my dad trots out his pet phrase, "We've just got a high baud rate!"
Now, that observation might be more of a reflection on the speed and intensity of Midwestern courtesy, but suffice to say that our cozy family dinners qualify as shouting matches to our friends and neighbors. To this point, I know we don't really process the things that get said in our family conversation. It's hard to even hear people sometimes over the din, let alone give their words ample consideration; The phrase "Drinking from a firehose" comes to mind.
Anyway. You ever sit in traffic and notice that periodically your blinker matches up with the car in front of you? In the midst of a raucous pre-dinner family conversation, everyone but my dad happened to sync their poignant pauses (read: spent a bare moment inhaling). My dad, evidently, had been taking the conversation on autopilot; as the silence breached, he says sagely, "Well, shit doesn't roll up hills two ways."
The silence elongated as everyone processed what he said.
The sheer absurdity of this made-up, meaningless, awful, shitty idiom hit us like a MAC truck. In a moment of collective mania, the entire family just bowls over laughing. My sister snorts milk out of her nose. My mom sets down the casserole. My dad, face red, is practically bouncing with laughter.
First to catch my breath, I provide the encore: "You plant it once, it's good enough!" Queue another round of fits. At this point, I can't tell if I'm laughing at the stupid aphorism or the idea that a room of people with professional degrees, published research, and a fucking judge are laughing at the conversational equivalent of a fart noise.
The fake aphorisms were never far away from that point on, and they've become a punctuation mark on the rambling way of my dad and I communicate. As soon as a conversation reaches its natural conclusion, one of us will make up a stupid saying to announce that we've crossed the finish line. It never fails to make me smile.
So, Hubski, as they say - "A watched pot boils over twice a day." What're some stories about your dad?
There are a couple of Hubskiites that know my dad, and anybody that knows my dad knows that he is ALL stories. Dude has lived an incredible life. This is one we all know by heart...
---
My dad grew up in a sleepy little suburb far east of Los Angeles, called Sierra Madre. He was dead-center in the middle of the 1950's Southern California car culture. He personally knew Von Dutch, Edelbrock, Carroll Shelby, Bondurant, Gurney, Disney, and the Los Angeles Rams.
And he was a hoodlum of the 1950's variety... doing burnouts on main street in front of the soda shop... illegal drag racing... he was basically living the movie American Graffiti:
The cops in town were the washouts from other departments elsewhere. Complete muppets. Incompetent and harmless. So my dad and his friends used to mess with them...
In the middle of town there is a cannon, which is a war memorial:
One night, my dad and his friends see the cops "hiding" in one of their usual spots, surveilling the main street area, and decide to mess with them.
So, they each pretend to be hiding things in their coats, and one-by-one, sneak up to the nose of the cannon and put something into the open barrel.
The cops see this, throw on their lights, and come screeching up to the cannon, lights and sirens blazing, to "catch the kids in the act, before they blow something up!"
One cop lines the boys up alongside the cannon, and is reading them the riot act, while the other cop has his flashlight out, and is slowly inching around the muzzle of the cannon to look inside.
My dad's best friend Mike O'Donnell is standing closest to the back of the cannon, and as the cop with the flashlight gets his head around the front of the muzzle, Mike leans down and shouts "BOOM!" into the open breech.
The cop FREAKS OUT... flashlight goes flying... he panics and runs back to the idling police car... slams it in reverse... tears the open passenger door off the police car as he burns out in reverse... and screams off down the street, leaving his partner and the boys laughing their asses off.
Ladies and gentlemen... my father.
–
–
Ok.
For those who have seen the movie Ford vs Ferrari that came out recently, my Dad is kinda involved in that.
The race in Southern California early in the movie, where Ken Miles is initially disqualified because his trunk is too small? And he takes a hammer to the inside of the trunk to stretch it out and meet the rulebook?
Carroll Shelby was in a race the same day, driving a 7-liter Maserati.
My dad was also racing his Corvette there the same day (not a photo of my dad):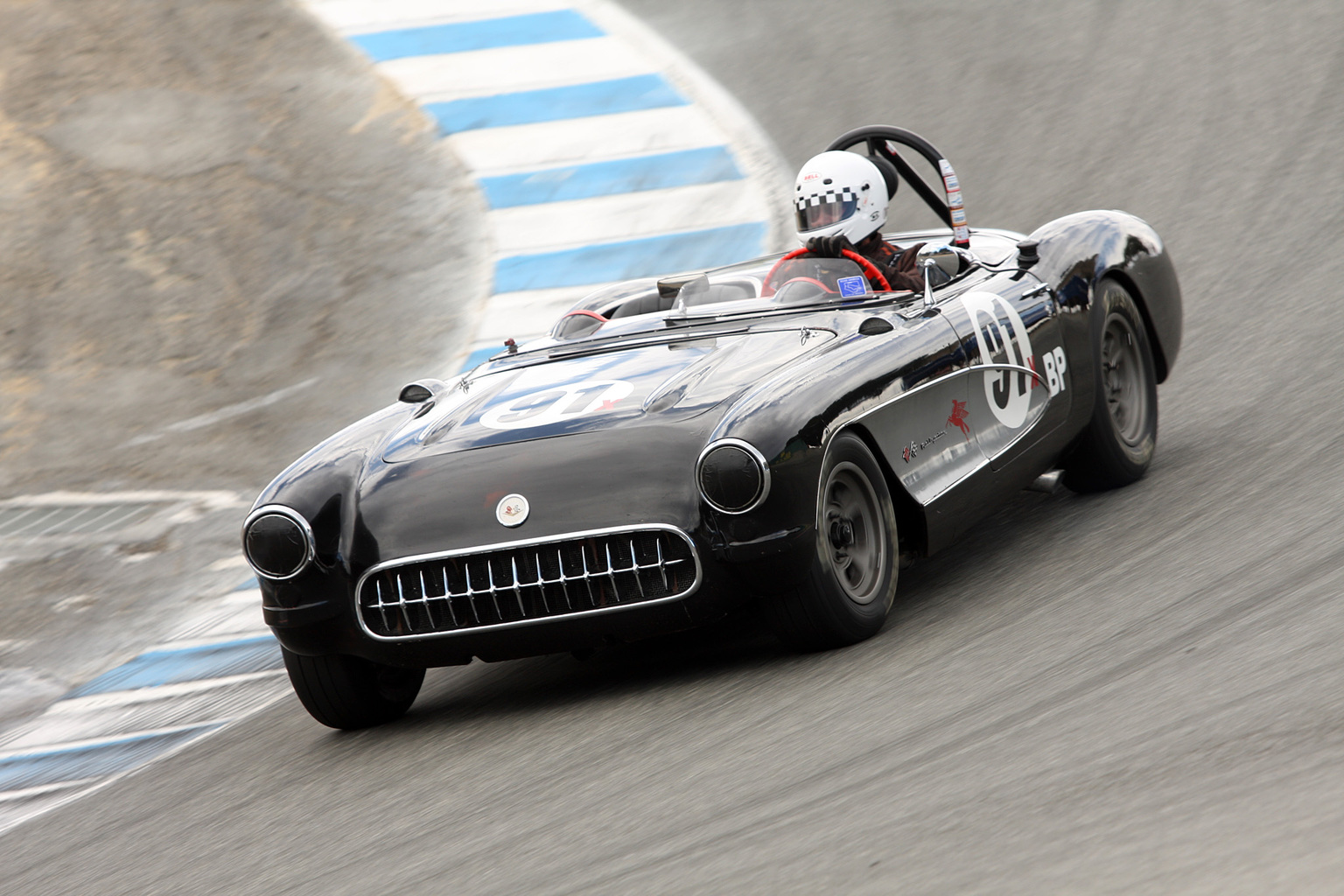 The thing is that there were only 5 "modified" class vehicles like the Maserati at the track that day - not enough to have a full race of their own - so the track decided to add the 5 Modifieds to the Stock class that my Dad was in.
Now, there's no way a stock race car can compete with a modified-class car. For example, the Modifieds all arrive on a trailer and are not street-legal. The stock-class cars have to be street legal, like my Dad's Corvette; he drove his car to the race that day.
So the Track Officials told everyone that this was going to be like LeMans, where several different class of cars are racing at the same time, but there are actually different races going on... the Modifieds will have a 1st, 2nd, and 3rd place according to their finishes, and the Stock-cars will have their own 1st, 2nd, and 3rd place trophies, regardless of where the Modifieds finish.
BY NO MEANS were the Stock cars to try to compete with the Modified class cars! It was dangerous and pointless, so the Stockers should look for the Modifieds coming up in their rear view mirror, and let them pass. DON'T TRY AND RACE THE MODIFIEDS.
At the second corner, Carroll Shelby was in first place with his Maserati, and my Dad was in 2nd place in his Corvette. Over the next two laps the two of them pulled away from the rest of the field, and were on their own.
The 7-liter Maserati was a MONSTER powerhouse, of course, and could do a billion miles an hour on the straights. But a 7-liter engine is HEAVY, and it was slow through the corners.
On the other hand, my Dad's Corvette was nimble and quick (the first production car with a fiberglass body, IIRC), and able to get through the corners fast, but did not have the top speed of the Maserati.
Willow Springs Race Track has two long straight-ish sections, and some nice tight corners:
So Shelby would come out of Turn 9 and push the throttle to Mach 10 as he came to the Start/Finish line, then have to brake hard into Turn 1, where my Dad would catch up and stay ahead into Turn 6.
Then the fire-breathing 7-liter Maserati would blow by my Dad up to Turn 7, feather it a bit to get through Turn 8, brake hard for Turn 9, and turn on the rockets again approaching the Start/Finish line.
Throughout the 20-plus laps of the race, the two diced back and forth like this.
But my Dad noticed that Shelby had to feather the throttle a bit and scrub off some speed to get through Turn 8. My Dad figured that if he could get through 5 and 6 quicker, he could stay closer to Shelby on 7, pass him in 8, stay ahead through 9 as Shelby had to brake hard, and possibly stretch it out enough to beat Shelby to the Start/Finish line.
Now, remember, they are two different class vehicles in completely different races, that just happen to be running at the same time on the same track. The two of them COULD HAVE just driven normally and both taken 1st Place in each of their races.
But NOOOOOOOoOooOooOoOOoooo... these guys are RACERS.
So they are 2 laps from the end of the race.
Dad makes his move.
HARD out of Turn 4.
Don't let off through Turn 5.
Shelby isn't even in his rear view mirror, as my dad comes in HOT to Turn 6...
... and runs wide, and clips the outside rail with his left front fender. No biggie. A little broken fiberglass. No structural damage.
And he guns for Turns 7 and 8...
... and it WORKS.
Carroll Shelby can't get past my Dad before Turn 9. My Dad is in the lead, carrying more speed into the corner, and comes out at full throttle ahead of Shelby on the front straight for the first time.
He crosses the Start/Finish line ahead of Carroll Shelby and passes the white flag (last lap indicator) first!!
THIS IS GOING TO WORK. HE CAN BEAT SHELBY'S MODIFIED-CLASS MASERATI IN A STOCK CAR!!!
As my dad passes the Start/Finish line he notices the flagger is waving TWO flags at my Dad... the white flag, indicating the last lap, and a rolled black flag, too!
He thinks: Black flag: eliminated from race! But wait... it was ROLLED... that means something... SHIT... what does that mean? Do I have to stop? Do I continue racing?!? WHAT DO I DO?!?"
He's still ahead of Shelby and coming up to the corners where he needs to commit to his previous stunt to stay ahead of Shelby, and cross the Start/Finish in first place overall.....
But that rolled black flag! What does it mean!??
He flutters the throttle going into 5, doesn't carry the speed he needs to stay ahead between Turns 6 and 7... and the Maserati blows by him.
Shelby throws my dad a puzzled look as he passes. Carroll knows my dad beat him, and has slowed down, and is wondering why...
Shelby crosses the finish line first taking 1st overall, my dad crosses just behind him taking 1st in the Stock ("Production") class.
They see each other in the pits later. Shelby nods. My dad nods. They go their separate ways.
(Footnote: A rolled black flag means that there is damage to your vehicle that is being reviewed by race officials, and you may have to leave the track... but they haven't decided yet. So KEEP RACING. When my Dad clipped the wall and damaged the fender, race officials were concerned that his tire/wheel might have been damaged, and were waiting for him to come around past them again on the track so they could see the damage and make a determination of whether it was just cosmetic damage, or if he needed to be Black Flagged and pulled out of the race immediately. They determined his vehicle was safe to continue racing; he didn't need to slow or stop.)
When I was a kid, my dad made a model ship roughly based on the ship in Master and Commander, the Patrick O'Brian novel that had not yet been adapted into the Russell Crowe film. It was an undertaking that took years; the thing was made to be fully functional. The hull was painstakingly carved from bits of buoyant balsa wood, every plank about 1:80 scale. It was stained and painted, and built with functional masts and hand-sewn sails. There was rigging controlled by RC-controlled motors under the deck. It was motor-powered but all it's propulsion was from the wind. With a controller you could control the sails, their angle, raise them, control the rudder etc. Lights would come on in the captain's quarters to let you know the motor was turning. It took years to put together, and he always had another little detail to work on even after it was seaworthy. Cannons with ports that opened, nets, lifeboats. There was an elaborate gold-painted figurehead at the bow, lady and spear.
He'd take it out to Spreckles lake in SF to sail it around, along with a bunch of other guys with model ships, none of which were ever as impressive as his. At one point he dove in to save some older guy's ship that started going under, and that water was nasty. One time I came home from a hobby shop and had picked up some little plastic figures at ~1;80 scale. He asked where I got em from. After that, he had little plastic crew on the ship. The figures were in a stiff, hands-to-side pose, but with some x-acto knife, careful lighter flame, and paint he could make them into any sort of pose and role. People pulling on rigging, the captain at the forecastle, people tending the raised lifeboats.
He died when I was 16. Life was chaos and living situations were unstable not long afterwards, and I don't know where the ship ever ended up. It was before the era of ubiquitous cameras, and I don't have any pictures of it. It's the biggest sentimental material loss of my life. I'll always have memories of him working away at some detail of the ship in the upstairs room of our house in the yellow lights though. Maybe there's where I got my tendency to take on too many crafty and tinkering DIY things. It's one of the most memorable pillars of my childhood. Sometimes I'd play N64 in the room across from his dedicated workspace for it. We'd play eachother at MarioKart or Xtreme G.
I knew I had to write something about it when I saw this post. I was also kinda weary to. It's been a little while since I revisited those memories in that much detail and I could feel them being heavy from a mile away. I have his copy of the book still. The historical setting and language were too obtuse for me when he first gave it to me, and it always seemed too sensitive for me to pick up after he died, so I still haven't read it. I think it's time I need to.
my dad is an angry man. when he, you, or anybody around him has a problem, he flies off the handle. he "jesus christ"s and "fuuUUUck"s and sighs his way through whatever issue happens, whether it's accidentally overcooking dinner, getting cut off in traffic, or when your child falls behind in schoolwork or is scared to talk to the cashier. my dad is not a patient man.
one day last year i was having a conversation with him in a hipster pizza place where we were having lunch. we split two personal-sized pizzas (which were both excellent) and we were chatting about memory - i mentioned that i could barely remember a lot of my life, and he said "yeah, (name of my sister) told me the same thing." we were so stressed out and unhappy that we both either forgot or never remembered large chunks of our lives. my dad got self-reflective and told me "yeah, it's a running joke" among his two siblings (both younger) that "(my dad's name) has no memory, he can't remember a thing" but said that "when i think about it, i think the situation was the same" as me and my sister's.
my dad's parents got divorced when he was young, in former mining town, one-step-above-trailer-park sub-suburban northern ontario. my nana worked, so my dad had to take care of the younger kids - making them dinner, getting them to school, etc. nana is a manipulator and a witch - the only people that dislike her more than her children are the spouses of her children. my theory is that part of the reason my parents moved to the states was to get away from her.
after having the pizza-shop conversation, some dots got connected in my head. no wonder dad's defensive when things go tits-up - he got blamed for not taking care of his brother and sister as a little, little kid. he doesn't react well to criticism because he had to fend off his bitch mother until he moved far enough away that he didn't need to interact with her anymore. he's annoyed with the problems of parenting because he had to do that shit from 8 to 18 years old.
my dad was not a good dad. he wasn't abusive, or neglectful, but i never felt like i could go to him for help or confide in him. as a kid, i felt like my dad was a completely different person when he was around other people - social, funny - whereas at home, he was tired and irritable. now that i'm grown and gone away, and my sister is grown and gone away, my dad is a completely different person to interact with. we're not quite equals now, but i'm not something he has to parent anymore. my sister hasn't forgiven him - she got fucked up worse than i did - but she's made it out on her own, s'got a job, got a band she plays the guitar with, got certificates and artsy skills and! independence - she doesn't need him for anything anymore, and so she's frosty as hell with him without me to grease the skids. not all the time, but enough that he uses me as a middleman when he wants to invite her over. "give your sister a text. i texted, but she didn't answer."
i've forgiven him. mostly. i was closer to him than she was, at least until i started transitioning. i love him, and i love him more now that i like him.
I've been ignoring this thing so hard because I got a lot of bad stories. My father is a pugnacious and damaged alcoholic who has been losing his one-man war against the world since he came out of the womb, Rh-incompatible and two hours by dirt road from any hospital. One of the original downwinders he has spent his life decrying the overreaction and panic associated with nuclear energy, nuclear fallout and nuclear testing.
But he took part in a good senior prank.
I went to the same high school he did. When he went there it was in the process of expanding. When I went there it was in the process of contracting. The library that was too big for us was just getting built for him - a round thing with parapets and mid-century wonderment at the end of four long masonblock bunkers (A, B, C and D wing) designed to withstand nuclear war.
The library was sited in the center of the courtyard where a 60-foot flagpole had been. While the library was under construction, the flagpole was lain on its side, a 60-foot toothpick with a massive 8-foot disc of concrete at the base. One fine Monday morning the school opened with a flagpole (and associated concrete disc) running the length of D-wing.
There were many threats, much recrimination and outrage from the administration as to the inconvenience and cheek. More than that, there was consternation as to how to deal with it. For two weeks students stepped over a 60-foot flagpole on their way to English class and a subsection of unlucky kids had to work around an 8-foot disc of concrete that didn't block their lockers, just made them inconvenient. At the beginning of Week 3 a work crew was called in to chop the flagpole into 6-foot sections while the concrete base was rolled out. No one ever figured out how it was done.
One of my dad's friends had noticed that the forklift left on the worksite didn't have a key. Another of my dad's friends had noticed that despite A through D wing being made of rebar-reinforced mason block, there was a junction box at the end about two bricks high. And my dad was a pretty good welder. So they picked the lock to get into D-wing, pulled the fuses and plate to turn the junction box into a hole, carefully cut the flagpole off its base with a hacksaw, fed it through the hole at the end of the hallway, and then fired up the forklift and hauled the concrete base 250 yards to the end of D-wing where my dad welded it back together, ground down the weld, then aged it and dirted it up to hide the injury.
My dad, never content to leave well enough alone, finished out the year with his own senior prank. He welded the doors to the auto shop shut.
Destruction. My dad is good at destruction.
I have plenty about my own father but I need time to pick the right one - so for now I'll do my favourite story about my mother's dad - who passed away November 2019. Grandad was named Donald, but none of us grandkids could say Grandad or Donald properly so one child settled on "Dons" and it stuck. It's even on his headstone now :)
------
Dons went to the same University I went to, and the one I now work at. Shit we even attended the same High School and lived on neighbouring farms on the Clutha Delta.
At University he did his Masters in Music Composition. He was an incredible pianist, which is a key part of this story.
So after finishing his Masters, he and 4 of his friends planned their OE to Australia - they hopped on a ship leaving Dunedin and eventually landed in Sydney. After exploring the city a bit, one friend got the wild idea to have a race down south, to Melbourne. Everyone split into pairs except Dons who had a masterplan he wanted to try by himself. One pairing opted to try and bus down, the other pair tried hitchiking. Soon after they had left, Dons headed back to the port they had arrived in, found a ship headed for Melbourne and offered to play the piano during the nights in exchange for lodgings and food. They accepted, and he spent a leisurely time sailing down the coast taking turns with other musicians at entertaining the wealthy guests. He arrived 3 days before anyone else, left a note at the CBD post office that read "Eat my dust - find me at the [local watering hole]". The two other pairings of friends made their way in and enjoyed the rest of their trip swapping experiences.
-----
Knowing what I do of my grandfather, he seemed the least likely to ever try some wacky stunt like that. But I've only ever known him as the master gardener and pianist, an ex-teacher with a stern frown when you misbehaved but nevertheless a warm embrace when you arrived.
It was just quite cool knowing he pulled shit like that in his heyday, just like any other youth with life ahead of him.
I will continue pondering something on my own father!
Finished freshman year of college, home for the summer. Got grounded for something stupid, can't remember what. Dad drives my truck into work to punish me, with weed in the center console, doesn't know. I call up a friend and say "hey, wanna get stoned"? They do, they pick me up and drive us to Dad's workplace. Parking friend's car close by, we use my valet key to take a joyride around town in my truck while Dad works. We smoke, drive around, air out the car. We take the shit with us so Dad doesn't get in trouble. When we get back to the parking garage, someone has taken the parking spot my dad parked the truck in. Shit! Closest open spot, three spots left, I take it. Ride home in friend's car. Two hours go by. Dad calls. "Son, I'm afraid I have some bad news". Concerned for his safety, not knowing what could be wrong, Me: "Uh oh, what is it"? Dad: "I think someone has stolen your truck. I took it to work today and these models have always been a common target for auto theft and" I cut him off, saying "Dad! Dad. Did you check three spots to the left"?, and he waits about ten very very long seconds and goes "Oh. Oh. Yeah, that's it". I never got grounded again and he thinks I did it all to teach him a lesson, no other reason.
The Nazis Live Here
My father grew up in Ontario. This is Canada. In the rural areas, there existed a man. He was a not-so-neo Nazi. He fought for Hitler during WWII. He was so infamous he made Google Earth. There were allegedly cross-burnings at his estate routinely.
I never met the dude, but I met one of his kids. They grew up in the same area as my dad. Now my father would get rides to school from the old man all the time. One day while giving my dad a lift to school the following conversation took place. He's in the driver's seat, my dad's in the passenger seat. Anyway there was a party of sorts at the Nazi Castle while the old man was gone on business. Probably early-1970's.
"Excuse me, [nil's dad], were you smoking marijuana in my house while I was gone?" (reaches for handgun holstered around his waist.)
"No, sir, I did not."
Because he had smoked it on the porch. So not technically a lie.
But yes, there was a gigantic portrait of Hitler in the house. And he had loyalty to the bitter fuckin' end.
My dad's pretty great. I remember when I was a kid, one night we got takeout chinese food and for whatever reason, I decided that I wanted to eat as much as Dad did. He went up for seconds, I went up for seconds. (Note: I was probably like 8, and in my head, "eating as much as Dad did" meant "going for as many rounds as he did," not "actually having the same volume of food on our plates each time.") He went up for thirds, I went up for thirds. I remember my mom commenting that I must be hungry but in my head, I knew I just wanted to be like my dad.
He had this stuffed animal growing up, Red Ear. Red Ear is a little grey mouse just a bit bigger than my fist with proportionately GIANT red ears. (Of course. It is my observation that children are not often imaginative with their stuffed animal naming conventions.) Red Ear used to have a matching red shoestring tail, too. That was, until I got my hands on him as a wee tot and found out his tail made excellent chewing material. I chewed on that probably-very-filthy tail until one day it fell off and disappeared. These days Red Ear sits on my dad's desk at home. I want to get a tattoo of Red Ear, as a symbol of my dad, some day. Maybe I'll skip the morbidity and do it before he dies. Dad won't be a fan of the tattoo (because it's a tattoo) and it probably won't mean that much to him, but I have always respected, trusted and generally looked up to my father and I would like to have a tattoo honoring him somehow.
His brother's in town this weekend, stopping through on his way in between Shemya, Alaska, and Guam. We all had dinner together on Friday -- hoagies, because bless you, if you've lived in the Philly region and happen to stop through it later in life, a goddamn Capriotti's sub is what you want! -- and I got to learn more about their parents, specifically their mom. My dad's parents both died in the same year, in probably 2010. (Could be plus or minus a year, I guess.)
My dad's mom was NOT a nice person. She smoked like a chimney inside and out while the kids were growing up, she routinely broke paddles and yardsticks on her kids' asses as punishment, and according to stories I've heard was known to have shut household cats in the oven (turned off) and the dryer (also, presumably, turned off, although one version of this story I've heard doesn't end with the cat alive) when they pissed her off. I'm sure there's a lot more meanness I don't know about.
Apparently she was also the only one out of four children that lived, which is one of the things I learned on Friday night. Listen to this:
- A sister was wearing a Halloween costume near a candle. The costume caught on fire and the girl died as a result of the injuries she sustained
- Context: Cars used to have running boards. No, I don't have any idea what those are, but this fact is vital to the story of a brother who died because he saw an oncoming truck, attempted to run up the running board (I guess of the family car, in an attempt to enter it) and instead fell and was run over
- A third child, gender unrevealed by my family and possibly unknown to them (my mom/dad/uncle, that is anyway) was born with an esophagus which did not connect to their stomach and died either of starvation or of acid reflux (this fact varied depending on who was retelling the story on Friday night)
One out of four. What dismal odds. This was different times, then, so I'm holding back from making cracks about my great-grandparents and their perceived ability to parent well. (Or successfully.) (Yes, I know. Oof.)
I was not the only person who did not know all of these facts until Friday. My dad had never heard of the brother who'd gotten run over until then, either.
Anyway, that turned into a ministory about me and my dad, and a big story more about my dad's mom than my dad. Still, appreciated the opportunity to share.
As a bonus, on Friday my dad and uncle also told me about how you used to be able to go to McDonald's and get 12 hamburgers for a buck. Back then, the burgers were just that -- bun, patty, 2 pickles, top bun. You could get a slice of cheese slapped on top to make a cheeseburger and that was it. Apparently the first time my granddad saw a burger with lettuce and tomato on top he growled and said, "If I wanted a salad I'd have ordered one!"
What a freakin' trip!
The things I remember most from my childhood were with my dad in the garage. The garage was (is) not just a garage like you may imagine or have yourself. Essentially, you drove down a little hill into the garage. It had spots for two cars. When you get out of the car, to your left, is maybe like 700 square feet of concrete floored space with all sorts of machines and tools and bottles of lubricants and solvents and what not. You would walk thru this area, up a staircase with beat up orange patterned carpet, open the heavy door at the top, and be in the house.
But the garage was (is) epic. Tool chests and little drawers with all sorts of screws and work benches. A bench saw and drill press that weighs tons was an absolute nightmare to get down the hill and in the garage years ago. An air compressor bc why not (and to blow metal shavings off the floor so they didn't get stuck in your feet.)
I used to sit and do all sorts of things with him there. I would sort screws and build little houses with scrapes of plastic and metal. He had a ham radio and we would listen. He had a huge magnifying glass thing on a bench arm and that's what he would use to pull metal shavings out of our feet when we forgot to put on shoes.
When I was really little he had built a pick and place machine in the garage. I don't know why, he had "the shop" which was where the business was run out of and all the employees were. But he did. These huge blue machines. And I would watch the machine pick up the piece and dip it in something and put it on the other piece in these perfect lines. For hours probably. And he would explain how it worked. It's these things that probably make me so compulsive today. I had to be like 3 or 4 when he built those.
I also remember one year santa got us these robots. They were lnt really robots, but it was a plastic arm with 2 joints that you could control with a joystick and came with balls and cans and stuff and you had to try to navigate the arm perfectly. Up down left right rotate the hand adjust the wrist etc.
We loved them but my dad wanted to know how it worked. But we didn't want him to break it. So he went and got himself one and took it apart. My brother and I were so curious how he got a third robot toy as we assumed it came from Santa's workshop at the North pole. My dad, being an oblivious engineer, said he went to the toystore and found it. Ohhhhh...
When we got a bit older, my brother and I would sit on his knees together in front of the computer. I know it was running Windows 95 and that was new. But my dad would go to the swap meet and find these crazy CDs there with dos games. Like the trials or whatever? And we would play games like nightmare and keen and astroids for ages. I would be the spacebar, my brother the Ctrl or shift key, and my dad the arrows. Space bar in nightmare opens the doors and curtains. Ctrl shoots. Arrows move. We would play the same fucking 5 levels over and over and over and never get bored. Wed have to coordinate. Like my dad would walk up to the door and we knew there was a witch or mummy right there. So he would stand away from it and then count and I would hit the space bar as my brother started firing away.
Eventually he bought the damn thing I think bc I remember each time we played a new level we'd open a door and never know if there was a bad guy behind it or not. We'd prepare and shit, only to have nothing. Or there'd be like just a wall and you'd have to shoot it down but if you did so youd let all the bunnies out. My brother would shoot like 80 times and we'd get annihilated by the swarm of bunnies or mummies or whatever. I can still hear their fucking sounds. Each enemy had a specific sound when they saw you and came to life and when they died. The bunnies did this like "poof" sound and the witches would cackle. We eventually beat the game. But we were perfectly happy to start over and do it again.
So yeah. Memories.