Mr. Parnas produced handwritten notes on stationery from the Ritz-Carlton Hotel in Vienna, Austria that appear directly related to the President's scheme to press Ukraine to announce investigations beneficial to his reelection campaign. Mr. Parnas' attorney confirmed that the notes were written by his client.

One hand-written note states: "get Zalensky [sic] to Annonce [sic] that the Biden case will Be Investigated; start commun[icating] with Zalensky [sic] without (Pinchuk or Kolomoisky)"

...

In January of 2019, Mr. Parnas and Mr. Giuliani exchanged text messages about securing a visa for former Ukrainian Prosecutor General Viktor Shokin. When Mr. Parnas advised that the United States had denied Mr. Shokin's visa, Mr. Giuliani responded "I can revive it." Mr. Giuliani later revealed, "It's going to work I have no 1 in it." He also gave Jay Sekulow, President Trump's personal attorney, Mr. Parnas' phone number.

...

In March 2019, Mr. Parnas communicated by text message with Robert F. Hyde about former U.S. Ambassador to Ukraine Marie Yovanovitch. In response to some articles, tweets, and videos accusing the Ambassador of being disloyal to President Trump, Mr. Hyde wrote "Wow. Can't believe Trumo [sic] hasn't fired this bitch. I'll get right in that." Mr. Hyde then sent a series of text messages suggesting that he had Ambassador Yovanovitch under physical surveillance in Kyiv and that "They are willing to help if we/you would like a price."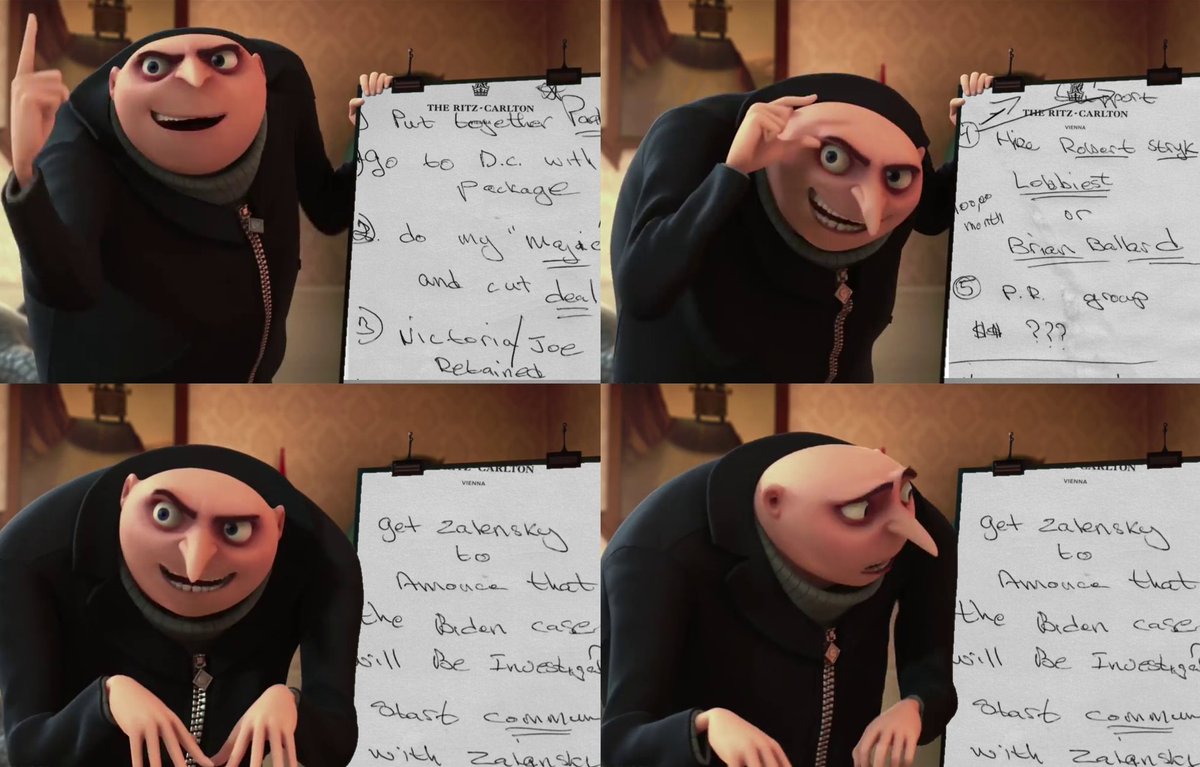 The dems just put out more tonight. My favorite new bit is a long exchange between Parnas and Dereck Harvey, one of Devin Nunes's aides. More proof that Nunes was in on this. That Nunes served as a senior-ranking committee member in an impeachment investigation related to his own misconduct is mind blowing.
Edit: I hadn't seen the video yet, and I'd link to it, but it's more helpful to have a transcript, since the guy's speech is so slurred. Robert Hyde is hands down my new favorite character to emerge from this investigation.
OK, so it's two days later, and Ukraine has announced an investigation into the possibility that Yovanovich was illegally surveilled. This is a United States diplomat, but we're yet to hear of any sort of action or even a public statement from the U.S. State Department.
I think that somehow, Parnas got a plea bargain with the SDNY that included giving him the OK to speak not just about the contents of the documents made public, but about other crucial things. Things like his claim tonight that Trump's lawyer's implored him to shield Trump from liability, and cooperate with the coverup via his silence, like Igor Fruman has done, may or may not have backing documents still held by the SDNY. Either instance is an incredibly fascinating case.
SDNY knew House Democrats could make any and all documents public. And I guarantee you, Bill Barr is fuckin' pissed, because he probably figured that between himself and Rudy Giuliani's ever-deteriorating legacy, they had SDNY de-fanged. They did not.
Did Trump not understand that it was only a matter of time before one of the henchmen he threw under the bus would have the gall to go after him? I doubt this is Lev Parnas lying. I'm open to the possibility that he is lying, and I'll always weigh that, but to me, this looks like Lev Parnas trying to make sure that he doesn't end up in a body bag the instant he was given the OK, and it might make the most sense to simply tell the truth. Ugh, but he has a terrible record of lying, literally for a living. UGH. I don't know, yo.
This all happens to coincide with the Senate trial because Nancy Pelosi knew that at least one Parnas bombshell was coming, as there were certainly abundant discussions between House dems and the SDNY, and calculated that it was well worth it to hold up submitting the articles for the Senate's trial. She was right. These are a lot of bombshells.
The GOP has already dumped Hyde, the guy caught messaging Parnas about Yovanovich's movements. He sounds psychologically unwell. Looks like juuuuust up until he got caught, his behavior among the GOP was considered acceptable.
So much happening, sorry. You gotta wonder if House dems want to even still be holding some cards to play after the Senate's likely acquittal. Cards that will show the GOP-led senate clearly made the wrong choice.
–
I can't tell yet. Although they had her systematically tracked, it's still unclear why, I think. It could be simply designed to intimidate her, or to learn something about her to blackmail her into compliance with Trump's scheme, or to find out when/where the best place to murder her is, after learning her schedule and habits.
Edit 2: I was wrong about that, by the way. It turns out doing a yet-unspecified bad thing to Yovanovich was part of a separate quid pro quo with a former Ukrainian prosecutor (Yuri Lutsenko), who was willing to provide "dirt" on Biden in exchange.
Edit: Surely, the US tracks/monitors/spies on foreign diplomats here on American soil, and it's probably warranted, in a lot of cases. But Yovanovich was almost definitely targeted because she was heavily involved in anti-corruption efforts, and was morally unassailable. They knew she'd take issue with and report Trump's pressure campaign.
Christ, I'm so happy that Zelensky was elected. If Poroshenko was re-elected, his administration had already putrified to the point that it was receptive to Trump's demands, and we would have never known that it was Trump tryna dig up dirt on sLeEpY JoE all along.
–
Can't wait to hear what Mitch says to avoid inviting/subpoeaning Parnas, when Parnas has already said he'd testify.
Nancy Pelosi knew what she was doing. And it was only yesterday it came out that there are enough semi-sane GOP moderates to swing the vote to allow witnesses. Showtime!
I'm wondering if the dems are going to hold some of their best cards to their chests, and then play them during the trial, for maximum shock, awe, and media coverage. The GOP might actually try to leak things, to get ahead of a story.
Oh man, these are gonna be a jam-packed few weeks.