For a recent study, UCLA-affiliated researchers in fields ranging from anthropology to sociology used cameras to record in great detail how 32 dual-income families living in the Los Angeles area used their homes.
Jesus Christ. Links to Marketwatch which links to a blog which links to another blog which links to the Wall Street Journal from July 6, 2012. Which talks about a book that covers a study from 2001-2005.
32 families. Double-income. In LA. During the Iraq War.
I mean, sure. Nobody uses their formal dining room unless they're formally dining, and nobody uses the spare bedroom unless they have guests over. But pretending that somehow we've discovered something new, rather than warming over a tiny ethnographic cross-section from a time when Celebrity Deathmatch was still on the air, is disingenuous at best.
–
–
It's such a missed opportunity, though. I mean, every link she lists has some form of "nobody needs a formal dining room" and "modern homes have so much wasted space" yet we keep buying them.
I've found that any analyst who defaults to "because people are idiots" as an explanation of behavior really doesn't have much to add to the conversation. I mean, you wouldn't stay at a hotel with a tiny, shitty lobby either. "Control of space" has been a part of human culture since we lived in caves. Every architect and every armchair cook understands "work circles" in the kitchen yet when presented with misallocation of square footage, Kate Wagner (as always) goes to "because people are fucking idiots."
It's this weird form of reverse elitism: these people can afford a bigger house than I can therefore they suck. Why. Why do we keep buying space we aren't using. What could we do with that space instead. HOW do we increase the utility of our living space because fucking hell I think conversation pits are dope as shit but people like Kate Wagner are too busy chortling themselves to death to notice that they're exactly the solution to useless space they're so busy decrying.
–
Conversation pits (and the nouveau ones too) do look pretty dope. They have all the solution of those half-circle booths I remember sitting at with the college friendgroup, but with none of the common drawbacks like "everyone needs to stand up when someone needs to pee."
But...
The above is a cavernous waste of money and space unless you've got a whole raucous friendgroup of people you invite over to your house all the time. Look how dumb it looks with only two people and a grand piano that neither of 'em probably knows how to play. It doesn't come close to belonging in my house unless I'm the Jerry Seinfeld of the group, and even he got along just fine with a kitchen counter. I dunno if I wanna go as far as Kate Wagner and say that people spend lots of money on formal living spaces because they're rich idiots, but I do think people spend based on how they'd like to see themselves, and not on how they actually are.
The one thing that she doesn't shit on, enough, I think, is the house that's perfectly well constructed, symmetric, and w/e according to architectural principles, but is still a cavernous garbage waste of space. By all her logic in this article and others, those should be just as bad. But there's a Liberal forgiveness of bourgeois excess on McMansionHell, that spending a lot and destroying the planet is forgiveable so long as you do it in Good Taste and preferably employ a licensed architect to design it. To some extent, I get where that's coming from given her background. But then again there's an inexorable divide between on one hand the bougie/aspirant people who make fun of McMansions because they're ugly and stupid and built by people who don't "belong" in the upper class, and on the other hand those that hate the McMansions for the same reason they hate "real" mansions, because they're impractical, wasteful, and get in the way of living.
–
The above is a cavernous waste of money and space unless you've got a whole raucous friendgroup of people you invite over to your house all the time.
And this is exactly the allegation that I wish people like Kate Wagner would address: what, exactly, is a waste of space? What makes it a waste? Why do we criticize a big dumb formal living room but give things like barbecues, personal watercraft and time-share condos a bye?
Where I stay right now there is nowhere to sit. The couch is awful. My host, the guy who rents the place, prefers to sit in a director's chair. There is, effectively, nowhere to socialize. My home has a ridiculously large leather sectional and fuckin' hell, man, I've had that ridiculous sectional for sixteen years and ever since I got it, my place has been where my friends hang out. Do you think it's valuable to have a place where your friends come to you? I certainly do. And I've found out how deeply inconvenient it is to have nowhere for friends to sleep because my spare bedroom is full of audio post equipment.
Let's presume for the sake of argument that your bank feels your finances are such that you can afford a big dumb formal living room. Let's assume it's an extra 800 square feet. It probably adds $100k to your mortgage. For that kind of money you could buy a reasonably decent motorhome (that depreciates 40% the minute you drive it off the lot), a 24' bass boat (which will be worth a quarter that in ten years) or a Porsche 911 (which is gonna be worth a third that in six).
The motorhome is gonna get used maybe a week a year and you have to insure it and put gas in it. The bass boat is gonna need a trailer and a truck to haul it and a place to put it, unless you've got a slip which is probably going to cost you $50 a foot per month and oh, marine gas is like $6 a gallon and you usually spend something like 20% the value of a boat every year keeping it seaworthy. The Porsche? At least you get to drive it to work.
But the living room? It's the only appreciating asset there. And it's eight steps from the kitchen. You can put a couch in it and read a book whenever you want to. You can do yoga in it. And fuckin' hell you can have friends over without wondering if they're going to be weirded out by the boat toilet.
Presume you have the money. Presume you want to spend it. After all, what's the point of earning it if you can't enjoy it? WHY are we so eager to pillory people for wanting living space? Google image search "minimalism." What you get is big empty fuckin' rooms. So apparently the idea is not "don't covet space" the idea is "don't put anything in it once you have it."
I do think people spend based on how they'd like to see themselves, and not on how they actually are.
"A man tells the world how he is four ways: his house, his wife, his car, and his shoes."
- Warren Adler, War of the Roses
Yeah. Spending is aspirational as all fuck. Always has been, always will be. Here's the question: if you've spent to be who you want to be, do you eventually become that person? If you buy a big dumb fucking living room and fill it full of parties, are you an entertainer? If you buy a big dumb fucking living room and fail to fill it full of parties, are you a failure?
This is the thing that bugs the shit out of me about Kate Wagner and her ilk. It's perfectly okay to savage someone for wanting a large living room or a formal dining room, even when they can afford it, but it's perfectly okay to pillory people for trying to make someone else's bad idea livable:
It's hard to describe the feeling of loss that comes with looking at a house built in 1980 and discovering an interior fresh out of last month's HGTV Magazine. Do I really think the world needs more overstuffed chintz sofas or shag carpeting? No, but the idea that a world without a single room decorated like it's fresh out of a Laura Ashley catalog seems like quite an erasure of the pop cultural history of how everyday people decorated their houses.

I've devoted a large bookshelf to old catalogs, renovation books, interior design magazines, and other resources about how people decorated their homes partially out of personal obsession and partially because I'm afraid that someday that history will be lost in the material world and will only exist in the glossy imagery of those pages.
I worked in architecture for eight years. My sister is an architect. I've interacted with some of Kate Wagner's professors at Johns Hopkins. And it has made me fucking hate architects. The basic idea is that the client is always wrong, that whatever came before is bullshit unless it's holy and only they know the difference, and whatever ideas you may have about livability obviously come from the fact that you're a savage, here let me misquote a 15-year-old study with an n of 32 to prove it. I mean, she lost her fucking mind over the notion that someone would tear this eyesore down:
So what I'm left with is the hollow, spiteful elitism that's based not in any consistency of thought but simply a visceral dislike of anything you didn't study in school. And I fucking hate contemporary architecture. And I fucking hate "mcmansions." I mean look at this shit. Within two pictures she pillories a house for wasting energy with large windows and then pillories a different house for not letting the light in with small windows and they're both in Texas.
Look. There's nothing "Mc" about this mansion. It's twenty thousand square feet. Personally I can't imagine living in it (I can't imagine attending Medieval Times banquets in it). But I'm not so busy snarking that I can't see why it was profiled in the fucking Wall Street Journal. There's absolutely asinine quantities of wasted space in there but then, it's trying to be castle so of course there is. But we're too busy making "deep dream" jokes without noticing that really, the place is hella more logical than Neuschwanstein.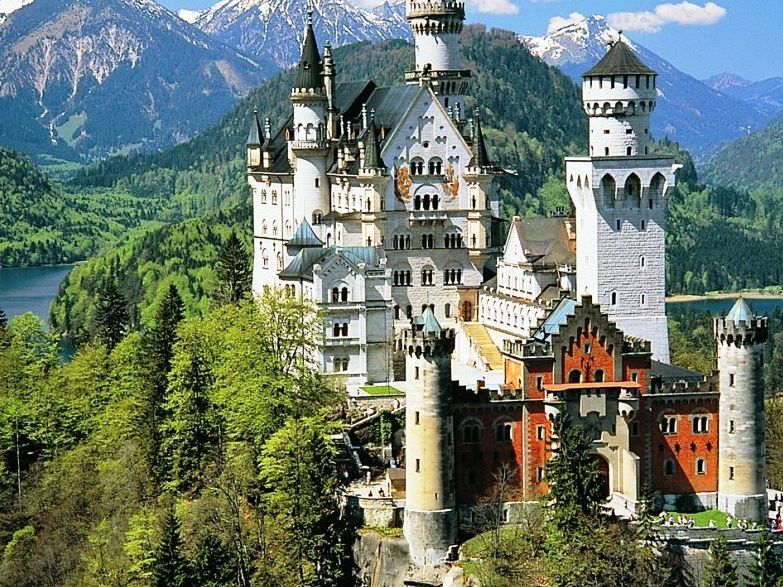 There's no why to architectural criticism in general, and McMansion Hell's in particular. It's all sophomoric "backoffmanI'mascientist" bullshit. And I honestly believe if she'd spend half her cleverness in actual critique the world would be a better place.
But there's a Liberal forgiveness of bourgeois excess on McMansionHell, that spending a lot and destroying the planet is forgiveable so long as you do it in Good Taste and preferably employ a licensed architect to design it.
Eh. Maybe...?
Isn't the real point of "getting rich" and "making a lot of money" really so you can have the house you have always dreamed of? The space you have always wanted to make your own, but could never afford to, or be allowed to, because knocking down that wall to open up the kitchen would piss off the landlord?
So people work. They make money. They spend that money on building/rebuilding a home that really speaks to them.
They don't have the skills to make their dream a reality, so they hire an architect. Which one? The one that has done other work they like.
It's a continuum. And it keeps cabinet makers and concrete contractors and electricians and landscapers working. And they make a living wage. And spend their money at the local deli to get lunch while they are working on this house for 3 weeks.
It's a continuum.
And I'm not sure I'm so ready to fault someone for building their dream home, if they have the means to do it. Making poor design choices? Sure. Happy to pillory them for that. But to fault them for building a home? She even speaks often of her wish to own a home, and be able to build it out the way she wants. It's a universal desire to nest. And I'm not willing to fault people striving to meet that elemental human need.
She's brilliant. I love her snarky "analysis" of architecture so very very much.
Until I took a "summer job" in the tech industry (and got distracted for 30 years), I was well on my way to becoming a residential architect. Even worked for some world-renowned architectural firms and individuals, who did award-winning projects.
She makes a couple of excellent points about the designs she pokes fun at:
1. It seems most of the designs clearly started somewhere reasonable... and then the homeowner got involved.
2. There is both a functional and aesthetic purpose served by architecture, and often she is poking the most fun at the things done purely for an illogical aesthetic need, that serves no function.
3. Humans are funny animals, and when we express our basal impulses in architecture, it rarely works out in a visually pleasing way.
Like big huge great rooms that nobody ever spends any time in. Why? Because they are too cold in the winter (hint: heat rises!), too hot in the summer (big sunny windows), and too loud and echoey.
Some of her best points are where two bad ideas intersect: Ridiculous roof lines that serve no purpose other than to employ roofers for hours trying to make them waterproof. Or disasters where the ornamentation in two different rooms intersects at a wall, and the poor builder has to figure out how the two styles need to transition from one to the other... I can just see the guys standing there with a chop saw and 100 feet of ornate trim and picture moulding, and trying to figure out how these two things are supposed to join together...
Yeah. People buy these places. They place a value on costly, value-less features, because it is a signaling thing.... look how fancy I am!
I spent probably an hour yesterday, going back through her old posts, and trying to keep from snorting coffee out my nose every time there was another "pringles can" or conflicting roofline "nubs".
Love her. Can't get enough.
She helps us remember not to take ourselves too seriously, because that never works out.
If we had a separate larger dining room we would use it most the time for dinner and large table project space. As it is our dining room is an open attachment of our living room and is a little cramped. Being attached is nice for Thanksgiving when we move all the furniture around, put leaves in the table and bring another table upstairs.
We usually eat dinner at the table except in the summer when we eat at the patio. I can't remember the last time we ate with the TV on.
tutorial
19vVrqzbbLFKJL7ta9dvR7zX7uk6hdTWwU