I want a Venn diagram of people bitching about this who also watch Adventure Time and Stephen Universe. Maybe another one for people who bitch about this and hated The Last Jedi.
I like me some kids cartoons too but you'd think Thundercats was like the greatest show ever based on the reaction and in reality it was god fucking awful and most people complaining admittedly don't even remember it very well. Let children enjoy characters for children FFS
people who bitch about this and hated The Last Jedi.
Yeah this too. I think the people who didn't like any of TLJ, Rogue One, Force Awakens, or the Prequels may have to come to terms with the fact that they just don't actually like Star Wars, and that that's okay, just like the people who don't remember Thundercats but are complaining about cartoons today actually just don't like cartoons.
There's a weird type of nerd who is convinced that to be a "nerd" you have to be into this whole canon of shit from 20 or 30 years ago, or otherwise you're a "fake nerd", a label that's usually applied to women and moderately hygienic or socially capable men, and other people who make the turbo-nerd feel alienated by liking some of the same things they do. Of course, the real "fake nerds" are the ones who built their identity on all this old shit that they've never even watched.
–
I think the problem is certain nerds who think they own these things. Luke can never make a mistake and grow as a human. If you change the art style of something I vaguely remember you're personally offending me. You have no stake in this as a consumer. Actual talented people are trying to expand on this while earning money for the corporations who own these things and that's a tricky parameter to work under.
You don't own these characters and if you actually gave a shit about them you'd welcome any attempt by creators to expose them to a wider audience. But you don't. You just want the exact same thing farted out for eternity because it's how you remember it.
–
you'd welcome any attempt by creators to expose them to a wider audience.
Except if it's something completely different it's not what you give a shit about anymore. It's a gross amalgamation of skimmed names and plot. It makes people NOT want to see/know more about "that thing" you like. Whether it's Thundercats or whatever.
I love Merry Melodies and Bugs Bunny Cartoons, but does that mean I'm going to support shudder Loonatics Unleashed?
No. Because it's something different entirely.
It's about the same as most books and the movies made "from" them. Like that one His Dark Materials movie...
1) Thundercats was shit. Those of us who were in the target demo at the target time acknowledge that Thundercats was pure shit. You could argue about GI Joe and Transformers and Robotech but they were all acknowledged as better than Gobots, which was acknowledged as better than Masters of the Universe, which was acknowledged as better than Thundercats, which was arguably better than Tranzor Z, but not by much.
2) Shit as it was,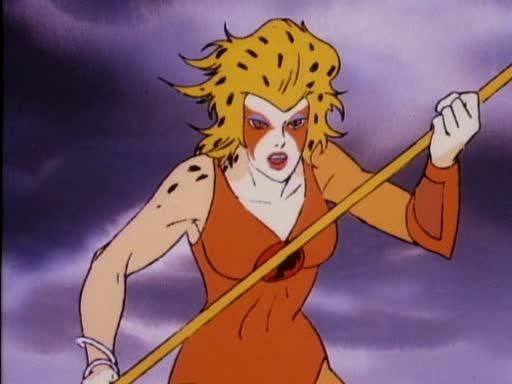 Go ahead and google image search "cheetara." You will note that fan images outnumber actual images by 10:1. If your safesearch is off, Rule 34 will clobber you. Despite the fact that Thundercats was acknowledged as pure shit, it still got your preadolescent tinglies on. It's fair to say that the ideation of Thundercats has moved far beyond the actuality of Thundercats and that ideation does not look like some goddamn Steamboat Willie lumpfest from the school of "model everything as turds."
3) Nerds will be nerds but there's the rippled-flesh nerds and there's the endomorphic "don't remind me of my body" nerds. The former favor AoT and Dragonball. The latter favor Adventure time and Steven Universe.
4) Thundercats was not the first school-of-GNC animation series (He Man beat them by two years). However, the School of Pillsbury would never dare to lay claim to He Man. Lion-O turning into Newman from Seinfeld? That's a betrayal of the principles of fandom.
For the record: Thundercats was un-fucking watchable. But you could look at freeze frames of it and imagine that it might once have not sucked. You can look at a still of Steven Universe and solve that shit by inspection: it's going to be like Family Guy, but with jokes for people who haven't learned not to poop their pants yet.
Once upon a time, American animation belonged to Ralph Bakshi and rotoscopes.
Now?
So I get the anger. It's like that time MTV insisted that Kriss Kross was rap.
tutorial
19vVrqzbbLFKJL7ta9dvR7zX7uk6hdTWwU