This is my Magritte. "Le Chemin du Ciel (The Road to Heaven)," 1957. 50x60cm.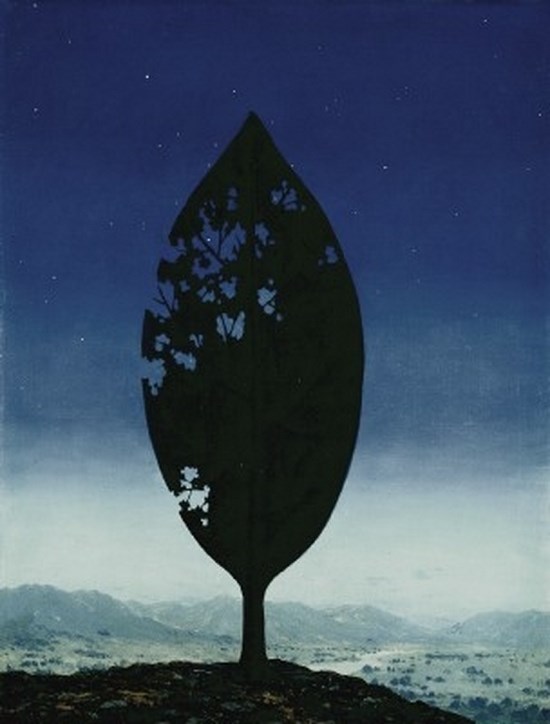 It is not an original. It is not signed or numbered. However, it is stamped "Galerie Alexandre Iolas 1957". Iolas was Magritte's gallarist at the time.
I paid a couple hundred dollars for it in like 2001. I had no idea what it was at the time. I still don't, really. It may be worth less than I paid for it. It may not.
It's not a well-known Magritte these days (I've shown it to fans who have never heard of it), perhaps because the original hangs in the Museum of Contemporary art, Tehran.
Still my favourite landscape painting:
Italian Landscape with Umbrella Pines (1807), Hendrik Voogd
Here's a couple I've bought from local artists. I got this one as a limited edition print:
This next one is only kind of a landscape, if at all. Perhaps a cityscape being returned to a landscape. It's an original oil on wood painting from an artist who creates post-apocalyptic themed works:
I'm not exactly certain what drew me to it. In a weird way I find it calming. I came across it shortly after finishing Earth Abides, and the vibe it gives off reminded me of how I pictured the scenes where cities were silently burning down in the distance. Also, it was a steal; cheaper than the print above.
–
I ever tell you about the time I tried to buy a Bob Ross? Talked to PBS Corporate and everything. They were polite but firm; Rosses almost never come up for sale because every painting he did went to a local PBS station, where they are prized and valued. When they do occasionally go up for sale they're generally handled by one of the big houses. I've since seen a couple of unknown provenance go on eBay for six figures.
–
I've heard that about his work. I guess not much is known about the guy in general. He didn't do many interviews. I don't think many people bothered to ask him. I heard he was a drill instructor though who retired and vowed to never yell again. And grow a sweet white guy afro.
tutorial
19vVrqzbbLFKJL7ta9dvR7zX7uk6hdTWwU