This is just another political topic, but not really I guess. Just more of a way to get some frustration down somewhere, and honestly work through some serious fears I have for my future. I'm in NJ which was blue during this election, so for the most part I'm safe. I just got back from dinner with some friends and most of them were pretty demoralized about a lot of things not just as minorities. There was some vandalism in a neighboring town involving some signage that was supporting a local candidate (who happened to be Muslim). There were some minor disturbances throughout my town and surrounding areas involving slurs, anger, and stuff like that. Some women harassed, nothing vicious. None of this is very serious, but my parents are both a bit worried. My parents are both Puerto Rican and struggle emotionally with regards to discrimination they faced as children. My mom is probably going to try to convince my family in Puerto Rico to leave the island. Poverty is rapidly expanding into their neighborhoods, along with severe crime. With no real relief in sight their prospects seem bleak.
I keep hearing people say, "It won't be as bad as you think it is going to be." I definitely hear that, but there is this feeling that I do not belong that appears again. It is an overblown feeling from the election results for sure. There is this anger that I have spent good portions of my life trying to prove that I have a place in my own world. Every aspect of my life, my personality, my demeanor, my mentality has been shaped by the color of my skin. This discomfort I'm sharing is merely a moment of weakness in a lifetime of fighting. I'm just tired and want a moment of respite from tomorrow where I will have to continue challenging the marginalizing of my culture and its perspectives.
I see the people protesting, and my heart goes out to some of them because I understand their anger in some way, I understand that fear, and I can't judge them for it. That feeling of alienation creeps into your everyday life. Are people staring more? Am I being too loud? Is my hairstyle weird? I understand when that feeling rises to the surface once again, in a place you consider home, there can be this immediate reaction of anger. I hope they can find peace, and can direct that anger into meaningful change.
If you've read this far thanks for sticking around. I will be alright in the end, I have to. Tomorrow I will wake up, go to work, and strive to make change.
user-inactivated
· 1406 days ago ·
link
·
·
I'm a gamer. That means I hate women, am a part of the alt-right, am racist and one step away from shooting up a school.
I'm a metalhead. Which means I am a druggies who gets into fights, worships Satan and abuses Animals.
I play D&D. So I summon demons and participate in anti-social behavior.
I'm Irish. So I'm a drunken lazy lout good for nothing but menial labour.
I own guns, so there is that baggage.
I'm a liberal. Ever feel like you don't belong? Be the one liberal Sanders supporter at the gun range. There are literally dozens of us left-leaning gun nuts! DOZENS!
All my life I have been on the outside. All my life every problem has been my fault, my friends' fault. And every time these foolish stupid garbage discussions come up, the people pushing them turn out to be ugly people who buy drugs from gay male prostitutes, etc. There are a lot of people like us out there, the problem is that we are quietly doing our own thing and disgusted by the loud voices screaming from their blogs, from the TV from the pulpit, from the podium. It gets frustrating, it makes you angry. And I've been dealing with this shit for 40+ years now.
The only advice I can give you is build up thick skin. Learn to laugh at your adversaries. Fight for the ideas you believe in. Help those around you in need. Leave the place better than you found it. Don't be ashamed of who you are or the hobbies you have, or the people you vote for, or any of the incidental bullshit that is used to label you and put you in a cage. Be the better person.
Men are programmed to Build, it is sort of our purpose. So, build something with meaning. Build a group of friends that will walk through hell with you. Spend time with them, eat meals with them, fight the battles with them. Play games, tell jokes, pick them up when they fall, scream all the louder when you kick ass. The internet has been a disaster for friendships and interpersonal support groups; this is one reason I think that so many men kill themselves in this day and age. Trump won because there are millions of people out there that have been cut out of life. The jobs are gone, the communities are crumbling, the families are torn apart as the kids run the fuck away. Trump tapped into that anger and now he is President. We fight him by being better, by building freind circles, families and communities.
So many people have spent the last year in a filter bubble. I've been screaming at anyone who will listen that Trump was going to win, and I was told to shut up, I was called a "BernieBro" I was called a misogynist because I did not like Clinton, I was even called a neocon(!)...after writing checks to get a Socialist elected President. Yet, here I am, waiting for the rest of you to catch up to where I was six months ago. The thing about me? I've been called every name in the book; you cannot insult me. But when it comes time to clean house, to move forward? You bet your ass I am going to remember every one who shit on Sanders, on Dean, on Warren. We have a fight on our hands. We have the opportunity to build things. And IMO most of that building will be offline. Look at all the people saying they are going to be offline for a while, I don't think it is a coincidence.
So go out this weekend. Get real face time with people. Go to a protest and see that there are others like you out there. Go to a bar and watch an NFL game. Go get lost in a group of people. And next week let's start talking about the work ahead of us.
That feeling of alienation creeps into your everyday life.
War - it's profound that you are monitoring this and have the confidence and sensitivity to observe and report.

Being brown or black or Jewish or Muslim or gay or trans has always been othering. We feel visible in ways that other people don't. We also feel invisible in ways that others don't. Being a white male is also difficult, in different ways. Being human is difficult.

We'd like to walk in other people's shoes, but those shoes are so damn uncomfortable we often don't get very far. Compassion and empathy is difficult and dangerous.

Ultimately, I think, we learn (or try to learn, or have to learn) to be comfortable in our own skins and hope that our confidence and comfortableness helps others feel unthreatened and comfortable in theirs.

I have to say, War, even though the content and feelings that you express are troubled, your writing in that journal entry is clear, readable, and thought-provoking.
there is this feeling that I do not belong
I'm a white, upper-middle class, American, man, with a good job.
And I don't feel like I belong any more.
I can't imagine the fear that women, minorities, gay, trans, hippies, punks, goths, and others must feel. Life was hard enough already for these people. Now it is going to get seriously shitty.
I am trying to wrap up the immobilized part of my grieving and turn that into useful mobilization energy. Although I'm out of the states, I'm still feeling the effects. I'm worried about a federal hiring freeze. I'm very worried about my rights and the rights of my friends. But mostly I am worried that people will not stay motivated. I don't want this energy to have the lifespan of a single news cycle. I want to share the Pyramid of Hate to everyone who will listen because this is how hate escalates and people are already mid-high on the pyramid and being emboldened by the hour.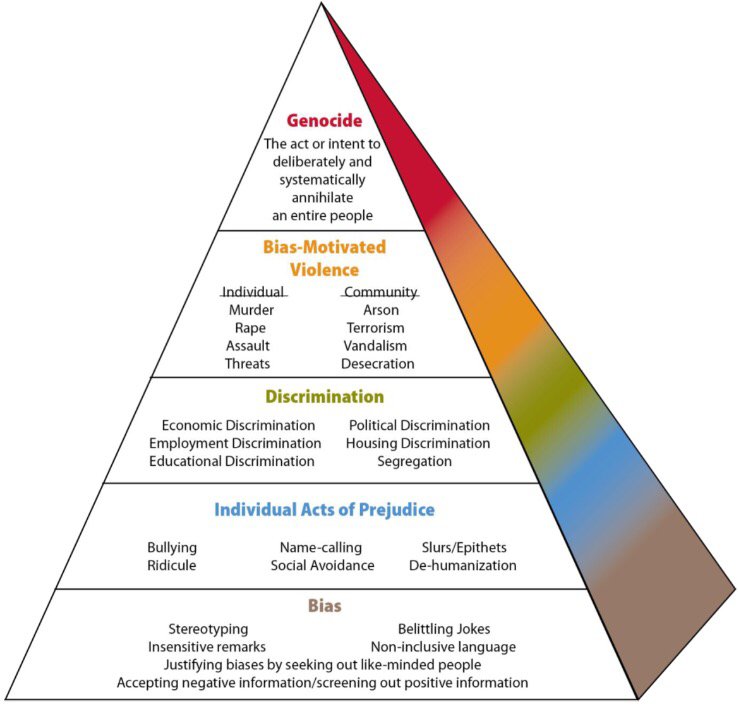 I've culled my social media pretty well so I haven't seen a lot of bad behavior out of people I know IRL and interact with regularly, but I do have one guy who somehow made it through my last couple of purges who I haven't spoken to since before I went to college. We worked together at my Jewish summer camp, which teaches and espouses all those feel good values like tolerance and acceptance (we march in SF pride, we do Holocaust related lessons, we talk about climate change, we march on SF for immigration rights, etc). And he's refusing to listen to many people explain why they are scared. It scares me to see other Jews not recognizing the very real threats we are facing. We are not exempt from this. Jews who identified as German first were NEVER seen as German and paid that price.
We are the generation who lived and I refuse to be the generation that goes down without a fight.