he size of things in our universe runs all the way from the tiny 10-19 meter scale that characterizes quark interactions, to the cosmic horizon 1026 meters away. In these 45 possible orders of magnitude, life, as far as we know it, is confined to a relatively tiny bracket of just over nine orders of magnitude, roughly in the middle of the universal range: Bacteria and viruses can measure less than a micron, or 10-6 meters, and the height of the largest trees reaches roughly 100 meters. The honey fungus that lives under the Blue Mountains in Oregon, and is arguably a single living organism, is about 4 kilometers across. When it comes to known sentient life, the range in scale is even smaller, at about three orders of magnitude.
Progress in the theory of computation suggests that sentience and intelligence likely require quadrillions of primitive "circuit" elements. Given that our brains are composed of neurons, which are themselves, in essence, specialized cooperative single-cell organisms, we can conclude that biological computers need to be about the physical size of our own brains in order to exhibit the capabilities that we have.
Essentially, what he's arguing is that if we assume that all life looks exactly like us, then it will be the same size as us. Also, his bit about computation theory and sentience suggests that he may, in fact, have no idea what he's talking about.
Gregory Laughlin is a professor of astronomy and astrophysics at the University of California, Santa Cruz. He is co-author of The Five Ages of the Universe—Inside the Physics of Eternity, and he blogs at oklo.org.
Why exactly does an astrophysics professor feel qualified to remark on biology, computer science, and philosophy of mind? He's doing the thing we physicists are often stereotyped for, misunderstanding and oversimplifying problems, then making some ad hoc scaling arguments and order of magnitude estimates.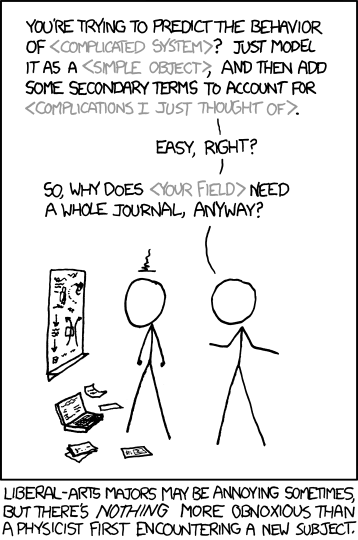 The question itself is interesting, but I don't see why this author is any more qualified to answer them than anyone else.
–
Also, his bit about computation theory and sentience suggests that he may, in fact, have no idea what he's talking about.
I think he's probably talking about Carver Mead and the work he inspired, and he's just using the wrong term because the theory of computation is a much more narrow field than theoretical physics. I don't think he really understands what he's talking about either, but a charitable reading says he didn't just pull it out of the air.