–
I thought it was an extremely provocative image. It sincerely got me thinking about the criteria I use to deem whether a species/animal is or is not "food."
I was surprised by how disturbing I found it.
–
Let's unpack that, though.
Eventually, [Spielberg] went with a different set of design ideas, created by special effects artist Carlo Rambaldi. Rambaldi had previously designed the mechanical head effects for the xenomorph in Ridley Scott's Alien and the visitors from Spielberg's own Close Encounters of the Third Kind. For E.T., Spielberg tasked him with coming up with an alien form that audiences could sympathize with. The primary inspiration was one of his own paintings from the Academy of Fine Arts in Bologna, titled "Women of Delta." It depicted a shriveled character with stumpy legs, a long neck, an oblong head, and large eyes. To make the alien empathetic, Spielberg had Rambaldi study photos of elderly people who lived during the Great Depression. He also collated the alien's facial design with photos of Albert Einstein, Ernest Hemingway, and Carl Sandburg.
ET was a design commissioned by one of the 20th century's masters of empathy to be the ultimate totem of empathy, kindness and wisdom. The cultural baggage of ET is that of a sapient creature from a superior race, designed quite explicitly to not be cute, not be tasty-looking and not contain any aspects of cuisine whatsoever. Compare and contrast:
The Facehugger's design is based on human hands and genitalia.
Tell me you wouldn't eat that sucker with cocktail sauce. I'd eat the shit out of it. Because that's the thing: we're omnivores. We'll eat all sorts of preposterous shit, and we'll eat the cutest things imaginable.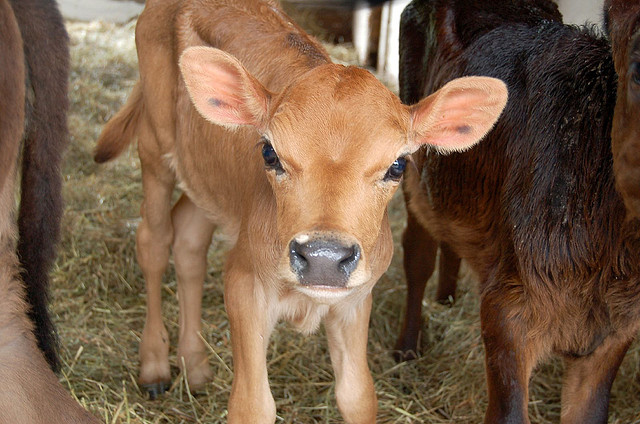 But we generally eat them 'cuz they're yummy.
And that's the thing the die-hard vegetarians don't get - this whole "oh, shit! You wouldn't eat it if you knew how cute it was! You wouldn't eat it if you knew it felt pain! You wouldn't eat it if you knew that it had hopes and dreams and fears and a mother and season tickets to the Mets or whatever!" but the reality of the situation is
A) everything dies
B) better to eat it than let it rot
C) it would totally eat me if it could but I won the destiny lottery.
People don't eat people primarily for cultural reasons. Those cultural reasons have been absent in surprising corners of the world, surprisingly recently. Are people more cute than ET? Less cute? More conversant? Less? If you're a vegetarian that thinks the cuteness angle or its lack thereof that drives eating meat, these are the questions you get hung up on.
If, instead, you think that tofurky tastes like ass, you wouldn't eat hippie-crafted spit-roasted tofurky even if it were in the luscious shape of Gina Lollobrigida's derriere.
Pigs are cute. I loved Babe. And there are millions of pictures of spit-roasted pig on the Internet and a lot of them look delicious.
You say "adorable." I say "cabrito." You're not wrong, it's just that your argument has no power over me.
–
You're a monster!
That was an amazing reply, thanks. I hadn't realize the thought put in to ET's design. They did a wonderful job, didn't they?