"What happens when a mall begins to deteriorate and no longer function as a mall?" he said. "In the surrounding neighborhoods, you begin to see the crime rate increase, other homes and buildings being vacated—the whole community surrounding it begins to deteriorate."
I am sitting (well, actually standing) in my cube at work, situated in what was once the menswear section of Montgomery Ward. We make fun of the guys who sit down in what was the tire shop and oil change area. And no one gets to sit in the "battery room" which apparently is where MW put the batteries people brought back for the core charge. I think the acid and chemicals have all been remediated, but no one is willing to bet on it.
The rest of the mall is inhabited by two for-profit colleges and a call center (which I think is a call center for a third for-profit college). But that's it. The mall is mostly empty except for the senior citizens and I who walk the empty (but still buffed) hallway. The center atrium is actually nice, they've put some inexpensive chairs and tables where people could congregate if anyone were here to do so. The parking lot is IMMENSE. I imagine we fill only 5% of the parking spots between all of the companies here.
The current rumor is that the mall will be torn down and redeveloped. They've struggled for years to keep tenants. But as long as we're here - at least our portion of this retail relic will remain. I guess we'll have even more parking if that happens.
The strange thing is... yah.. malls are closing, but new ones continue to pop up. It's not as if malls are going away - they're just taking new shapes. Outdoor malls seem the rage lately in Colorado. The mall in my hometown made the same conversion. I can't speak to the success of that model - but it's happening.
I work in Montgomery Ward.
–
user-inactivated
· 1409 days ago ·
link
·
Outdoor malls seem the rage lately in Colorado.
Which is hilarious, because everyone skips everything at Southlands just to get their groceries at Walmart and Sams Club and leave.
Sometimes teenagers come out at night, like vampires, to go see whatever shitty movie coming out that Friday. Oh, and I get my hair cut there.
It's a surprise to me that anything that isn't food or groceries is still open at Southlands.
I want to believe
Malls are, in general, well-located for public works. The article isn't saying much about crazy redevelopment costs, though. I mean...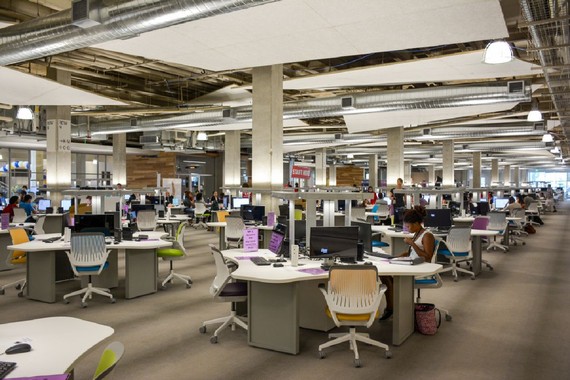 It worked with Barnes Gromatzky Kosarek Architects, who took a former JC Penney building and made it into what Rhodes calls "the galaxy's largest learning emporium," which has 604 computer stations, 200,000 square feet of instructional space, a library, and offices.
Each one of those carrels is about 10k worth of furniture and computing. Not to mention the total electrical and RCP redesign. So there's some money here. Then there's the whole "we donated a mall to Mars Hill" which isn't exactly poor... and allowed the developer to write off the estimated cost, rather than the actual cost. The author is stretching the truth a little, too...
Developers turned a parking lot of the Northgate Mall in Seattle into a mixed-use, walkable development that included the Thornton Creek Water Quality Channel, which takes storm-water runoff and uses it to create and nourish pools, terraces, and greenery that mimic a natural creek. The channel filters out pollution that had been feeding into a creek and damaging salmon.
Not shown: the parking garage Northgate built so they could sell off their parking lot to King County Wastewater, a corrupt organization known for profligate spending and shady accounting practices. Simon was essentially paid by the city of Seattle to build a parking structure.
The most ambitious project might be the one underway in Vancouver, Canada, which doubles down on a centrally-located mall. Last year, the Vancouver City Council approved a redevelopment plan that will seek to build a city on top of an old mall called Oakridge Center. The plan calls for 14 towers that are between nine and 44 stories tall, as well as retail, office space, and residential units.
This has far more to do with the truly batshit real estate prices in Vancouver than redevelopment. Oakridge is in a prime corner of the world; 10 years ago I watched a movie with buddies there and couldn't believe it hadn't been torn down yet.
I hate malls. I'd like to see them all go away. I'd like to see them come to good use even more. But this article seems to be shining on some of the very real inefficiencies associated with converting piss-poor retail space into useful public space.
tutorial
19vVrqzbbLFKJL7ta9dvR7zX7uk6hdTWwU