kleinbl00:
some good suggestions on better ways to go about dealing this the problem.
Does it, though? Because the two suggestions it offers are
1) Pass the buck to K12 ("But the inequalities arise long before high school, and they won't disappear in college until we close the gaps in the entire K-12 system")
2) Don't change a thing until it's been proven to work ("Because the current evidence about diversity programs is so inconclusive, universities and their social-science faculties also should take the lead in designing experiments—true experiments, with control conditions and random assignment of students—to evaluate existing efforts and proposed new ones. Given the frequency with which well-intentioned programs backfire, no program should be implemented widely until it has first been rigorously tested")
Which, really, says "this whole integration experiment has failed, back to the clubhouse, boys."
The policies and programs that universities have pursued over the past half-century don't seem to be working, at least as judged by the recent campus unrest, so reflexively expanding them probably isn't the answer.
Wait - you mean back when James Meredith needed US Marshals to escort him to class because of the riots?
Oops. That was '62. So 54 years. Funny thing, though - we're a month out from the 50th anniversary of him getting shot for going to college.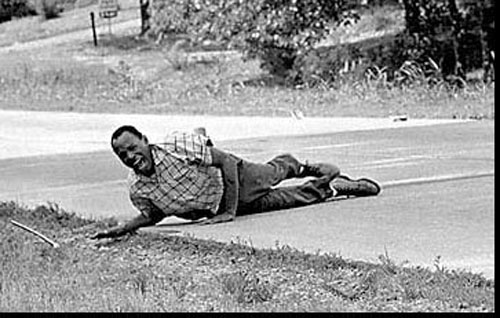 Air Force veteran, by the way. Nine years. Served in Korea. That half century?
The "hard truth" about race on campus is that inequality is uncomfortable to confront and painful to change. I'm no fan of the term "microaggressions" either but I also know that even though "the policies and programs that universities have pursued over the past half-century don't seem to be working", the world is my oyster so I should maybe STFU a little bit. 'cuz you know what? 40 years ago, these women at West Point raised their fists in support of African American empowerment and were investigated for violating Army rules.
Oops. Not 40 years ago. LAST WEEK. Silly me. 40 years ago West Point had just started letting in women. Those ladies above? They represent 16 of 17 black female graduates out of a class of 1000 this year.
Presume the article is correct - our policies "don't seem to be working." Based on the photo, and what led up to it, should we give up?
Or try harder?