Hey Hubski I can uhh...
MOTHERFUCKING WALK NOW.
...For short distances with a noticeable limp at any speed over a leisurely stroll! And uhh...I've clearly forgotten what to do with my arms...BUT I CAN FUCKING WALK.
Literally nothing else matters in my life right now, I'm exuberant. Which is good, because there are definitely some things to stress out about, but WALKING is eclipsing ALL OF THEM! I'm starting 2020 on my feet!
I'm also moving into my own* place after recuperating at my parents' house for the last four months. I'm starting to feel like an adult. I'm starting to feel self-sufficient. I'm starting to feel independent. God damn, I missed that feeling!
Last week, Bertha's abdomen started swelling up. At first we thought it was a side effect of bumblefoot or maybe she just ate a bunch of pine shavings and got constipated. It didn't improve after a couple of days so we did some reading and figured out that there are many reasons this happens to chickens — old age, cancer, organ failure, un-laid eggs, infections...not great news. She was still alive and eating at that point so we could rule out some of the worst possibilities. We took her to a vet to get x-rays and bloodwork done. The x-rays were pretty inconclusive — there's something in there that's squishing up on her lungs and organs, but we still don't know what it is and if it's fluid or mass. The vet gave us some antibiotics for her while we wait for bloodwork to come back.
She's a tough little bird. Even though breathing is not easy for her and she kinda waddles when she runs, she's still running around, pecking for snacks, hopping up on perches and laps, preening — all those good chicken things. This morning she feels a little less swollen so hopefully that's good news.
And, regardless of how long she has left, my metamour's sister-in-law keeps chickens and has had a lifelong dream of having an easter egger rooster, so when the time comes our little man will have a good home too.
At the vet: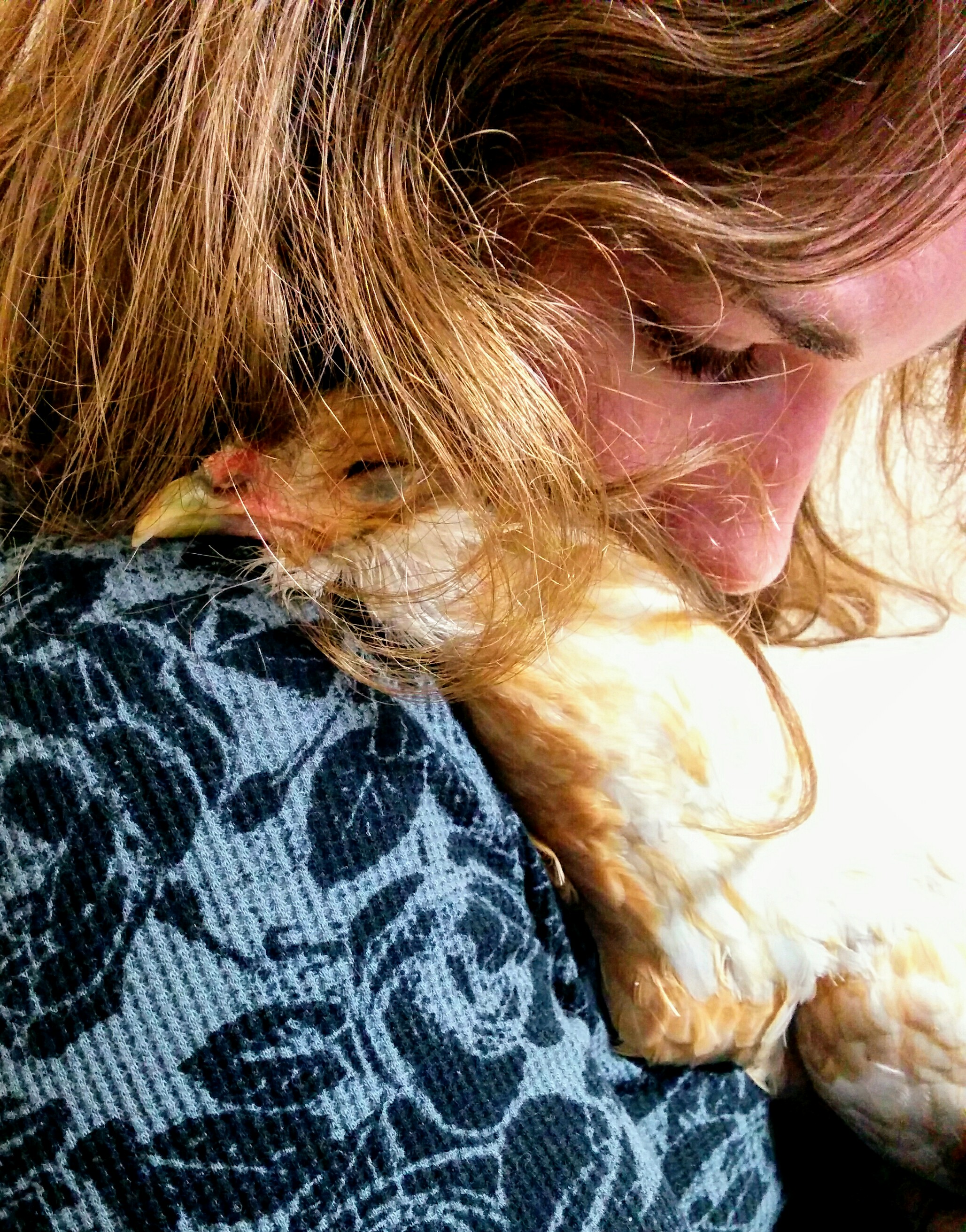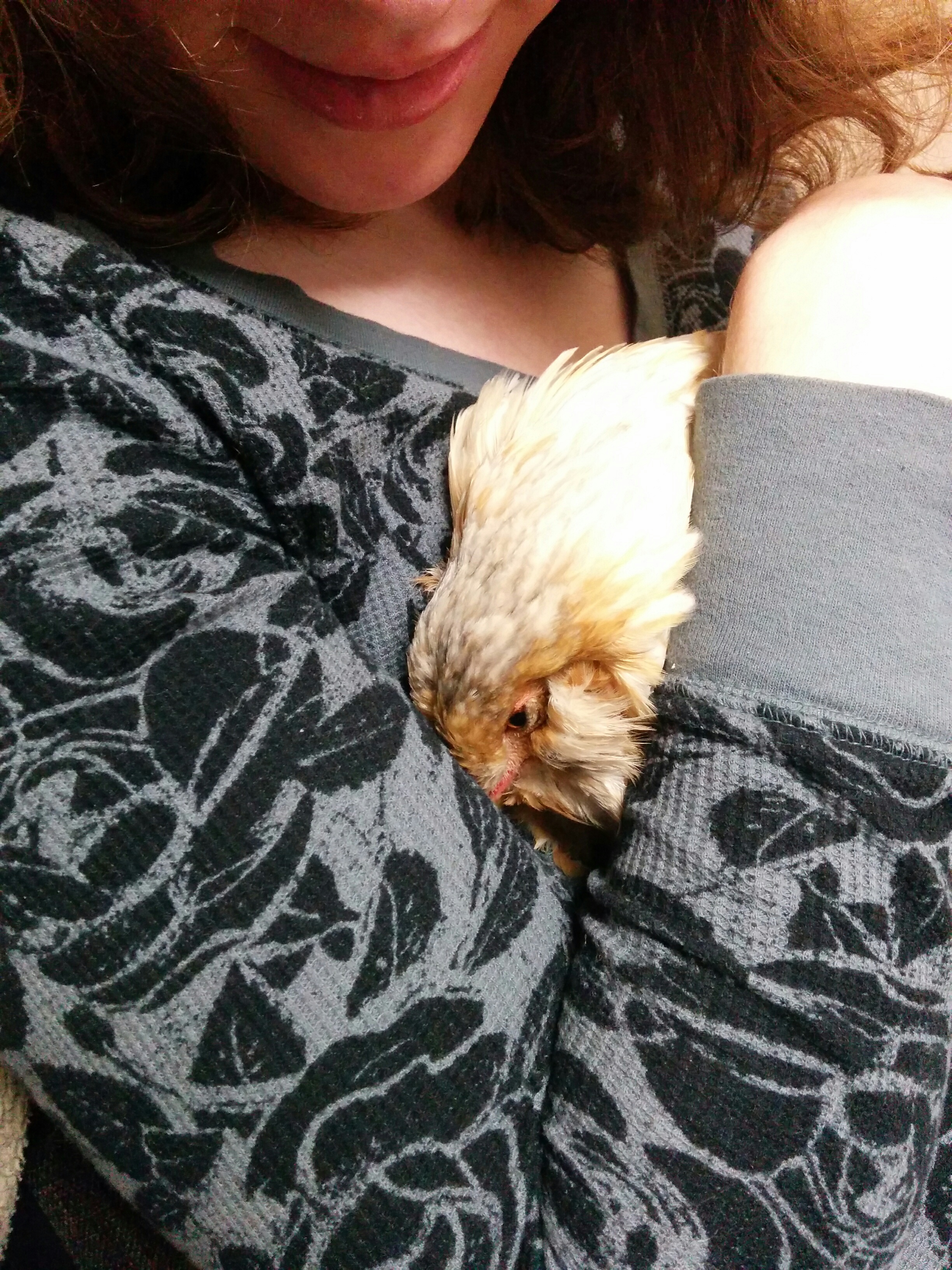 This morning Lion ran up to me like he was going to peck my feet, then stopped and looked up at me — his way of asking for a hug. He's a little new to the whole affection thing but he's starting to figure out that head skritches feel nice.
Happy new year, y'all. May you more than survive this upcoming year!
I am happy to be in 2020. At least for my fellow GenXers, there can be no doubt that we are now in the future. We've avoided thermonuclear warfare, but still no droids or citizens in space.
I am excited for this year's Mars rover mission, as it is the first step in bringing some red dirt back home.
Xmas and New Years were enjoyable and relaxing. These next few months probably won't be relaxing, hopefully they will be enjoyable.
I'm getting close to concluding this piece.
The next one is going to be portraiture. After that, my largest painting yet, commissioned by my wife.
We saw Parasite last night. Good movie. Everyone was looking at everyone else for reactions as we filed out of the theater.
Managing people is stressful and rewarding and sometimes entirely unrewarding. But overall I think it's a worthwhile experience.