A phone is just too useful to go completely without. Yet we're all familiar how well smartphones are designed--to keep us using them well past the point of need and well into oblivion.
I lack the consistent discipline to restrict my newsfeed scrolling, aimless web browsing, and email use. A couple of guys set out to make it easier for me. I might drop $300 to give it a try.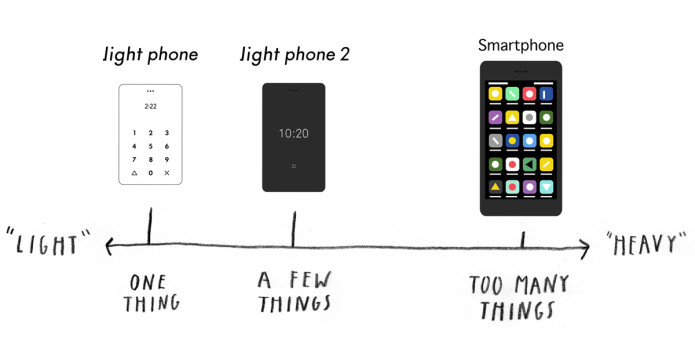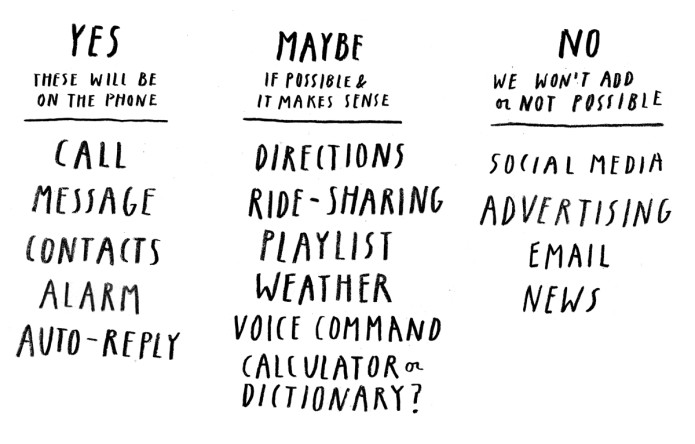 I came within a millisecond of going all-in on the Lightphone 1 and then later on the 2.
But.
1 didn't do directions/maps. I need that. I don't need a literal map, I just need to know where to make my next turn. Without that capability, switching to the Lightphone 100% was not an option.
2 does do maps. Kinda. Maybe. If they make enough money. Possibly.
1 had delivery and usability problems.
2 honestly is going to have a "plucky startup" level of usability, but not the absolute UTILITY that we expect of our phones.
The best review I saw of the Lightphone said it is a fantastic SECOND phone. You have your primary smartphone, and you actually turn it off from time to time. In the evenings. When on vacation. When you need some quiet. Whatever. Then you use your Lightphone.
For that use case alone, apparently it is a dream solution, and - quite honestly - I'm even close to dropping $300 just to try it out.
But.
Now I will have two phones.
Or one phone at home that I need to decide to carry instead of my primary phone.
And I have trouble even remembering to bring my access badge to work with me every day, at a job I have had for 3 years.
Honestly Lightphone... it's not you... it's me.
user-inactivated
· 319 days ago ·
link
·
I'm writing this from an old tablet.
I gave up my smart phone for a dumb phone a while back. Its actually quite nice, because with the exception of making phone calls and sending texts, all I ever used the smart phone for was browsing the internet when I wasn't home. Now when I'm out and about, I'm much more in the present and I honestly feel like it has positively affected my life.
That said though, I'm still a bit of an internet junkie. I read a lot of news articles, look up recipes and crafts, and research various things I might want to buy for myself down the road. When I'm home, my tablet is rarely out of reach.
So I wouldn't say giving up my smart phone has cured me of my internet addiction, but it has given me a bit more control.
–
I'm not sure your point. Do you want to make an argument for the flip phone?
I appreciate the thought? But depending on the friend or the contact I have to use
- SMS
- phone
- WhatsApp
- Signal
- FB Messenger
- IG Messenger
...to communicate with people. And singling out email as something you should avoid is a weird choice; if you need to talk to anyone over 40 in a professional capacity, they'll use email.
The nice thing about a rooted, jailbroken Android phone is you can kill ads at the kernel and really, installing social media is a choice. The Asian market is chockablock with tiny, semi-useless little devices you can walk around with; just search "smallest Android phone" on eBay to see a selection. Nate Wren will even give you most of that look if you want it.
Having just bounced two non-AT&T phones onto an AT&T network, I'm more than a little gunshy of a custom OS. Carriers are really not great about supporting phones they don't sell.
–
I'm not so in-demand that I couldn't rely on the desktop versions of all those channels of communication. We'll see, though. I've definitely been in binds where a smartphone saved my ass. But those moments of uber-productivity have been outweighed by everything else for some time now. I'll report the results if and when I get it (the "Light Phone 2" should be out in April).
The developers say they're working hard on carrier support: Verizon, T-Mobile, and AT&T should all be work on this phone in the States.
The impetus for my looking for a dumbphone is that my iPhone was stolen about three weeks ago. It took me two days to get over the raw FML-feeling of it, but then I experienced three of the most serene weeks of my life. Granted, I was in a veritable paradise that no doubt improved my affect. But I noticed I was less distracted, less triggered to smother every pang of momentary boredom with a stimulating dose of smartphone, and less tempted to document every part of my day. I didn't suck on a firehose of social media newsfeeds--something I seemingly can't prevent myself from doing. The very act of opening an app to share something ineluctably leads to minutes/hours of scrolling with the associated emotional up-and-down reactions. If my phone wasn't involuntarily stripped from me, I don't think I would've grokked the extent of my smartphone conditioning and then planned a semester-long experiment in dumbphoning.
Not trying to preach. A fraught relationship with my smartphone is hardly unique. Just was looking for solutions besides "delete the Facebook app."