I've just read about the hearings. I'm clearly missing the broader context, but this moment alone, as well as Symington's remark to McCarthy, feels like a high point of modern American politics if there has ever been any. It's Welch saying "You stooped low enough, and I shall abstain from helping you dig further down".
Man, what a piece of history.
–
No. It's maybe the lowest point of the 20th century. This was the rock bottom that started to restore respectability. We're about that low again, and we're just waiting for someone to be a hero. None seems forthcoming, but nothing ever seems possible until it is.
–
I see.
I'm only superficially aware of how bad the McCarthy era was. I just thought it was an authentic, brave stand against what is, by all accounts, acting in bad faith. I respect that.
–
The "Cohn" they keep referring to is Roy Cohn, the evil prick that became the Svengali who molded a young Donald Trump in his image.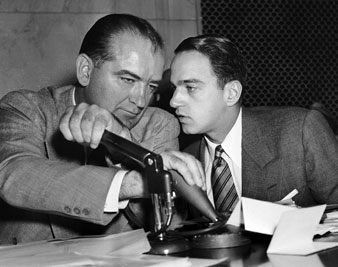 Then Roy Cohn came down with AIDS and Trump pretended he didn't exist.
There's a semi-amazing continuity to Republican demagoguery in the United States.
tutorial
19vVrqzbbLFKJL7ta9dvR7zX7uk6hdTWwU