The adage used to be "go fast, break things, go to jail.
I'm trying very, very hard to be as positive as possible from here on out. So far, I think I'm doing alright but I know I can do better and I'm gonna work on it. That said, I'm gonna make an exception for Uber.
I, for some unknown reason, have a very deep, obsessive dislike against Uber. I don't know completely where it comes from, but I think a lot of it stems from the facts that A) They really don't seem to be for the working man and B) They think laws are nothing more than inconveniences that they can just ignore. The fact that A and B overlap somewhat and their attitude towards laws seems to influence their behavior in other ways just irks me even more.
If I came and posted every negative article that I come across that involves Uber, I'd probably post one a week, minimum. What's there isn't even all of their controversies. The fact that they seem to have a new stain on their character on a seemingly monthly basis doesn't even surprise me anymore. I really hope something comes of this, because I don't like them at all, and I hope its a government somewhere that ends up being their eventual downfall. The internet tends to be pretty socially conscious (or at least loves a good social controversy) and when I think about it I'm honestly surprised that a tech company such as them have survived in a socially conscious atmosphere.
–
–
I'm actually surprised that list isn't longer. Between them using a hidden feature on their apps, Greyball I think it's called, that basically makes them say "Well, we got in trouble for ignoring municipal laws so now we're gonna ignore them even harder by trucking on and trying to not get caught" to them shrugging off background checks to man, I don't even remember them all.
Crazy is the only way I can describe it. If you haven't, you should seriously read about the whole "Greyball" thing. It'll blow your mind.
Also, six years is a good, long time. I'm glad you're here. :)
Edit: Daaamn. Just searching "Uber" on Hubski without any filters brings up even more crummy stuff. Like I said, I'm only surprised that I'm not really surprised anymore.
It gets better, as in worse: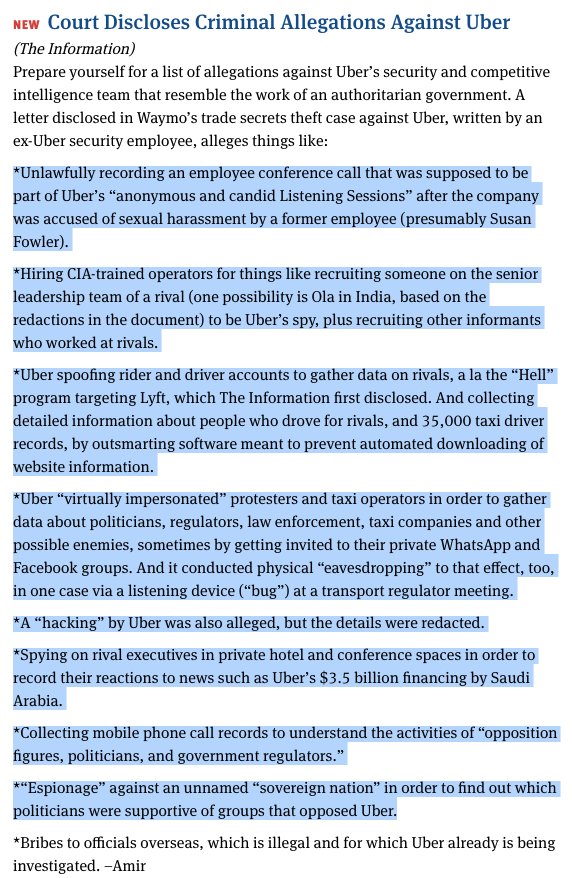 https://www.documentcloud.org/documents/4330137-Jacobs-Letter.html#document/p2
–
I'm reminded, when I read this, that according to librertarian types, the mechanism that is supposed to curb this sort of unethical behavior is reputational damage. People will hear about this shit and then vote for Lyft with their dollars
I think there is way too much head-in-the-sand, uncritical acceptance of this mechanism. Uber does not give a rat's ass about the threat of reputational damage because it has lawyers, reams of NDAs, and a busy/otherwise unwitting public unaware of these tactics.
–
You're forgetting the stupidest assumption in the homo economicus: that all is known and is acted upon rationally. If I were to make a guess I think for each person accepting Uber as a to-them-necessary-evil, there are two people not even aware of all of this.
Curious how this gets posted on the day I return to Mr. Robot.
Kingsman, Statesman, Uber. Sounds like fun.
tutorial
19vVrqzbbLFKJL7ta9dvR7zX7uk6hdTWwU