The typical Irish Catholic arrival in New York or Boston was a peasant with little formal education and few material resources. Worse, these people were religious aliens — the papist hordes who threatened to swamp Protestant civilization and, in their ignorance and superstition, destroy enlightened democratic American values.

The people around Mr. Trump surely know this history, yet they act as if they were the descendants not of these poor immigrants but of the American nativists and Know Nothings who slandered and derided them. Mr. Trump's assertion that millions of illegal immigrants voted to deprive him of his victory in the popular vote directly echoes one of the most common charges against the Irish in the 19th century: that, in the words of one Yankee, "Irishmen fresh from the bogs of Ireland" were led to the polling booths "like dumb brutes" to "vote down intelligent, honest native citizens."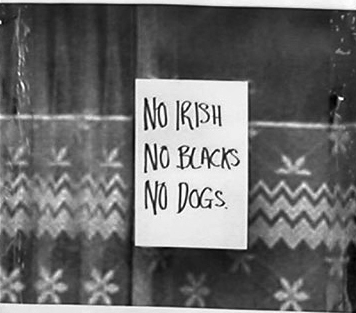 It's interesting that Irish people went from being hated in the States to being​ loved, alright. There'll be plenty of yanks in Dublin today celebrating their Irish heritage.
What's alarming, too, is our own lack of memory; though some concerns are intelligible, in Ireland people forget that those coming to our island are just like we were not so long ago.
Actually I find the Irish question interesting in the context of current concerns about racism (which, incidentally, tends to be dominated by American problems that are quite different to the European situation). To a certain extent it problematises crude black-and-white thinking.
–
Someone more cleverer than me once said "you can have focus or perspective, but not both" but I've never found it. Because attributing a quote to myself is not only pompous but it tends to destroy your credibility rather than bolster it.
But it's true nonetheless. And I find that perspective is much easier to have when it doesn't affect your livelihood. What happened in the US is all the people who felt their jobs threatened by Irish immigrants got old and died. Then their kids, who had always been around Irish immigrants, decided the problem was the Italians. Then they got old and died and their kids were cool with Irish, Germans and Italians but those fuckin' Japs et. al. were gonna be the death of us.
People are most comfortable living about ten years back. The present is scary as hell because you don't know what happens next.
–
People are most comfortable living about ten years back. The present is scary as hell because you don't know what happens next.
Meditation helped me realise that the sole cause of my anxiety was essentially the latter part of this. In any situation where I couldn't be certain what was going to happen, I became anxious. In that way I was probably trying to live ahead of myself, which was completely unsustainable.
It's interesting to consider that now the dynamic might have reversed, in that I'm living behind myself. I can see it's true in some ways.
–
No. It's William Gibson but it was from a rambling, off-script discussion in No Maps for These Territories.
It's worth watching... but you only need a little bit (you can start at 5:00) to see that it isn't a great source for pithy wisdom. The actual quote is something like I think that most people are most comfortable living about ten years back from the point in time at which we've arrived.
EDIT: Found it. 14:09. "I think that most people... myself included... are most comfortable conceptually living about 10 years back from whatever point in time we've reached and I think we all have these moments... that are vertiginous and terribly exciting and very frightening in which we realize the contemporary absolutely and I think it induces... terror and ecstasy and we retreat...we retreat from it because we can't stay... we can't stay in, in that state of panic which is... I think... the response to what's happening to us. We're more comfortable with an earlier version of who we were and what we were. It makes us feel more in control."
William Gibson is a hell of a writer and I reckon that if he were to write that, he'd write it "We are most comfortable living ten years in the past" but he's not, he's riding around in the back seat of a cab in Vancouver in 1999 chain-smoking cigarettes and shooting the shit with a dude with a DV camera.
tutorial
19vVrqzbbLFKJL7ta9dvR7zX7uk6hdTWwU